"The Instrument of the Body" (Award Winner 2017)
Twiddling thumbs, shaking legs and shifting weight overtook 13-year-old Haley Favors as she sang "The Star Spangled Banner" at a swim meet.
"Playing and singing in front of people makes me feel joyful in myself, and it's like a "music" me not a normal me," she said.
Haley feels that when she is singing, she is a much more confident version of herself, because she is doing what she loves in front of the people she loves and looks up to. But, she still gets a little nervous.
Her connection to her instruments and her voice is much deeper than most people.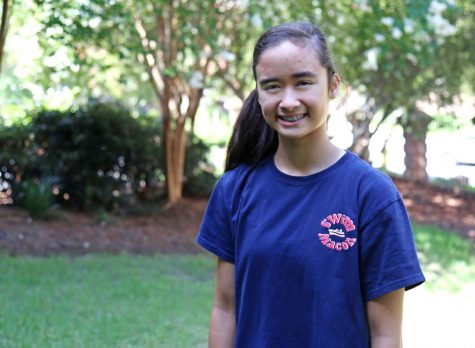 "My body is an instrument, when I'm playing I feel like I'm part of my instrument," she said.
Haley explained that the majority of her music teachers stressed that "your body is your instrument and is the most important part of playing music." To Haley, this means that the instrument can't play itself, you use your whole body to blow air, sing, or move the keys; the body and instrument are in tune together."
Just a few years later, Haley was singing "The Star Spangled Banner" in front hundreds at swim meets and school sporting events. She loves being able to perform in front of her family and friends because she gets to showcase her talents and make them happy with her songs.
This is her first year of doing the Otis Redding music camp, and she has composed a song called "The Nature of Love." Haley said the song describes a woman walking through a park admiring her surrounding in hopes of getting noticed by a man and finding true love.
Haley is just like any other 13-year-old. She is busy with school, sports, friends, family and music. During the school year, she is not able to focus on her music as much as during the summer. Haley loves her sports, but her real passion is music.