An Opera Singer and Business Woman finds Musical and Commercial Success (Award Winner 2017)
Fear. Anxiety. Nervousness. These are the emotions of a seventh grade girl who is about to perform her first solo performance with her school choir. But as the moment nears, the fear and the nervousness fade away and transform into something different: confidence, boldness and a euphoric feeling that can only come from true joy.
That was the beginning of the solo musical career of Jaymie Alilaw, a professional opera singer, entrepreneur and teacher who is leading the Classical music group at the 2017 Otis Music Camp.
"As a child, I loved music. I would sing all the time around the house. My family could not get me to shut up. So I loved music. I loved to sing to music. I loved to dance to music. I loved to make songs and beats," Alilaw said.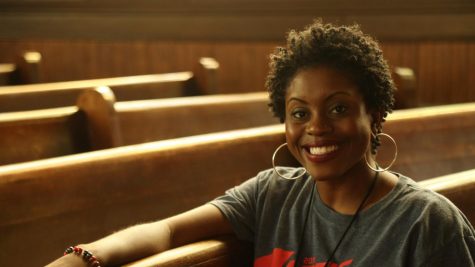 Alilaw has always been impacted by music. She is an opera singer and a successful one in Atlanta, which is not thought of as an opera hotspot. Alilaw also has business success through her Music After School program, which aims to enrich student's education through music.
So what allows her to do all of this at once?
The first attribute is her big personality, which is why she chose opera in the first place. She knew that she wanted to be a music major in college, but in order to be in the music program, she had to audition with her voice. After the audition, the faculty members on the panel told her to do vocal performance, which was classical and opera music, and that led to her being a professional opera singer.
The second attribute is her approach to her performances.
"Since opera was a very new genre for me, I approached my audience with a consideration and also I have a desire and a passion for expanding the audiences to include people for whom opera is not a usual musical choice," Alilaw said.
But her most inspirational piece is her daughter. Alilaw saw that her trade, which would normally require her to travel to New York multiple times throughout the year, could harm her daughter's development so, she expanded her career in Atlanta. She said her daughter is proud of what she does, but also that Alilaw has only worked for herself.
"She doesn't know me working a job for someone, all she knows is me building my own career," Alilaw said.
And that she has. Her personal philosophy is simple, and yet so powerful.
"A general personal philosophy is to use my own voice in a literal, practical sense, because, you know, a lot of times will imitate people they've heard before, that they really like and that's a start, but ultimately, we will get further using our own voices," she said.