"Sleep Out" to Raise Funds, Empathy for Macon's Homeless
A homeless day center in Central Georgia is asking Macon residents to sleep outdoors on Feb. 25 as part of its Sleep Out fundraiser.
Macon's Daybreak Center provides a number of services to Macon's homeless, including medical care, a place to do laundry, take a shower, eat food, or use a computer. The Sleep Out fundraiser helps Daybreak provide these resources.
Fundraiser participants are challenged with raising $1,000 for the center, and Daybreak's director sister Theresa Sullivan hopes the fundraiser brings in $175,000 to fund the center's operations. This accounts for around one-third of Daybreak's budget, Sullivan said. 
Despite the fundraiser's importance to keeping Daybreak up and running, the Sleep Out is set for a Thursday evening. Sullivan said this was an intentional choice.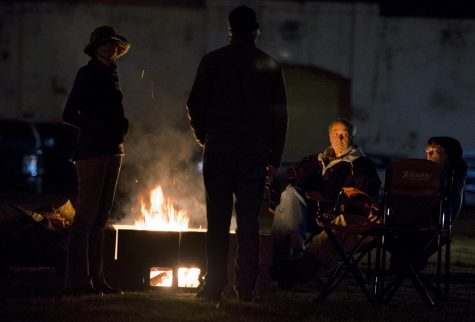 "People look at us and say, 'Why do you have a sleepout in February — and why do you have it on a Thursday?'" Sullivan said. "But that's because our people sleep out in February. And they sleep out and have to get up and go to work."
Sullivan sees the Sleep Out as accomplishing two things. First, it's a fundraiser. But the second goal is to help people better understand the challenges homeless individuals face, Sullivan said.
"I think if we are going to help an issue, we have to understand what it's like," Sullivan said. "It gives us compassion to reach out. It helps us understand… It is not as easy as you think. At the Sleep Out, every year my eyes are opened."
For instance, during one of the Sleep Outs, it started raining really bad, Sullivan said. These are often some of "the hardest mornings" at Daybreak, Sullivan said because it means many of their participants and their belongings get soaked.
By the time Sullivan went from her tent in Daybreak's yard and got into the center, she herself was soaked. 
"I was able to go into my office where I had a dry pair of clothes, so I was dry in seconds,"  Sullivan. "They can't do that… It just opens my eyes to what they deal with on a daily basis."
The last time Daybreak did the Sleep Out was just weeks before the pandemic ramped up in middle Georgia, Sullivan said.
"Little did we know how important that would be," she said, noting the additional challenges COVID-19 has caused Daybreak's ability to serve the city's homeless. "It really helped us get through the COVID times and remain open."
Because of the pandemic, Daybreak has had to rethink how it does much of its work. This includes temperature screenings, mask requirements, and social distancing, Sullivan said.
Sleep Out attendees will see those precautions with their own two eyes.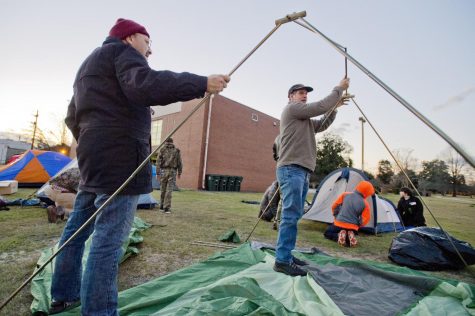 "You are going to do it the way our participants do it every day," Sullivan said.
For people uncomfortable sleeping in public during the pandemic, Daybreak is providing digital options for those who want to sleep out in their front yard instead. While participants can sleep out in Daybreak's yard as normal, participants can hitch a tent in their yard and watch Daybreak's speakers over Facebook Live, Sullivan said.
In-person Sleep Out participants will also receive both dinner and breakfast the way many Daybreak participants do. Participants will also hear from people who receive support from Daybreak.
Overall, Sullivan hopes that the Sleep Out enables participants to connect with Macon's homeless individuals.
"When we were doing fundraisers, we could have done a big steak dinner," Sullivan said. "But it was like no, let's just be with the people."