Preserving Ocmulgee
The plants of Ocmulgee have a guardian angel – Heather Bowman Cutway. This ecology professor from Mercer University is responsible for a variety of important projects involving the local ecosystem.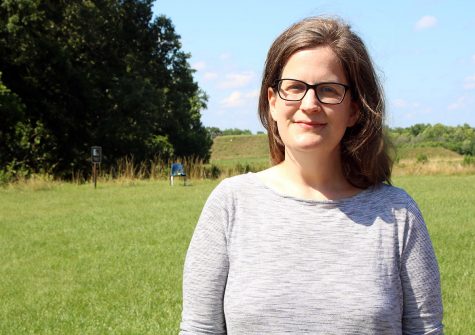 Currently, she is working on the reintroduction of the endangered species Fringed Campion (Silene Polypetala) to the burial mounds.
"I had the idea of planting [the Fringed Campion plants] here at Ocmulgee since this is part of the historic range of the plant. If they were established here, then it would be a place where they'd be protected," she said.
As an educator, the park provides hands-on learning for her student's curriculum through her revival project. The opportunity for doing real world research with her students is another feature the ecology professor brings to the park.
"…having a place like [Ocmulgee] is really important [for the class], but seeing my reviews I get after class, one of the things they talk about as their favorite thing was being outside and that they've returned since then. Exposing people to a new place and having them continue to enjoy [the park] is important to me," Bowman Cutway explains.
However, the true value she appreciates from Ocmulgee comes from the sanctuary of its elegant forests and the harmony of birdsong.
During her childhood, the natural world in her backyard had been an escape from her troubles – until it was suddenly taken away.
"We had a little patch of forest behind my house, and it was my favorite place to be. It was where I wanted to run away to when I was mad at my parents, where I just wanted to sit and look at the flowers," Bowman Cutway recollects. "And then, when I was in middle school, that forest got cut down as part of a road project. That's when I became more of an activist of not just enjoying [nature] but realizing how easily it can be taken away."
By helping Ocmulgee flourish, she protects her hopes for the future and keeps her childhood dream alive.
The work she does for increasing biodiversity in the park also impacts the lives of people living near the mounds. Nature's bounty provides a variety of amenities for Macon's residents beyond tourism revenue and a pretty view.
"We don't think much about it, but I would talk about all the ways we rely on nature without realizing it," Bowman Cutway explains.
The wildlife in Ocmulgee provides Macon residents with clean air, clean water from the Ocmulgee river, and reduced disease among other benefits, she said.
While the impact of her work may only directly affect the lives of Macon locals, she is proud of her successful work in preserving the park. She hopes that the progress at Ocmulgee will promote others to take action in protecting their local environments.
"…to me, [the natural benefits from the park versus urbanization] are so tightly connected to the livability of a city," Bowman Cutway explains. "I hope that other communities would see that connection [between nature and urban development] to support jobs and to get people to live in your city."
Ms. Bowman Cutway continues to teach at Mercer University and pursue her Fringed Campion revival project at Ocmulgee National Historical Park.