Army veteran finds his new uniform
He wakes up and dresses in one of 20 identical outfits. National Parks Service Ranger Lonnie Davis has worked at the Ocmulgee National Monument, in Macon, Georgia for 13 years and used his yearly $300 uniform allowance to build up a closet of collared shirts and cargo pants.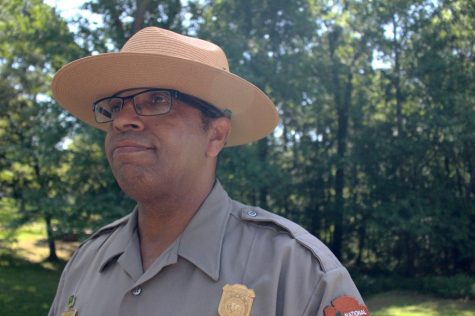 Davis' daily outfit includes a variety of bling — a gold name tag, an official national park service badge and a 2016 Ocmulgee millennium pin. Depending on the season, he sports a straw or felt Smokey the Bear hat.
Davis, 57, is the eleventh of 20 kids. 18 boys and two girls. He's fluent in three languages, has three kids of his own and considers the National Parks Service a second career.
He served in the Army for 21 years with stints in Saudi Arabia, Kuwait and Germany before he returned to civilian life. It wasn't entirely his choice.
"I was laying on the sofa at home when my wife called me from the hotel that she was managing, and she told me to turn the TV on. So, after 9/11, she basically said, 'no you're not going back overseas. That's it,'" he said.
Over the next several years, Davis started crossing projects off of his "honey do list." A few years proved more than enough time to finish these jobs.
"I was starting to do weird things to the house," Davis said. "I started doing things like moving doors around."
Much like before, his wife told him it was time to call it quits and find something else to do.
"My wife basically said, 'You gotta go find you a job somewhere … destroy someone else's property,'" he said.
Davis found a job cutting down trees on the Ocmulgee property. He now works as a cultural resources specialist, giving tours of the ancient Indian mounds to students.
Until his wife says otherwise, Lonnie Davis will still be buying uniforms every year.