Soulful Teen With Stage Fright Focuses In On What Music Is Like For Her
Chemere Duhart has attended the Otis Redding Music Camp for the past three years. Although she is a talented young musician, stage fright has always been a complication for her. After an amazing performance, filled with confidence and expertise, Chemere revealed how nervous she had actually been.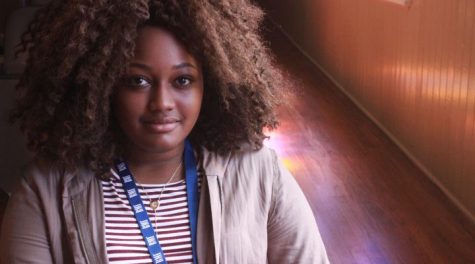 "When somebody asks me to sing for them, I'm like, it's just like a feeling that comes in my chest."
Because of her stage fright, she would not want to publically perform but rather, "learn more instruments, continue writing songs and learning engineering," Duhart said.
"I meditate, clear my mind, I really practice, I practice a lot, practice always helps. I just always try to stay positive — about everything."
Duhart decided to attend the Otis Camp, held at Mercer University, after it was recommended to her by her mother who had previously looked into it. Three years later, she still loves to go to camp as well as hang out with former and new campers.
She has developed new skills and techniques to help foster her learning in different genres of music, a trait she has developed in the past three summers at camp. Currently, she is learning how to play guitar. Along with this instrument, Chemere knows how to play piano, flute, clarinet, trumpet, and percussion.
Duhart also practices her musical talent outside of the Otis Redding Music Camp. She has a music teacher who is helping her learn how to play piano. "She's very nice, she lets people learn at their own pace — which I love that, I really love that," Duhart stated.
In addition to being talented and confident, her musical expertise has been primarily self-taught, other than her piano classes. Each summer the Otis Music Camp helps hone the skills she developed on her own through the year.
Duhart is passionate for what she does and overcomes her trials with stage fright face on. With her impressive singer-songwriter skills, self assurance, drive, and talent there is no doubt that Chemere Duhart is going to be an ardent adversary for the music industry in the future.