7 Great couch co-op games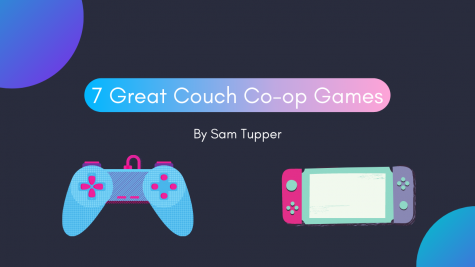 Multiplayer games, both in-person and online, have become a massive piece of the games industry. It can be challenging to pick the right one for you with so many games to choose. Here are some of the best couch co-op and online games to kill time with your friends.
1). Minecraft
Minecraft is one of the gold standards of cooperative video games. The game features a simple, blocky art style making it easy to run on various platforms: PC, home consoles, even most mobile devices. The game can be played with four-player split-screen on almost any console as well, so only one person needs to own the game to play locally. The game can also be played online between platforms thanks to the introduction of cross-platform play. Minecraft's expansive worlds, frequent content updates, and ease of access are all reasons why it continues to be one of the best multiplayer games on the market for new and seasoned players.
2). Super Smash Bros. Ultimate
Super Smash Bros. Ultimate is both a staple party game and a great couch co-op game. Up to eight players The game features a high skill ceiling and a low skill floor, meaning it's easy for new players to pick up yet full of enough depth to entice serious ones. Try out the game's 80 plus characters, with new ones still being added through the game's two fighter passes. Players can utilize various items while fighting, like Pokéballs, swords, and other tools to help secure victory. Super Smash Bros. Ultimate is a great game to include anyone.
3). Super Mario 3D World
For those who'd like to explore a colorful world with friends, Super Mario 3D World is a strong choice. Players can choose from up to five characters: the well-balanced Mario, the high jumping Luigi, the speedy Toad, the floating Princess Peach, or the spinning Rosalina. Explore eight unique worlds full of various enemies on which to jump. Players can pick up and throw each other, leading to some fun team cooperation or sabotage each other to earn more points and earn a crown. If you have four friends looking for a good adventure, Super Mario 3D World is a good bet.
4). Overcooked! 2
Despite its more relaxed, casual exterior, Overcooked! 2 is a game with the potential to test even the strongest of friendships. Playing with a friend can range from a simple cooking game to yelling at each other like you're both Gordan Ramsey. In this game, players take control of a chef and have to cook orders in various odd locations. Players will work together or sabotage each other washing dishes, grilling, and serving food.
5). Halo: The Master Chief Collection
For those looking for a more action-oriented experience, The Master Chief Collection is the perfect split-screen collection of the six games. In the campaigns, you take control of Master Chief and various other heroes from the Halo franchise. Each game features at least two players, with Halo 3, Halo 3: ODST, Halo: Reach, and Halo 4 supporting four-player online co-op. If you don't feel like working with your friends, the collection also contains the competitive multiplayer of every game in the series. Halo 3, Halo: Reach, and Halo 4 also feature a "Forge" mode for players to build their own map layouts with friends. Whether trekking through six unique campaigns, a collection of different multiplayer maps, and a building mode for creative players, this game offers plenty of content for action game fans to love.
6). Mario Kart 8 Deluxe 
Any Mario Kart game is a classic multiplayer experience. Mario Kart 8 Deluxe is both the easiest to access and the easiest to learn game in the series. Players take control of a wide range of Mario-themed characters as they drive in 12 person races, all while dodging obstacles, item pickups, and each other. In the Nintendo Switch version, players can enjoy a new battle mode. Whether playing with friends online or on the couch with up to four friends, Mario Kart 8 Deluxe is the best way to experience one of the best games in the series.
7). Rocket Leauge
Rocket League is a great mix of competitive and cooperative gameplay. In the game, players control a rocket-powered car using momentum to launch themselves into the ball and each other. Players can play split-screen competitively or take a friend online to compete with others. Like Smash Bros, Rocket League is easy to pick up and play yet full of enough challenges for players to get invested. With the game now free-to-play, there hasn't been a better time to check out this high-octane party game.