Judge halts MWA grand jury probe of what chairman calls 'bully group'
Water Authority Chairman Sam Hart cancels his recognition ceremony at final meeting due to 'current atmosphere' on board he asked DA to investigate
Macon Water Authority members have 20 days to submit legal briefs to the court after a Bibb Superior Court Judge suspended the Grand Jury investigation into alleged board misconduct including possible illegal meetings.
District Attorney Anita Howard issued subpoenas for Dwight Jones, Bill Howell, Anissa Jones and Frank Patterson after they declined her offer to voluntarily appear to answer allegations raised by Chairman Sam Hart following the forced resignation of Executive Director Joey Leverette in late October.
Hart alleged the board members met outside regular meetings in violation of open meeting laws and ran afoul of bylaws.
Friday morning, attorneys for the four board members argued before the judge that the Macon Water Authority "is not a county entity subject to Grand Jury inspection and investigation" which led to the judge's request for briefs from all parties, according to a news release from the district attorney.
At Thursday's board meeting, the authority voted 6-1 that attorney fees be paid for board members for "matters of litigation arising out of their official capacity as board members, pursuant to Georgia law."
Chairman Hart was the only one to vote against it.
"I don't disagree with the ability to pay. I think the law already exists and nothing we do here supersedes what's already there," Hart said.
The meeting marked the last for Hart, who concludes his second 4-year term at the end of the year.
The former pre-consolidation chairman of the Bibb County Commission decided not to run for re-election, and will be succeeded by Gary Bechtel in January.
Special recognition for Hart's eight years at the helm of the board was initially on Thursday's agenda, but he asked that it be removed due to the "current atmosphere" with the board.
'Tough thing for me to do'
Speaking to The Macon Newsroom Friday morning, Hart said he has mixed emotions about the investigation.
"This was a tough thing for me to do. I didn't really want to do that," Hart said.
The chairman said he had qualms about not giving Leverette an opportunity to address some board members' concerns ahead of a closed meeting that led to his departure. County Commissioner Valerie Wynn, who represents the county on the board along with Commissioner Howell, shared similar feelings about the four other members, Hart said.
"When they went ahead and didn't take advice on Joey and moved with four (votes), and there were several other things," Hart said. "It just seemed like there's a bully group that's going on. … And when Valerie had mentioned to me that she perceived the same kind of atmosphere, then I said, 'Boy, it's time to maybe address this.' And, you know, I'll be out of here. But certainly, whoever comes in, Gary needs a body that will work within the parameters of the bylaws and all the other things."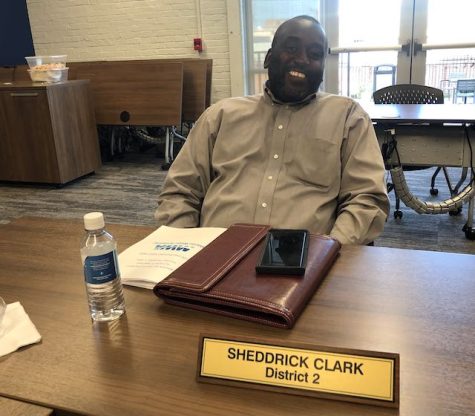 Sheddrick Clark, who was filling the District 2 seat following the vacancy of Desmond Brown, was also attending his last meeting.
Brown, who was under investigation for alleged board misconduct, left the seat to launch a failed bid for chairman, and Lindsay Holliday are in Tuesday's runoff battle.
Interim Executive Director Michel Wanna recognized both men during his monthly report to the board.
"I want to say a big 'Thank You' to Mr. Hart and Mr. Sheddrick on their service over all the years," Wanna said, before speaking directly to Clark. "I know you are not here eight years, but you've been with us quite a few months."
"Seems like that long," Hart quipped.
Clark also served out the unexpired term of the late Javors Lucas before Brown was elected.
Shipman takes over Monday
Thursday's meeting was the first for Ron Shipman, who takes over as interim executive director of the authority on Monday. No formal search has been announced, but since Shipman was a candidate in the recent nationwide search when Leverette was hired, it's possible he could be offered the job permanently after an introductory period.
"Thank you for your confidence in my abilities to do what you need done. Also, I want to thank the authority itself in trusting me to do whatever I do best, which is lead. And, thirdly, I just want to thank Macon-Bibb County for trusting me," Shipman said.
The retired Georgia Power executive, who recently served as interim president of the Greater Macon Chamber of Commerce, signed his contract before heading to the chamber's awards ceremony where he was recognized as the 2022 Citizen of the Year.
The chamber also recognized Hart's service.
Friday, MWA's Senior Executive of Strategic Planning Lisa Golphin presented Hart with a glass memento of his service, and read the proclamation she authored that outlined his career and community service.
Because of the fissure among the board the DA's investigation has caused, Hart said he asked that his recognition be removed from Thursday's agenda as not to put employees in the middle, or have them perceived as being aligned with Hart.
"I knew there were folk who were concerned about me at this point from the board, and I didn't want to put (employees) in the light where they still have to deal with the board and I'm gone and there's no insulation from… any negative fallout that might come," he said.
Hart said he hopes the investigation gets the board on track to focus solely on the business of the authority.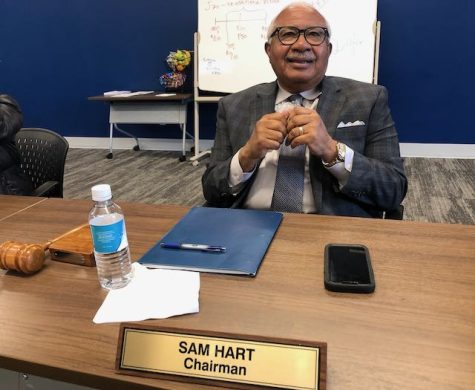 "Nobody's trying to hurt anybody," Hart said.
He said Shipman should be able to come in and run the authority without the board getting involved in the day-to-day operation.
"So, what I hope is that, if nothing else, these folk will self-regulate… and maybe again said, 'Boy, you know, maybe they have some eyes on us and so we need to watch it and stay within and be more conscious of the fact that there are rules," Hart said.
– Civic Journalism Senior Fellow Liz Fabian covers Macon-Bibb County government entities and can be reached at [email protected] or 478-301-2976.