MWA chairman seeks advice from DA, judge over alleged board misconduct
Ron Shipman named interim executive director candidate of Macon Water Authority and would be first minority to hold role
Macon Water Authority Chairman Sam Hart said he plans to contact the district attorney and chief judge of Superior Court of Bibb County for advice and a possible investigation into  alleged board misconduct.
Hart said he received a formal complaint Friday from a member of the MWA board that four unnamed board members "may be operating out of the scope of MWA by-laws."
The complaint came after Thursday's committee meetings and called authority meeting executive session that prompted the resignation of Joey Leverette after nearly 10 months as president and executive director.
"More specifically, these four members may be in violation of the Georgia open meetings act by holding a number of private meetings outside of approved MWA board committee meetings," Hart said.
State law prohibits a quorum of a governing authority to gather to discuss business outside of properly scheduled meetings.
Hart, who ends his two terms as chair at the end of the year, said board members are also accused of violating the by-laws by contacting MWA employees without proper approval from the executive director.
He said he was also concerned "that these same four are involved in discipline and termination of MWA employees that have resulted in a loss of leadership, and especially minority leadership in top positions."
"Continuation of this behavior will erode the integrity of this office and risk wasting ratepayers money on wrongful termination suits and settlements," Hart said. "I want to do everything to restore the integrity of this organization and alleviate any fears that employee might operate under during this most challenging time."
Hart read a statement at the beginning of Thursday's called meeting which was necessary to discuss and vote on Leverette's resignation. After nearly two hours in executive session, they accepted Leverette's resignation and gave Hart permission to finalize Leverette's settlement agreement.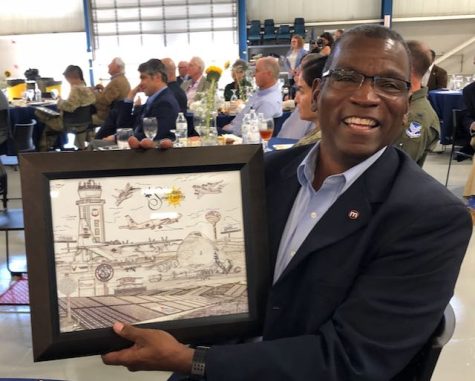 The board named former Georgia Power executive Ron Shipman as a candidate for interim executive director and would be the first African American to hold that position. The authority needs to take a two-week waiting period before they can vote to hire Shipman.
Board attorney Jay Strickland said there was nothing keeping the authority from hiring Shipman permanently without considering others, if they chose to in the coming weeks.
After the meeting, Hart said he would prefer to open up the position to other candidates instead of rushing to a decision. Authority member and Macon-Bibb County Commissioner Valerie Wynn agreed.
"Nothing against Ron Shipman. I think he's a fine man," Wynn said.
She said she wanted others to have a chance to apply.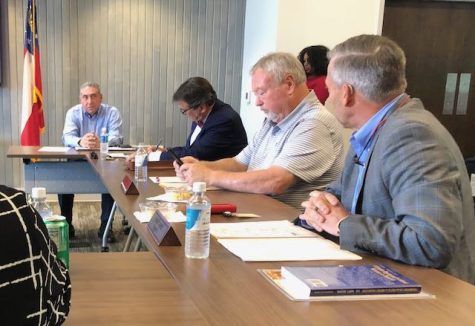 Assistant Executive Director and Vice President of Field and Plant Operations Michel Wanna now serves as interim executive director after Leverette's letter stated his resignation was effective last Thursday.
Shipman was a candidate for the executive director position after the resignation of former executive director Tony Rojas in May of last year, but did not make the final cut of the top two candidates that was released Oct. 26 last year. Both of the finalists had extensive experience working for water utilities, while Shipman does not.
Myers McRae search firm spent months accepting applications and vetting candidates before Leverette and Tony Carnell were named as the two finalists. Carnell, the deputy manager of the Henry County Water Authority, withdrew his name during the required 14-day waiting period for the authority to make its selection.
Leverette was announced as the board's choice to lead the organization last December and his first day on the job was Jan. 3.
Shipman could take over after two weeks, according to rules governing the authority.
Hart did not vote for naming Shipman as a candidate. He said it was not because of concerns about his qualifications, but because he felt the process was too rushed in the final two months of his chairmanship. Hart wants the incoming chairman, Gary Bechtel, to weigh in on who should lead the organization.
"I think Gary (Bechtel) should have input. These decisions do not have to happen so fast," Hart said. "I don't want us to get in a place where we're having to deal with employees' fears and whatever because you've got so much uncertainty at this level. … These are great people that work for us. They're still winning awards and we don't have to make decisions just based on people we know. We need to do the full due diligence."
According to Shipman's professional biographies, he retired from Georgia Power as the vice president of the utility's southwest region and led operations for more than 440,000 customers in 59 counties that included the cities of Valdosta, Dublin, Columbus and Macon. He has more than 35 years of electric utility experience and has served in a variety of leadership roles including legislative affairs, customer service, environmental and external affairs, nuclear chemistry, and distribution management.
Shipman served on Macon-Bibb County Mayor Lester Miller's transition team and was tapped in late March to serve as interim president and CEO of the Greater Macon Chamber of Commerce following the resignation of Yvonne Williams.
In the news release announcing Shipman's chamber appointment, Ivan Allen, chairman of the chamber board said this about Shipman, who is a past chairman of the chamber: "The Macon-Bibb community is familiar with Ron's integrity, professionalism, and unrelenting drive. He is a proven leader, and I have no doubt that his experience, talents and skills will fuel the Chamber's growth and success."
Jessica Walden takes over as chamber president on Monday.
During Thursday's meeting, an auditor discussed concerns about glitches in the accounting software that has resulted in $260,000 in unapplied funds over four years of using Cayenta Finance Management System. Auditor Randy Nichols suggested contacting the software company and bringing someone in to trace the funds and assign them to the proper accounts. Nichols said it was not a failure of personnel.
The authority also discussed recent confusion over committee assignments and improper listing of current committee members on its website. Sheddrick Clark, who has replaced Desmond Brown in District 2 after Brown resigned in a failed bid to succeed Hart, was formally assigned Thursday to the finance and outdoor recreation committees. Corrections have been made to the website.
– Civic Journalism Senior Fellow Liz Fabian covers Macon-Bibb County government entities and can be reached at [email protected] or 478-301-2976.
View Comments(1)