Downtown Macon low income housing complex earns crucial tax credits
If you spend much time in the presence of Macon's housing chief, Mike Austin, you will likely hear his mantra.
"Affordable housing is affordable for people to live there, but it's not affordable to build or maintain," Austin is known to say.
To build new public housing developments, Austin relies on securing Low Income Housing Credits from the Georgia Department of Community Affairs, or DCA, that provide incentives for investors by writing off about 9 percent of their federal and state income taxes for 10 years.
Tuesday, Georgia's DCA announced the Macon Housing Authority's planned $20 million Central City Apartments workforce housing development on lower Walnut Street will qualify for the tax credits necessary to secure a deal.
"This will be the first affordable housing to be built in downtown Macon in decades," Austin stated in an email after the list was published. "As downtown rents continue to rise, it is critical that new, affordable units come to fruition to cater to individuals and families who may not otherwise be in a position to afford to live where they work."
The housing authority's subsidiary, In-Fill Housing Inc., is partnering with Depaul USA to build 82 units next to the Daybreak homeless haven. Three buildings will go up on just over 4 acres that formerly belonged to the Atlanta Gas Light Company before it was purchased by the Macon-Bibb Urban Development Authority in 2006.
Last spring, the housing authority spent $75,000 for the land where the gas utility spent years cleaning up soil contamination from coal tar residue left from generating gas to power city street lights at the turn of the last century.
For several years, Depaul has planned to build a homeless respite and a transitional housing center near the Daybreak location. The organization needed a space for homeless people to recuperate from surgery, sickness and injuries and keep them from suffering health setbacks on the street.
The housing authority's plan to provide low-income workforce housing in downtown was a perfect fit to accomplish both in one development.
The authority's project design and conditional use application were approved by the Macon-Bibb County Planning and Zoning Commission earlier this year.
The one- and two-bedroom apartments will rent for between $480 and $800 per month.
No tax dollars will be used in construction, Austin said.
Urban Development Authority executive director Alex Morrison said adding affordable housing to downtown Macon has been a priority since the first Macon Action Plan was developed five years ago.
"We're thrilled that this land that the UDA has held can be a part in providing the opportunity for affordable workforce housing," Morrison said Tuesday. "We've long partnered with Daybreak in their mission to assist those dealing with the homeless and lifting them out of homelessness."
Morrison also sees the development as beautifying the Seventh Street Corridor near entrance to Central City Park, which has been renamed Carolyn Crayton Park.
The Macon Housing Authority also received DCA tax credits for a groundbreaking partnership with the Columbus Housing Authority to build 72 senior housing units in the $15 million Warm Springs Village Apartments at 4219 Warm Springs Road, close to the YMCA.
Plans are to have Valley Health Care provide screenings and health education to residents at no charge. Columbus Botanical and Ugrow Inc. will partner for a community garden on the premises.
MHA's entity, Warm Springs Senior Village LP, will build the development and the Columbus Housing Authority will manage the property that will rent one- and two-bedroom apartments for between $581 and $694 a month. Again, no taxpayer dollars will be used.
"It will be the first joint housing authority partnership in the state of Georgia,"Austin said.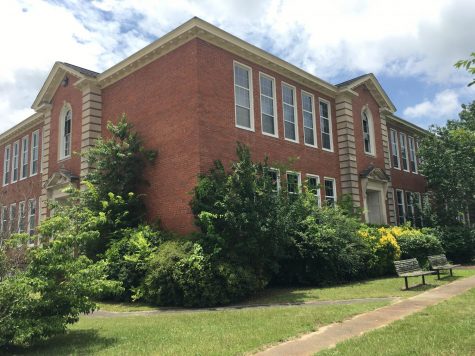 Austin also was hoping the private developer Woda Cooper would receive DCA tax credits for Hawthorne Commons, a proposed senior housing development in Macon's old Virgil Powers Elementary School on Second Street near the Bibb County jail.
The Ohio-based developer with an office in Savannah also planned to build affordable workforce housing on the old campus, but shifted its plan to a senior citizen complex when it was discovered it would be competing with the housing authority for the tax credits.
Austin didn't think Macon could land two similar projects within a couple of miles of each other, so he called on Mayor Robert Reichert, who communicated that to Woda Cooper representatives.
"They graciously switched categories at the last minute," Austin said.
He was saddened to hear the Hawthorne project, that included preserving Macon's oldest church building and constructing a new residential building, did not make the cut in the competitive 2020 application process.
"Because there is an overwhelming demand for affordable housing in Macon and throughout the U.S. it is unfortunate that the site was not funded," Austin said. "We are glad to know that other developers share our mindset in trying to produce very attractive and sustainable housing here in Macon."
Reichert was impressed with Woda Cooper's flexibility that included abandoning plans for building apartments in the old church when county commissioners objected this summer.
The project is still possible, according to Denis Blackburne, Woda Cooper's senior vice president for development who is based at the coastal Georgia office.
"We remain very interested in developing Hawthorne Commons and will continue to work with the City of Macon and the Macon-Bibb County Urban Development Authority with a plan to resubmit next year," Blackburne stated Tuesday through a company spokesperson.
For Austin, the hard work is just beginning as the authority identifies investors for the projects in Macon and Columbus.
Construction is expected to begin next fall and the apartment complexes should be up and running by spring of 2023, said Austin, who is excited about providing new affordable housing opportunities in the midst of the booming urban loft market.
"We are grateful for the overwhelming support from our industry and local partners who realize that building and maintaining good affordable housing in downtown adds to the richness of Macon's fabric by being inclusive and welcoming to all."
Contact Civic Reporting Senior Fellow Liz Fabian at 478-301-2976 or [email protected].
View Comments (2)