Changes coming to downtown Macon parking meters
For more than two years, visitors to downtown Macon have been plunking in coins or slipping credit cards into parking meters.
Although COVID-19 disrupted revenue collections, traffic is increasing again and changes are on the horizon. Meters will be removed on a portion of First Street and others added to Plum Street between Second and Third streets.
The Macon-Bibb County Urban Development Authority oversees the parking management system that is run by Lanier Parking Meter Services.
UDA executive director Alex Morrison and Lanier are looking at trends in an effort to improve the parking system now in its third year.
"(We) put our heads together to really make a couple of tweaks based on trends and feedback," Morrison told the authority in August.
One of the downtown merchants asking for changes is the owner of 7th Street Salvage at the corner of Second and Plum streets.
Brent Meyer opened the cooperative gift shop in time for last year's Black Friday.
The availability of parking spaces on the store's own property was a selling point.
"That is the reason we bought this building so we could guarantee customer parking and our own (staff) parking," Meyer said Friday.
Without those five on-site spaces, customers would really have a hard time finding a space on the previously unmetered Plum Street.
"Downtown workers use all the street parking," Meyer said. "There are no spaces for customers to park."
The business erected signs to help prevent unauthorized parking particularly  in front of the loading bays.
"We have the 30-minute parking signs and we will tow," Meyer said. "We don't mess around with parking down here."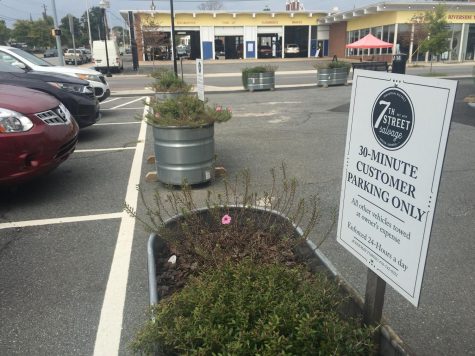 Parking availability has gotten even more scarce since Fall Line Brewing Co. opened in March, bringing more people to the street. Nearby meters on Second Street also were removed when the Second Street Corridor was expanded, Morrison said.
The management of the brewery also supports putting in meters, Morrison said, but workers at 7th Street Salvage are preparing to get complaints once the meters go in later this month.
"I do think there's going to be push-back because people don't expect to pay," Meyer said. "But there's such limited space we have to find a way to keep businesses from parking here."
A nearby car lot that leaves surplus vehicles on the street doesn't help matters, Meyer said.
Morrison has touted the success of the parking meters in reserving street parking for patrons and pushing employees into garages and other rental lots.
County commissioners such as Virgil Watkins also have been calling for more free parking around Government Center, Morrison said.
Currently there are some public spaces on D.T. Walton Way, but meters line the building on First Street.
Those meters will be removed to allow for free 30-minute parking. Lanier will still monitor that block and write tickets for anyone staying over a half-hour.
Although the UDA is repaying a 7-year, $750,000 amortization loan to cover the cost of the meters, any revenue over expenses will be put back into downtown.
After the Christmas shopping season, Morrison plans to begin restriping downtown streets and marking curbs.
"Unfortunately, it's not sexy but it's necessary," he told the authority at the October meeting.
Meter revenue is still off about $40,000 a month due to decreased traffic during the coronavirus pandemic.
The cancelation of the Cherry Blossom Festival in March and the lockdown led to a drop from nearly $87,000 dollars in 2019 to just over $38,000 this year.
With the lockdown in place, only $3,439 dollars came in for April compared to $74,373.55 last year. May's intake dropped to a little over $13,000 before coming back up to just over $34,000 in June and rising to just over $38,000 in September.
"I know that COVID was a big deal and it definitely hurt our numbers but we're also extraordinarily pleased we were able to reserve spaces for curbside pickup and underscore the mission," Morrison said. "The whole reason we put in parking meters was to support downtown businesses."
Had the meters not been in place, it would have been more difficult to reserve spots in front of restaurants for those picking up orders to go, he said.
While those wanting to grab lunch downtown used to have to continually circle the block waiting for a space to open, slots now are typically available except for the highest traffic areas.
Morrison also is working with Lanier to research trends and implement dynamic pricing with varied rates for different sectors downtown.
"We are noticing there are blocks that are heavily populated all the time and other blocks that are more or less empty," he said.
They are considering raising hourly rates along Cherry Street from $1.25 to $1.50 or $1.75 and possibly dropping the cost in places like the less-traveled base of Poplar Street near Martin Luther King Jr. Blvd.
Different prices also could be set according to the time of day.
Those changes will cost money, though, as meters have to be reprogrammed and downtown visitors alerted to the price differences.
"My only concern about changing the pricing is there's got to be a way for people to clearly know otherwise you'll get nothing but complaints," UDA member Kay Gerhardt said in the recent meeting.
Morrison said they are still exploring how to enact a varying price structure, which has become common practice in other cities.
"It's something other municipalities have done with great effect."
Contact Civic Reporting Senior Fellow Liz Fabian at 478-301-2976 or [email protected]