Bridge to reopen by spring to link Second Street Corridor Vision Block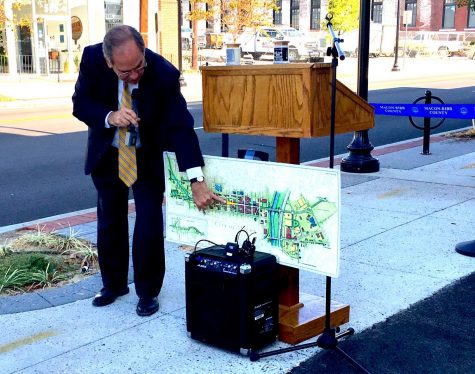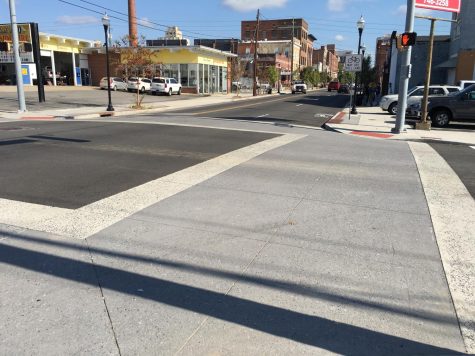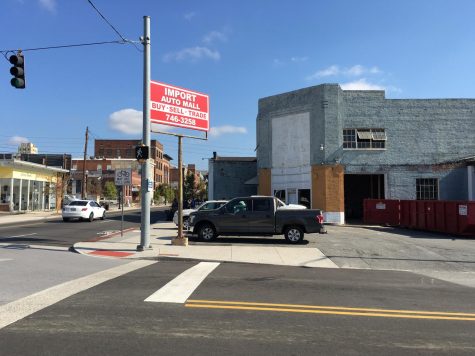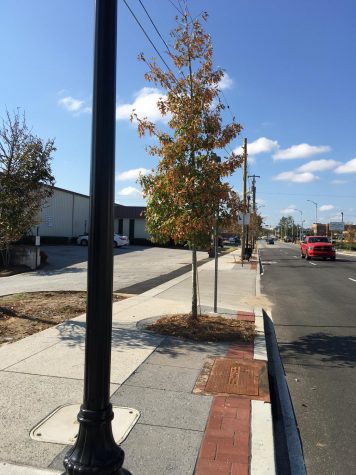 It's barely feeling like fall and Macon Mayor Robert Reichert already has his sights set on next spring when the Second Street bridge will be complete.
"I can't wait until February or March," Reichert told the Urban Development Authority as he left the meeting Thursday morning.
Reichert was headed to a ribbon cutting at Second and Plum streets for the second phase of the Second Street Corridor Vision Block.
Through a $1.5 million grant from the Georgia Transportation Infrastructure Bank, the county installed new sidewalks, bike lanes, street lights, benches, trees and crosswalks from Poplar Street to Plum Street Lane near the proposed future development of MidCity Square at Pine Street.  The county currently is looking for a master developer partner to complete that proposal for green space and residential and commercial properties to be built to the southeast of the Navicent Health medical complex.
For several years, the mayor has envisioned an enhanced corridor connecting Interstate 75 at Mercer University Drive, under the pedestrian bridge near Mercer's campus, onto Little Richard Penniman Boulevard to Second Street through town and leading toward East Macon and the Coliseum Heights neighborhood where blighted properties are being restored around the city's first residential areas.
About five years ago, the Vision Block's first phase enhanced Cherry Street to Poplar Street which coincided with boarded up buildings being developed into new restaurants, brew pubs and businesses.
"The redevelopment of that block has been phenomenal to see," said District 2 Commissioner Rabbi Larry Schlesinger.
Reichert echoed that sentiment: "I think the growth is dynamic."
A blue ribbon stretched across the Second Street sidewalk and a quick snip cut it in two to celebrate completion of the Vision Block second phase which began in January.
The ceremony took place outside the old Import Auto Mall at the corner of Plum and Second streets where the owners of 7th Street Salvage are busy renovating the building for their candle-making operation and retail store.
"We always wanted to get downtown… especially with all the work they've been doing," said Brent Meyer, who co-owns the business with his wife, Catherine.
The corner building has been in disrepair but is expected to reopen next month, he said.
We fell in love with it. This is us," said Meyer, whose 7th Street Salvage business near Central City Park takes down old buildings, saves architectural items of interest and rehabs old treasures into functional furnishings.
After moving to town in 2011, Meyer said he now feels like a transplanted Maconite and is excited about the Central City Commons project that is expected to bring two hotels, additional lofts and retail spaces in the block across the street and will stretch from First, Poplar and Plum streets to D.T. Walton Way.
Meyer hopes the development will bring new downtown visitors to purchase his candles and shop with a couple dozen vendors he plans to host on the second floor.
In about five months, the mayor will be cutting another ribbon as the Second Street Bridge over the railroad tracks near Ash Street will have a "panoramic view of downtown," Reichert said.
The new construction replaces the old "hump bridge" that gave shock absorbers a workout as vehicles passed over in years past.
The mayor expects the bridge to reopen by the end of March.
Contact Civic Reporting Senior Fellow Liz Fabian at [email protected] or phone 478-301-2976.