P&Z: Old Holiday Inn to be apartments; new use for Westgate parking lot
Macon Housing Authority shelves East Bank apartments and proposed solid waste transfer station proposal deferred two weeks
An old north Macon hotel is set to become a 95-unit apartment complex after Monday's approval from the Macon-Bibb County Planning & Zoning Commission.
At the former Holiday Inn at 105 Holiday Drive North, PGV Advisors management consulting company plans to convert 70 rooms into 35 one-bedroom, 566-square-foot apartments with two bathrooms and a full kitchen, and rent the other 60 existing extended-stay rooms with kitchens as 283-square-foot efficiency apartments.
The old Chasen's lounge, which has a separate entrance, will be leased as a restaurant and the hotel conference rooms are expected to be repurposed as a tenant clubhouse. The company also plans to keep the swimming pool and fence in the property to separate it from other nearby hotels.
"We want to bring quality people to stay there and bring affordability to the market," said Sam Datta, owner of PGV, which stands for profitability, growth and value creation for investors.
Datta estimated room rents to vary between $700 and $900 per month.
"I don't know anyone who will live in a 300-square-foot unit, but there will be people ready to rent them," said P&Z Commissioner Josh Rogers.
"There's just so many people out there today making $15 an hour," P&Z Chair Jeane Easom said. "They've got to be affordable because there's so many people out there who can't afford $1,600 to $1,800 a month."
"Right," Rogers said. "The only way to make them affordable is to make them smaller."
Datta said the company plans to include utilities in the rental price.
Macon Housing Authority pauses apartment plans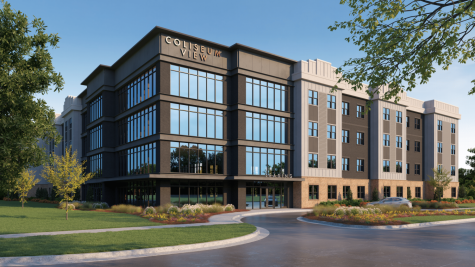 Those hoping to learn more about the Macon Housing Authority's plans for a 60-unit, multi-family apartment building at 280 Clinton St. will have to wait until next year.
Friday, after the agenda had been posted, the Authority's non-profit entity In-Fill Housing withdrew its application for the new Coliseum View apartments that would be built across from the Mill Hill East Macon Community Center.
The authority was planning to apply for Georgia Department of Community Affairs low-income housing tax credits, but this year's deadline is May 19, which left little time to compile and submit the application.
MHA CEO Mike Austin referenced the highly-competitive tax credit application process when explaining the withdrawal.
"We all agreed that we would take some time to make sure we could get everything lined up properly," Austin said in an emailed response to an inquiry from The Macon Newsroom.
The authority plans to apply for tax credits next year.
"It is a great location and a great overall concept," Austin said.
Parking at the Middle Georgia Industrial Park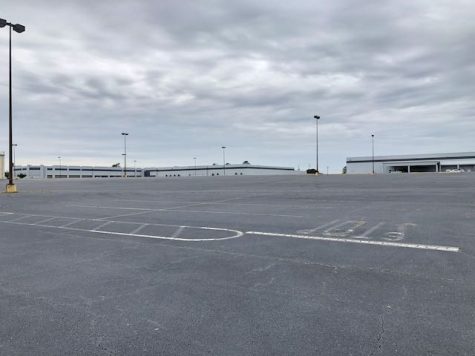 Not all of P&Z commissioners were satisfied with the latest reinvention of the old Westgate Mall.
Commissioner Tim Jones voted against the Middle Georgia Industrial Park's proposal to use nearly 500,000 square feet of the sprawling parking lot to house tractor trailers at 2525 Pio Nono Ave.
Jones expressed concerns that the truck parking lot would not complement plans for revitalizing the Eisenhower Corridor, and said that he had hoped something could go in that area of town to alleviate the food desert.
Jones also wondered if the asphalt would hold up under the weight of the big rigs since the parking lot originally was designed for personal vehicles.
"This is not a truck stop where people will be staying overnight, but a place to park their truck and spend the night somewhere locally," said applicant Joe Sabbagh, of Ultimate Realty.
The other four commissioners approved 159 truck parking spaces in the front of the property along Pio Nono Avenue. The property would still have ample parking available for the property's current tenants that include a paper product manufacturing plant, a millwork facility, Sunbelt Rentals Flooring Solutions and American Freight Discount furniture.
Rogers said he prefers using existing asphalt than paving current green space elsewhere to provide much-needed tractor trailer parking.
"I thought this was a great plan," Easom said. "It's already paved. It's already got lighting. All they have to do is put up fencing and they're good to go. … I thought this was a great use for this parking lot because it just sits there."
New rules for Intown Neighborhood guest quarters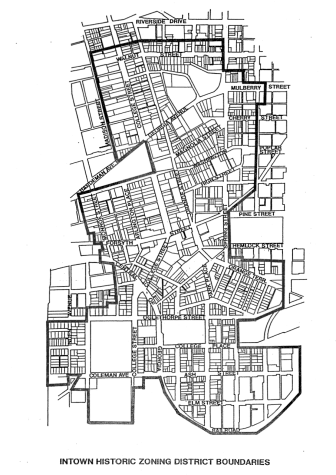 Although Intown Historic Neighborhood residents recently paid close attention to a proposed upscale inn in the "Crisco House" at 619 College St., no one from the public signed up to speak Monday about rule changes governing guest quarters in the district.
P&Z Commissioners approved an amendment to the code that would allow for up to 10 rooms to be rented for up to 90 days in the Intown HR-3 district, which encompasses the residential streets around downtown.
The amendment defines guest quarters as rooms or units in an owner-occupied residence that provide accommodations for short-term renters. Only two meals can be served per day, and there will be no public or private bars, taverns, restaurants, nightclubs or special event centers permitted under the change. Overnight guests may be served alcoholic beverages, provided all county regulations are followed.
Appropriate parking must be provided.
The resolution, which was approved unanimously, states that "guest quarters are an appropriate and beneficial use in the Intown Historic District, improving walkability and benefitting tourism by providing tourists and visitors an alternative place to stay, which is both convenient to downtown and also within a pleasant, walkable neighborhood."
Waste transfer station plan deferred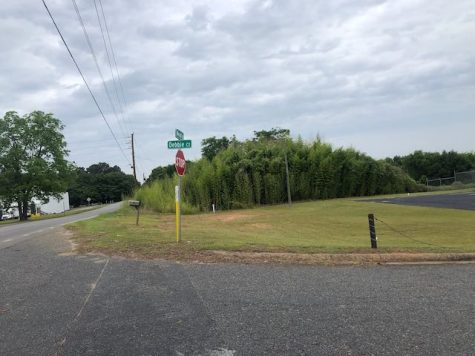 The Conditional Use application for a waste transfer station at 4300 Mead Road won't be heard until May 22.
Eberhardt Industries and Mead Road Environmental wants to build the transfer station, scales and a 40-foot-tall metal building for waste storage on a 170-acre parcel which stretches from near Debbie Court to Broadway. The property is zoned M-2, which allows heavy industrial use.
In 2000, Eberhardt was granted approval for an inert landfill for construction and demolition debris on that property, but the permit expired and the project was never built.
The P&Z staff analysis determined the proposed use is not compatible with the existing land use pattern, might not adequately provide a noise buffer to the Lynmore Estates neighborhood and noted that the transfer station would be adjacent to the local playground and near wetlands.
"Additionally, there is a possibility that the proposed use could negatively impact the property values of nearby residential uses," the report stated.
Other P&Z actions taken
4400 Cavalier Drive – Conditional use granted for office and warehouse buildings on 21.15 vacant acres fronting Cavalier and Cattlemens drives and Interstate 475 along the east boundary. Applicant Justin Spillers said his first tenant is a local business that will be open 7 a.m. to 5 p.m. He expects to build additional buildings to the specifications of future tenants and will return to P&Z. Commissioners asked that he add more brick or stucco to the front of the metal building and to work with P&Z staff on the final design.
1071 Magnolia St. – Certificate of appropriateness granted for the removal of a Sycamore tree that was threatening the foundation of the house.
427 Poplar St. –  Serenity Entertainment Complex granted conditional use to have live entertainment in the existing bar, lounge and game room operation that is open from 8 p.m. to 2 a.m. Wed. through Sat. and also hosts special events.
537 Pine St. – Signs and new color scheme approved for the new Vital Signs location. Owner Kit Andrews did not seek prior approval before painting the building. "We messed up," Andrews said as he went before the Design Review Board in April. "This is our 20th year. We Always wanted to invest in downtown and bought a building and had no idea I had to get approval to paint it," he said.                                                                                                                                     According to guidelines for the Central Business District, painting brick is not appropriate, but the DRB concluded trying to remove the paint would do more harm. Instead, the board asked Andrews to come back with a design featuring and accent color to highlight the cornice that would help restore the mid-century modern features of the building that were lost when it was painted one color. They signed off on Andrews' new two-tone proposals. Although the board and P&Z do not regulate colors, P&Z commissioners favored Andrews' grey accent over the maroon option.
2278 Ingleside Ave. – P&Z approved the conditional use of a professional office for a pediatric care aid operation housing four employees with 20 field staff using it as a base location, but would be providing care off-site. The business will be open weekdays from 8 a.m. to 5 p.m in the former single-family home that operated as an office for adult day care services but has been vacant since 2019.
– Civic Journalism Senior Fellow Liz Fabian covers Macon-Bibb County government entities and can be reached at [email protected] or 478-301-2976.