'Crisco House' hotel deal dies; P&Z approves Greenwood Bottom bar, subsouth subdivision and RV park
Buyers terminate contract on the 1901 Beaux Arts home of the creator of Crisco, release statement describing stalemate with owner
Plans broke down Monday to turn the historic "Crisco House" into an upscale inn after the potential buyers terminated the sales contract citing a lack of transparency in the sellers' disclosure and other factors that killed the deal to purchase 619 College St.
When Michael Rivellino and Carrie Genzel withdrew their rezoning request last month, they told The Macon Newsroom they still planned to pursue the project and wanted to appear in person at the Macon-Bibb Planning and Zoning Commission once details were finalized. 
This week, their attorney advised them to terminate the contract immediately after the seller refused to give them more time to resolve issues including deed restrictions discovered during due diligence and rezoning, according to the couples' statement. 
Attempts to reach owner Michael Crossley were unsuccessful as a message left through his office was not returned before publication of this article.
In 2006, Historic Macon Foundation placed the deed restriction on the property limiting it to a single-family, owner-occupied residence with up to two rental units. 
Josh Rogers, former executive director of Historic Macon, said a deed restriction is locked to the property and overrides any rezoning.
"It's very common for people to be well past due diligence and already purchased the property before discovering the deed restriction," Rogers said.
Current Historic Macon Executive Director Ethiel Garlington said Tuesday that the foundation had worked with the Intown Neighborhood Association and Rivellino and Genzel to accommodate their plan. It would be the first time Historic Macon revised one of its covenants, Garlington told Intown neighbors at a December meeting about the inn project.
Rivellino and Genzel say they fell in love with Macon when they visited last September and plan to "explore other opportunities in Macon and contribute to its growth and revitalization," according to the statement. 
"Relationships always survive deals," Rivellino said Monday evening. "We absolutely have fallen in love with Macon and all the new people we've met."
Genzel told The Macon Newsroom: "There's been so much anticipation about this project and so much excitement and it breaks my heart. We haven't given up on Macon or this project."
In their statement, the couple went on to say: "Although we are disappointed with this result, we would like to thank Mayor Miller and city officials for their generosity and enthusiasm when assisting us in our endeavors."   
Greenwood Bottom restaurant and lounge on MLK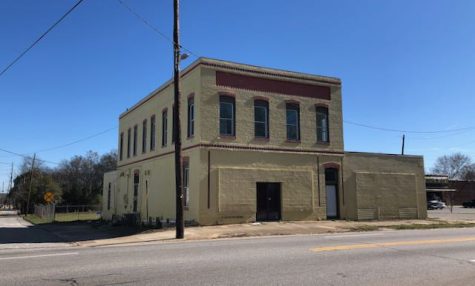 Brandon and Nadiyah Harris have put aside plans for an outdoor bar on Bay Street, but haven't abandoned their desire to revitalize the Greenwood Bottom African American business district. 
Monday, P&Z granted approval for the Sunset Suite and Lounge serving food and alcohol at 1410 Martin Luther King Jr. Blvd. at the corner of Elm Street, next to Dollar General. 
"We've already been building in Greenwood Bottom and we just kind of want to bring it up the street," Brandon Harris told commissioners. 
The two story, 5,000-square-foot, painted brick building they are renovating is within the footprint of the historic Black business district, he said.
The Harrises, through 1410 Holdings LLC, acquired the property from Whitby Inc. last September, according to tax records. 
They plan to renovate the building for a lounge serving alcohol and food on the first floor with an outdoor entertainment area that will feature live music. 
Nadiyah Harris said the business would be open from 4 p.m. to 12 a.m., but the P&Z application also mentions proposed hours for breakfast and lunch with a capacity for 99 people.
P&Z approved the business and granted a variance for parking since the couple had purchased additional property to provide more spaces. 
Subsouth subdivision at old golf range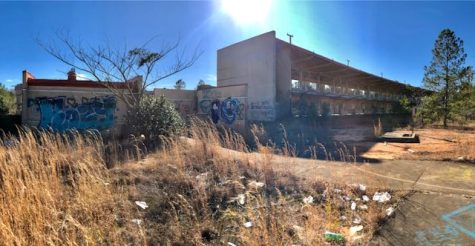 The defunct, graffiti-covered, old golf driving range at 6295 Skipper Road will become a multi-family housing development across from Rutland High School. 
The 46-acre lot currently owned by Harvest Cathedral will be developed into a 309-unit subdivision with about a third of the property featuring single-family homes and the rest townhomes in the new neighborhood designed to service the growing industrial sector around Sardis Church Road. 
Loren Wimpfheimer of Capkey Real Estate out of Atlanta, said they spent a lot of time looking at the subsouth Bibb County area and thought with the proximity to Kroger on Hartley Bridge and the nearby schools that it would be perfect for a new subdivision. 
"Everyone is seeing a shortage of housing. You have workers coming to new opportunities that seem to pop up every week. What everyone is trying to avoid is leaving the county and spending their money elsewhere," Wimpfheimer told the zoning board. 
The parcel of land butts up against Interstate 75 and a landscape buffer is planned along the highway. 
Commissioners approved the project and advised the developers to provide some extra parking areas in the final design for the neighborhood. 
RV park for west Macon
Travelers passing through Middle Georgia, visiting students at Middle Georgia State University or catching a future show at Macon's new amphitheater will have a new place to park their recreational vehicles after P&Z rezoned close to 40 acres for a travel trailer park at 5300 Eisenhower Parkway. 
Robert Moore, of Moore Civil Engineering in Perry, said plans are to provide up to 206 parking pads with sewer, water and electricity hookups on the land just west of Northern Tool & Equipment on Ivey Drive. 
Plans call for an unstaffed operation that provides just the basics, but commissioners urged Moore to encourage the developers to include some sort of office with bathrooms and showers in case guests have unforeseen issues with their campers. 
The land was rezoned from Planned Development to Agricultural to allow for the RV park. 
New faces and other places and spaces
P&Z also upheld the Design Review Board's decision to allow metal awnings on a house at 1005 College St. 
Staff had noted the current historic district guidelines only provide for canvas awnings, but DRB's Will Stanford pointed out that the type of awnings proposed did not exist when those guidelines were issued. 
Plus, since they can be removed from the historic home, Stanford said they had some leeway in granting approval.
Stanford, who was recently reappointed to the DRB, was elected the new chairman of the board, replacing Chris Clark, who is coming off the board after seven years. 
P&Z approved his reappointment, along with the renewal of Carrie Robinson and accepted the recommendation of architect Trey Wood to fill Clark's seat. 
P&Z also approved rezoning of 507 Moreland Avenue to allow an office and contractor storage yard near Broadway and Antioch Road. Commissioners also granted a variance to allow fencing of the property and an adjacent lot. 
–Civic Journalism Senior Fellow Liz Fabian covers Macon-Bibb County government entities and can be reached at [email protected]
Leave a Comment