From here to there: Travel spending by Georgia's congressional delegates
All 435 seats in the U.S. House of Representatives, including 14 in Georgia, are on the ballot on Tuesday, Nov. 8. A new Macon Newsroom analysis of congressional office spending on travel finds wide variance among the state's incumbent members of Congress. The data, collected by The Sunlight Foundation and published on ProPublica, covers spending from 2009 to 2022, but our analysis focuses on calendar year 2021 spending across eight travel-related categories, including private auto mileage, commercial transportation, lodging, meals, gasoline, taxi/parking/tolls, car rentals, and automobile leases.
The average amount spent by Georgia's congressional delegation was $31,732.87 per member, but that is skewed because of significantly lower than normal spending by one member.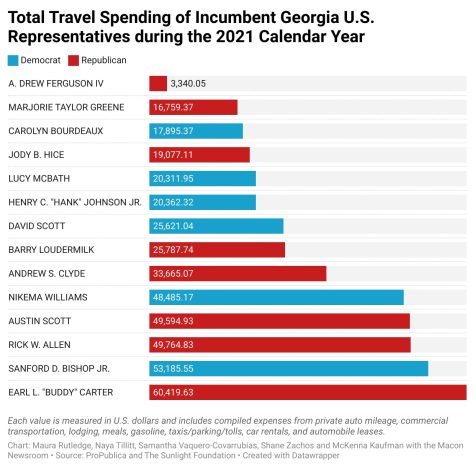 The data show that Rep. Earl L. "Buddy" Carter (R-Pooler) spent the most on travel, at $60,419.63 for 2021. That is 90% higher than the average.  Carter has represented Georgia's first congressional district since 2015, after a long career in local and state politics.  He serves on several committees including the energy and commerce committee and the select committee on the climate crisis.  
Chris Grant, professor of political science at Mercer University, said that Carter's travel expenses could be linked to the size of his district compared to other members. Carter's district covers 15 southeastern counties from Savannah down to the Florida border, including the cities of Brunswick, Jesup and Waycross. 
"Buddy Carter has a big landmass. He's got to travel to a lot of places," Grant said. "He's got to be in Savannah, he's got to be in Brunswick, be in Waycross. He's got to be in Statesboro." 
Air travel could also drive up travel expenses, according to Charles Bullock, professor of political science at the University of Georgia.
"I'm pretty sure it would be cheaper to fly directly into Atlanta than to fly into Savannah because there's more competition between airlines," Bullock said.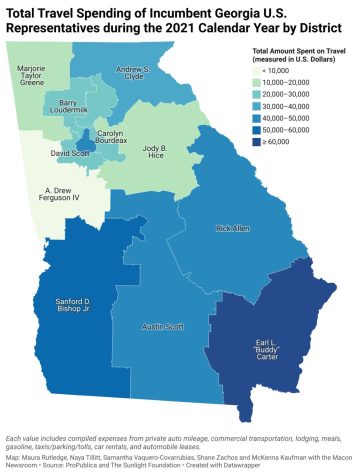 The analysis finds that travel spending is generally lower in districts that are smaller in geographic size and those that are closer to Atlanta.  Representatives of the southern-most districts spent the most on travel in 2021. This includes the second-highest spender, Rep. Sanford Bishop Jr. (D-Albany), who has represented Georgia's second congressional district since 1993. Bishop's district includes parts of 29 counties in the southwest part of  the state, stretching from Macon-Bibb down to the Florida border. He spent $53,185.55 on travel during the dates analyzed.
At the lower end of the spectrum is Rep. Drew Ferguson IV (R-West Point), who has represented Georgia's 3rd congressional district since 2017 and currently also serves as the House Republican chief deputy whip. 
Ferguson, whose district includes all or parts of 13 counties southwest of Atlanta, spent $3,340.05 and had no expenditures in the third and fourth quarters analyzed. This is significantly lower than the rest of Georgia's congressional members. 
Rep. Marjorie Taylor Greene, R-Rome, spent the second least amount of congressional office funds on travel, at $16,759.37.  Bullock described Greene as "a unicorn." 
"She is getting tremendous amounts of money because of her outspoken criticism of Democratic individuals, Democratic support groups, things like this," he said, "But yeah, you do see her showing up at Republican rallies far outside of Georgia because she has a name."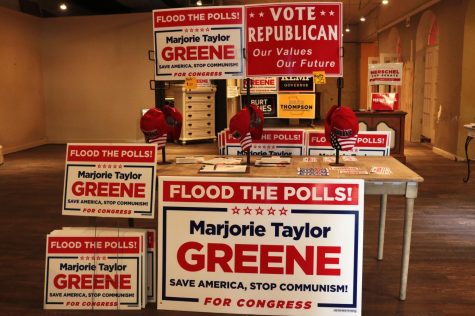 While Greene has become one of the most successful fundraisers in Congress, the data analyzed does not take into account campaign spending. "So it's money to be used to do the job of being a member of Congress, but you cannot legally transfer any of that into campaign events," Bullock said. 
The U.S. House of Representatives Committee on Ethics has issued extensive guidelines on how members can and cannot spend their office budgets. This includes expenses authorized for travel, which can get complicated during election campaigning.  According to the policy:
"Member and staff travel, including to one's district, may be paid with official funds only if the primary purpose of the trip is the conduct of official business.  As a general matter, a Member or staff person, while on official travel, may engage in incidental campaign or political activity, provided that no additional travel expenses are incurred as a result.  However, when the primary purpose of a trip is in fact the conduct of campaign or political activity, then the travel expenses must be paid with campaign funds and cannot be paid with official funds."
The Macon Newsroom analysis of office-related congressional travel also considered party affiliation. Total spending on travel was $444,270.13, with 58% coming from the state's eight Republican members ($258,408.73) and 42% from the six Democratic members ($185,861.40).
In addition to travel, the Macon Newsroom recently analyzed campaign contributions to Sen. Raphael Warnock (D-Atlanta), Republican challenger Herschel Walker, and Libertarian candidate Chase Oliver, as well as the potential effects of redistricting in Georgia's 2nd congressional district, which as consistently been one of the most Democratic districts in the county but could lose that advantage.
Leave a Comment