Georgia is home to the Deep South's only competitive U.S. House race
MACON — Georgia Democratic Congressman Sanford Bishop has been in office for nearly 30 years, representing most of Macon and Columbus, as well as more than 20 other counties in the southwest corner of the state. Over his 15 terms in office, the tightest race he faced was in 2010 when he beat Republican challenger Mike Keown by just under three percent of the vote. Tuesday's election may be his closest race yet. 
Bishop's opponent, lawyer and developer Chris West, beat his Republican primary challenger by less than one thousand votes, but a recent poll by the Trafalgar Group suggests that West is within four points of Bishop. That is just inside the poll's margin of error. The Cook Political Report and Sabato's Crystal Ball at the University of Virginia Center for Politics have both declared the seat "likely Democrat"
Bishop has become a trusted leader among moderate to conservative-leaning Democrats. After the death of Georgia Congressman John Lewis in 2020, Bishop became the dean of Georgia's Congressional Delegation. Serving a mainly agricultural district, his efforts to preserve prices for Georgia crops have kept many federal farm programs in Georgia afloat. 
In 1992, after reviewing Georgia's redistricting plan, the Department of Justice required that Georgia have three majority-black districts. District two became one of these majority-black districts. Because of this, Sanford Bishop was able to win the election over Charlie Hatcher, a white Democrat, even though Hatcher was the incumbent. 
Democrats have held Georgia's 2nd district since 1875, and it has consistently been one of the most Democratic districts in the country. Despite this fact and Bishop's long-standing security in the office, Democrats are concerned that the effects of redistricting could cause Bishop to lose the seat in 2022.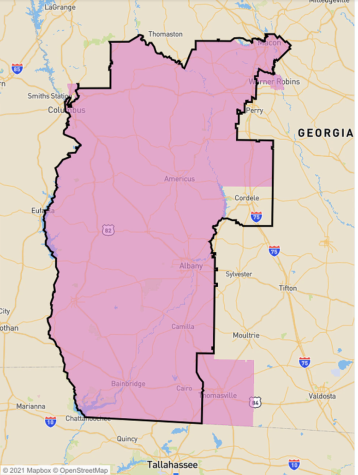 In early 2021, the Georgia State Legislature redrew the lines for the new congressional map in Southwest Georgia following the 2020 census. The new map moved the district's boundaries into Warner Robins and Thomasville and removed voters in Cordele. As a result, the demographics in Georgia's second district shifted. 
The previous congressional map for district two was 51% majority black, but after the lines were redrawn, the black population dropped to 49%, no longer a majority. 
In March of 2022, federal judge Steve Jones ruled that Georgia's new congressional maps used for the 2022 election likely infringed on the Voting Rights Act. The ruling combined three lawsuits claiming that Georgia had failed to give black voters equal voting opportunities by lacking majority-minority districts. Jones' request to block the new boundary lines was denied because Republicans argued it would disrupt the election process. 
Democratic voters have raised concerns that these shifting demographics could unfairly change the results of the 2022 House Election.  Redistricting is expected to increase the number of Republican voters.  
Macon and the new map
Concerns about the new map have also been raised within the Macon community. Macon-Bibb County is the second largest county out of twenty-nine total counties that make up Georgia's second district.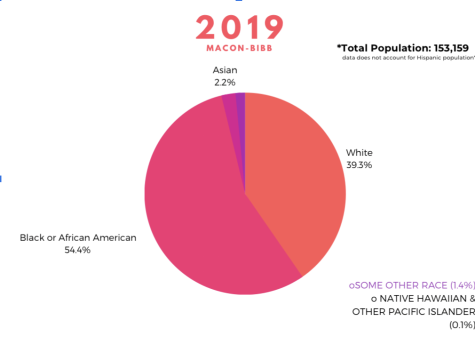 Based on census data, the three charts to the left show the changes in Macon-Bibb's racial demographics from 2019 to 2021. 
Compared to district two population demographics, changes in Macon-Bibb county racial demographics have fluctuated, but less significantly. The 2021 population for Macon-Bibb county is 55% Black, still a majority, unlike the 49% Black for the district.
However, the percentage for Black or African Americans in Macon-Bibb still decreased from 56% to 55% between 2020 and 2021, the year the map was redrawn.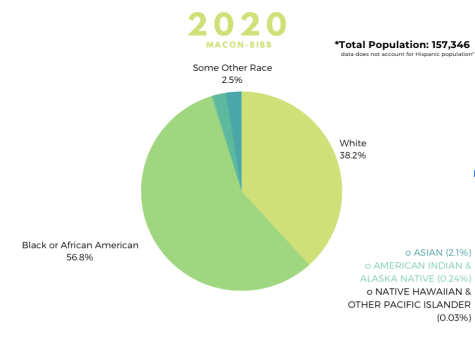 In a July redistricting committee meeting held at Mercer University, Macon residents voiced their desires for a more transparent voting process. Residents also addressed Georgia's long history of gerrymandering.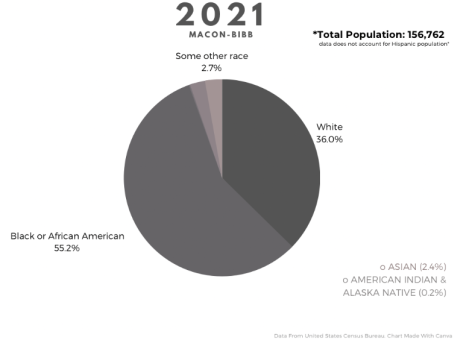 The American Civil Liberties Union states that gerrymandering occurs when district lines are purposefully drawn to manipulate boundaries where elections will favor a political party or candidate. 
Charles Bullock, a professor of political science at the University of Georgia and author of the book Redistricting: The Most Political Activity in America, explained how redistricting could change population demographics in favor of one party, in this case, specifically for Republicans.
"By creating one heavily black district and making that a Democratic district, there may be multiple districts adjacent to that district which now become much whiter and much more secure for Republicans," said Bullock.
According to Jay Jones, 1st congressional district chair of the state Democratic party, targeting the political power of communities of color can oftentimes be a key factor of partisan gerrymandering. 
"This is especially the case in the South, where white Democrats are a comparatively small part of the electorate and often live, problematically from the standpoint of a gerrymanderer, very close to white Republicans," Jones said.
New census data shows that the population of Georgia increased by 0.7% between 2021 and 2022. Georgia's status as a growth state can partly be attributed to the large influx of Black residents moving to metro Atlanta. 
According to Bullock, over the last several months Bishop has been traveling and introducing himself to new voters that have been added to the district because, for them, "it's like an open seat."
The 2nd Congressional District is just one of several high stakes races on the ballot on November 8. One that has garnered the most national and international media attention is the race between Sen. Raphael Warnock (D-Ga.) and former college and NFL football star Herschel Walker.  A new Marist College poll released Friday finds they are entering election week in a  deadlock, each with 48% of the expected vote.  That could trigger a runoff.
As of Friday morning, a record breaking 2,056,545 Georgia voters had cast their ballots in early voting.  Polls are open on Tuesday, Nov. 8, from 7 a.m. to 7 p.m. Voters can find their assigned polling place here. If a runoff is necessary, it will be Tuesday, Dec. 6.