Who is donating and how much in Georgia's U.S. Senate Race
MACON — With the midterm election days away, the candidates running for Georgia's U.S. Senate seat are ramping up their campaign outreach. 
According to the Federal Election Commission, Warnock has raised the most money of any U.S. senate candidate in the country this election cycle.  He has also spent the most. As an incumbent, Warnock has the advantage of an established network of campaign contributors. His Republican challenger, Herschel Walker, has widespread popularity candidate because of his time as a running back at the University of Georgia and playing in the National Football League.
Chase Oliver, the Libertarian candidate, has taken a grassroots approach to gain support for his platforms on immigration and criminal justice reform. 
"I don't have millions of dollars for fancy advertising, unfortunately," Oliver said during the press conference at a recent debate in Atlanta. "But you know, I'm going to do the best with what I have." 
SIGNIFICANT OUT-OF-STATE CAMPAIGN CONTRIBUTIONS  
The run-up to the 2020 election for the same Senate seat, as well as the seat currently held by Senator Jon Ossoff, attracted much national attention because it offered — and ultimately delivered — a Democratic majority in the senate. In that election, a high number of donations to Warnock and Ossoff came from outside the state of Georgia, according to the Los Angeles Times and the New York Post. Outside influence was a theme of attack ads against Warnock and Ossoff.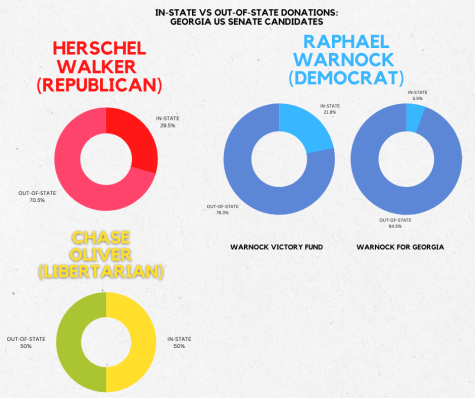 "You suggest that because your opponent is raising a lot of money from out of state, they're not going to be as responsive to the concerns within your state," said Charles Bullock, a political science professor at the University of Georgia. "But money is money. It doesn't matter where it comes from, it spends just as well." 
A new Macon Newsroom analysis of Federal Election Commission (FEC) data finds that from January 1, 2022 through June 30, 2022, Warnock, Walker, and Oliver all received donations from inside and outside of Georgia, but Warnock's out-of-state donations outpaced those of his Republican and Libertarian challengers. 
The data analyzed comes from two campaign funds — Warnock for Georgia and Warnock Victory Fund.  In the Warnock for Georgia campaign fund, 94.47% of donations were from out-of-state contributors, and in the Warnock Victory Fund, 78.25% of donations came from out-of-state contributors. 
In comparison, the Walker for GA Senate Republican Nominee Fund 2022 received 70.49% of contributions from out-of-state donors. The Chase Oliver for U.S. Senate Fund contributions were equally split between in-state and out-of-state, but he received only six donations from individuals during the time period analyzed. 
In both of Warnock's campaign funds, the senator received more individual donations from Massachusetts than any other state or territory. In the Warnock Victory Fund, the second highest number of donations came from Georgia. In the Warnock for Georgia fund the second highest number of donations came from California. 
In a sign of just how closely the nation is watching the Georgia U.S. Senate race, The San Francisco Chronicle reported that residents of that city made more donations to Warnock's effort to defeat Walker than they did to any other federal campaign, including Alex Padilla's effort to keep his Senate seat representing California.  As of October 10, San Franciscans had donated $600,000 to the Warnock campaign, second only to their total donations to Padilla.
MORE DONATIONS FROM INDIVIDUALS, BUT PACS ARE SPENDING SIGNIFICANT AMOUNTS
The race for Georgia's U.S. Senate seat is shaping up to be the most expensive campaign in the country. On November 3, The Atlanta Journal-Constitution reported that the money is "fueling a blitz of ads on television and social media — some of them featuring highly personal attacks."
In addition to donations from individuals, candidates also receive contributions from political action committees (PACs), which pool donations from various sources in a way that can provide donors a level of anonymity, although the FEC regulates who can donate and how much and also provides information about donors to PACs.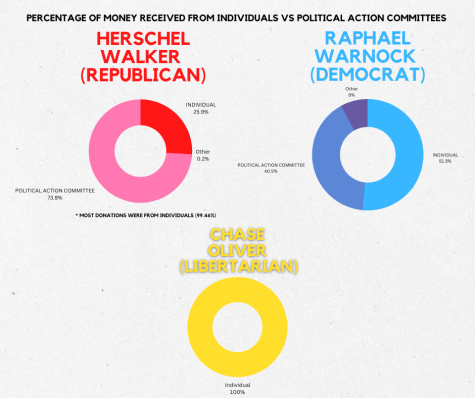 The Macon Newsroom's analysis of January – June 2022 data found that almost all (99.46%) of Walker's donations came from individuals, but nearly three-quarters of the total dollars donated to his campaign came from PACs. 
For Warnock, individuals made slightly more than half (50.73%) of the donations to the Walker for Georgia fund and three-quarters of the donations to the Warnock Victory Fund.  Of the total dollars donated, slightly more than 40% came from PACs. 
Oliver received no donations from PACs. 
PACs spend millions of dollars to fund campaign advertisements.  In a 2020 Pew Research Center study, 54% of Americans said that social media companies should not allow any political ads on their platforms. Younger respondents and those who leaned Republican or conservative were more likely to favor allowing all political ads on social media platforms.
The Federal Communications Commission has rules that govern how over-the-air commercial TV stations treat political ads. Most attack ads are funded by political action committees that pool contributions from individuals and organizations.
In 2022, former President Donald Trump's Save America PAC transferred $500,000 to a Super PAC to fund ads attacking Georgia Governor Brian Kemp.  The ads were aimed at convincing conservative voters to support former U.S. Senator David Perdue in the primary, but the effort was unsuccessful. Kemp beat Perdue by a significant margin.
Typically when it comes to running ads, especially those that reference campaign spending, candidates will run positive ads using their own funds, while the money from PACs will fund negative ads against opposing candidates.  This can lead to some confusion for viewers. 
The public will "simply see an ad which would be anti-Walker, and they assume it's perhaps being paid for by the Warnock campaign, even if it's being paid for by one of the Political Action Committees," Bullock said. "But it does kind of give the incumbent, the candidate, a chance to avoid seeming as harsh." 
Attack ads first appeared on television in the United States in the 1960s. One of the earliest and most famous was made by Lyndon Johnson's presidential campaign against Barry Goldwater in 1964.  It featured a young girl pulling petals off of a daisy, followed by a man's voice ominously counting down to zero and a nuclear explosion.
Regardless of where donations come from — the FEC has strict rules on who can contribute and how much they can give —  those contributions seem to increase a candidate's chances of success. More money equals increased spending power and, as indicated by a study from Open Secrets, typically the candidate who is able to spend the most money is the one who wins.
Although Warnock and Walker have both received a large number of donations, the is a significant gap in total dollars raised. In 2021 and 2022 (this includes days outside of the dates in the Macon Newsroom analysis summarized above), Warnock raised more than $115 million and spent more than $100 million of that, according to the FEC. Walker has raised $37 million and spent $31.6 million.  
Oliver has raised less than $8 thousand. 
"My campaign contributions go towards things like canvassing, actually knocking on the doors, inviting volunteers to come and help me do that kind of stuff," Oliver said at the post-debate press conference in Atlanta earlier this year.  
Some voters may question how significant a third-party Libertarian candidate in this Senate race, but it is possible that Oliver could send the election into a runoff.  Recent polls by The New York Times and Siena College found that 49% of potential voters said they would be most likely to vote for Warnock and 46% were likely to vote for Walker. Five percent of potential voters did not know or refused to answer. 
If no single candidate receives the number of votes required to win, which under Georgia law is more than 50%, the race will go into runoff, just like the 2020 election that vaulted Warnock into the seat. 
"Sometimes you get people that are running as what we call 'paper candidates.' They've done what they need to get on the ballot, but they're not actually running a significant campaign," said Sam Robb, an out-of-state donor to Oliver's campaign. "They are there either to remind people that there is a third party– that Libertarians are around– or they are running as an issues candidate." 
Polls are open on Tuesday, Nov. 8, from 7 a.m. to 7 p.m. Voters can find their assigned polling place here. If a runoff is necessary, it will be Tuesday, Dec. 6.