What is Infill Housing in Macon?
Editor's note: This story is part of a Middle Georgia housing series by Mercer's Center for Collaborative Journalism with partners 13WMAZ,  The Macon Telegraph, and Georgia Public Broadcasting.
Chadonne White lives in The Highland subdivision on Mumford Road in northwest Macon. Step out on her front porch and she has had a front-row seat to rapid neighborhood development.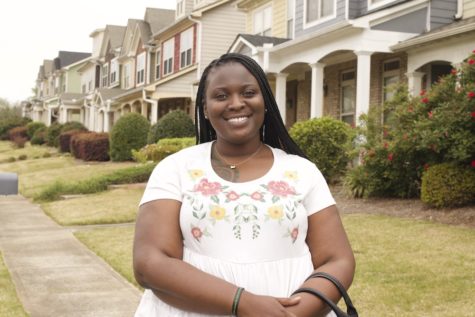 White said when she moved into the neighborhood in 2019, it looked nothing like it looks now with all the finished homes and new construction.  
"None of this was here," she said.  "The area was secluded."
But White said she welcomes the new construction in the form of infill housing in a neighborhood where development mostly stalled for a decade.
"It's good to see more residents move into the neighborhood," White said. "I've been told that since building around my property, the value is going to increase and I feel really good about that."
The Highland subdivision is a good example of infill housing construction — essentially new houses constructed on vacant, underused lots interspersed among older, existing properties.  
For The Highland's community, the neighborhood started developing in 2004, but in 2007 everything stopped when the housing crisis hit the market.
As a result, the Highland development was left sitting for years with nearly 200 vacant lots and more than 130 acres of ready-to-use land.  In October of 2020, the Macon-Bibb County Planning and Zoning Commission approved new housing plans for the subdivision.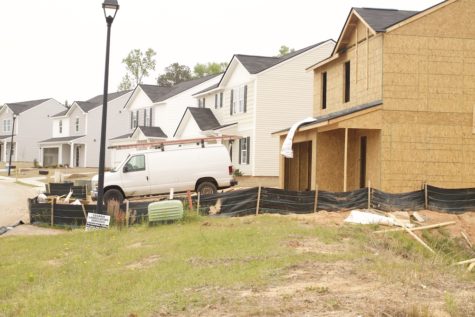 The Highland Plantation's builder, WJH Century Complete reported that it has sold 21 new houses over the last six months. 
The Macon housing market has continued to reflect the buyer demand currently sweeping through the nation.  The demand is not just happening in newer neighborhoods, but it's also going on in older, historic neighborhoods as well. 
Executive director of the Historic Macon Foundation Ethiel Garlington said this has been the hottest selling market he has seen since moving to Macon in 2014. 
"It's definitely a national trend, you know, the supply and demand factors. With the pandemic, a lot of people aren't necessarily moving, relocating for jobs, or moving or selling houses," Garlington said. "There aren't as many houses on the market available. And so that, of course, plays a factor in the pricing and the demand."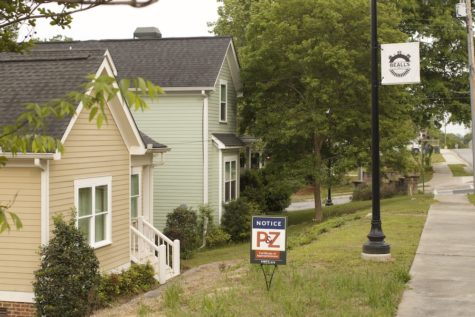 Historic Macon Foundation's success in the infill housing process is most evident in Macon's Beall's Hill neighborhood, located in the College Hill Corridor, where infill building started in 2007.
The Foundation has been around since 1964 and Garlington said the mission has always been to revitalize communities by preserving architecture and sharing history. 
"House by house, street by street, block by block, and really focusing all of our resources, or most of our resources on the neighborhood," Garlington said of their philosophy.
The work also has included renovating properties that date back to the 1860s and early twentieth century.
"For a variety of reasons there were empty lots in the neighborhood, some houses burned, some were torn down. And so we built back brand new houses that are architecturally compatible with the neighborhood," Garlington said. "And those designs have to go through the Design Review Board and the planning and zoning commission. And they're approved." 
A total of 60 houses have been completed in Beall's Hill neighborhood. It was paid for with a combination of grants and loans provided by investors like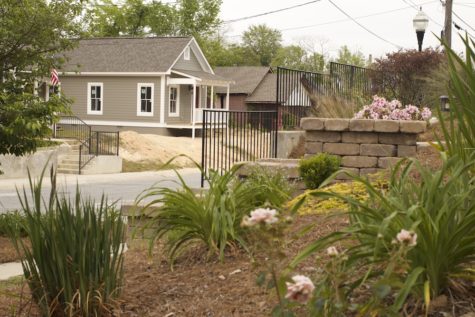 Mercer University, Macon-Bibb County, and the Knight Foundation. 
"Back in 2014, we got a Knight [Knight Foundation] investment to finish up our work in Beall's Hill," said Garlington. "And just 2014 – 2015, we've built new or rehabbed 27 houses."
Infill construction in Beall's Hill nears completion with some remaining properties considered blight and those will be torn down. 
"If you saw any more lots come up for sale, they probably wouldn't sit around very long unless they were just asking extremely too much money for them," Middle Georgia contractor Tripp Glawson said.
Glawson is among some of the builders working in the area.
Glawson just picked up one of the remaining few vacant lots left in Beall's Hill. His new construction will be located on Ash Street. 
"It's in between a relatively new house and a very old house. Just a raw lot," Glawson said. 
He has seen the new construction and infill growth over the last seven years in the Beall's Hill community. Glawson said the inventory of lots for new homes is almost gone or not for sale by owners.
However, remodeling and historic preservation continue in and outside Beall's Hill.
 "There are some old houses that come up you know, for sale every now and then and of course, they get remodeled," Glawson said.  "I'm doing one down the street, on Monroe Street right now that was actually built in the mid-1800s – 1845 pre-Civil War, and I'm about to be  finished with that now."
Garlington also points why the revitalized Beall's Hill community has had such an appeal to buyers.
"It's really become such a beautiful and wonderful place to live," Garlington said. And Tattnall Square Park, access the Mercer village in proximity to downtown, which has just exploded."
For Glawson, the Ash Street house will be his first new construction project in Macon since 2010, right after the housing bubble burst in 2007. He said for the past five to six years he has been buying either foreclosures or distressed houses and remodeling them. He has done much of his new home construction work outside of Macon.
Glawson says builders in Macon have found some neighborhood success in new infill construction sites across Macon. He said work is even taking place on higher-priced houses in the Rivoli Crossing area.
"Actually I'm a little bit behind and late to the party, I guess you would say, you know right now. But I probably could have been doing this two or three years ago. it's been going well for a while," Glawson said.
As residential home builders ride this wave of new construction, some are concerned about the inflationary cost of building materials, created by the market rush after the pandemic.
"Already know builders that are, you know, putting the building on hold right now until the price of lumber goes down," Glawson said.
Like many local builders, Glawson believes he is on the right end of the residential construction curve right now. He says even as Macon may not have as many infill sites underway as neighboring cities like Bonaire or Kathleen, there's still residential building going on around the city. 
The Historic Macon Foundation is also optimistic about its future too. Garlington said the Foundation's next infill and renovation project will include quality and affordable rental housing options for neighborhoods.