Addressing Blight in Macon
New Code Enforcement Office combatting neighborhood blight
Editor's note: This story is part of a Middle Georgia housing series by Mercer's Center for Collaborative Journalism with partners 13WMAZ,  The Macon Telegraph, and Georgia Public Broadcasting.
Lisa and Irving Hammock have installed new siding and windows in a home in the Kings Park neighborhood they purchased at a 2019 tax sale. They are in the midst of a renovation they hope to complete by the end of the month so they can get the Lancing Court home on the rental market.
The home sits next door to one with missing windows, a stripped HVAC and a trashed interior. A 2017 property photo shows a well-kept home with a truck out front, but at some point in the intervening years, the home has been emptied and vandalized. The Hammocks tried to buy it too, but their offer was turned down.
"In this particular area, it used to be vibrant… and I think the area changed, so you had a lot of homeowners to move out and other people moved in that may not have a vested interest in the community," Lisa Hammock said. "So now I think more people are looking to revitalize the neighborhood."
The Hammocks hope their renovation could be a catalyst for others to make repairs or sell. In a real estate market with tight rental availability and a slim purchase inventory, blight affects the value of their property. None of the blighted homes in the Kings park neighborhood are on the list of homes to be demolished in the near future.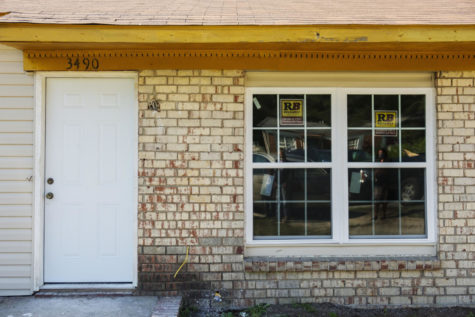 "If you give someone a nice home to live in, they tend to want to keep it up," Lisa Hammock said.
Blight is a target of the Macon-Bibb County administration, and a newly created Department of Code Enforcement is working to streamline the process for reporting and correcting problem properties.
The code enforcement office is dealing with more than 2,600 open residential cases that cover everything from overgrown grass and weeds to dilapidated structures that pose a hazard.
"Some of those cases go back to 2009," said J.T. Ricketson, who is director of the department.
He said they are adding between 15 to 50 complaints a week, and calls about properties already in the system are merged with existing cases.
Calls for more minor things like overgrown yards generate a violation letter and the property owner is given a couple of weeks to fix the issue. 
"If it looks like something they can't correct in a day or so, say it's a junkyard of trash and debris or a front porch is falling off the house, things like that, we go ahead and issue them a citation," Ricketson said. The citation requires the owner to appear in Municipal Court.
The vacant, abandoned and dilapidated or VAD structures can cause the most concern on a street and addressing those properties is often complicated and costly with back taxes, uncertain ownership or absentee owners a common thread.
"We've got to get these blighted structures either torn down or fixed back up," Ricketson said. "It is bringing down all the rest of that community …  when you leave something alone and you don't fix it, the criminal element sees that, they interpret it as 'Well, these people in this community must not care.'"
Mayor Lester Miller is targeting burned homes with an executive order that essentially gives owners an opportunity to fix the property or turn it over to the county. From those properties, demolition started on seven of those homes this week. There are another 37 that are slated for demolition later this year.
The timeline is longer and more complicated for other homes awaiting demolition.
Ricketson said his office is working through a list of more than 600 homes that had gone through the court system for demolition. A court order allows a 270-day window to tear down the home, but some orders date back to 2015 and have expired.
"So we're picking back through those 600," Ricketson said.
Ahead of any demolition, code enforcement runs through a checklist that includes handling potential asbestos and confirming all of the utilities have been shut off and the sewer line has been capped.
Ricketson said the demolition itself can run from $1,000 to as much as $30,000. For the properties on the mayor's demolition list, Macon-Bibb is planning to use public works when possible and target areas where multiple properties can be demolished with the same crew.
"We're looking at the strategic element of it, the logistical element of it as we are working through it," Ricketson said. 
Burned structures are a big focus but they also are looking at houses in high traffic areas, he said.
"So people see that, well, that affects people and how they feel about their community," Ricketson said, "And so some of those are on our list, because they're on a corner or they're on a heavily traveled road. And people are just sick and tired of seeing it sitting there."
The in-house demolitions would reduce the cost but public works couldn't take on all of the work so many projects would still require outside contractors. Macon-Bibb would pass the costs back to the property owner with a lien that would have to be repaid before the property could be sold.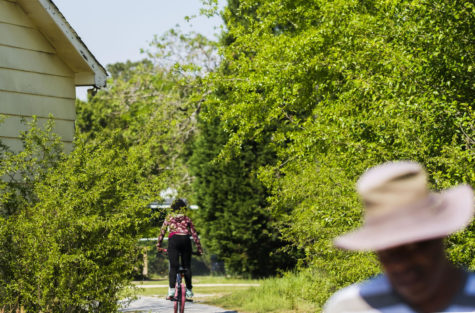 The Macon-Bibb Commission also passed a "blight tax" in 2019 that allows blighted property to be assessed at seven times the normal tax rate. The property owner would be given an opportunity to have a court hearing to contest the charge, but could otherwise only have it removed by providing documentation that the blighted conditions have been addressed.
In past years, blight has often been synonymous with the Kings Park neighborhood and a number of lots and homes are on different county lists for tax or land bank sales or waiting on the code enforcement process.
The Rev. Calvin Jackson has lived in Kings Park for 14 years and walks the back lots off Lancing Court picking up trash. He started picking up litter and cutting grass last year.
"I just got tired of looking at it — riding by there every day," he said.
Jackson said he's seen the state of homes rise and fall. He points to the worst in the cul-de-sac — the house next door to the Hammocks' renovation — and says he hopes it and a few others in the neighborhood will someday be gone.
"They've torn down a few houses out here," he said. "That one there needs to go … once they get to it though. They can't do everything in one day."