Cost of Covid: No fishing derby but trout are biting at Javors Lucas Lake
Trellis Hamilton picked up fishing during the COVID-19 pandemic.
The Haddock woman sat patiently Friday afternoon with her line cast into Javors Lucas Lake.
She only discovered the Macon Water Authority's public fishing hole last year.

"And it was about the end of the season when we found out, and so we knew today was the first day so we decided to come out. But, we haven't had much luck," Hamilton said from under her straw hat.
Her husband, Jesse, caught one trout in about four hours.
"We really need two," he said, thinking about fresh fish for supper.
More than a dozen people scattered along the banks and others were having better luck, Hamilton said.
A social distancing flyer greeted those who put non-gas powered boats in the lake, reminding them to stay 6 feet apart.
Friday marked the opening day of fishing season at the county's 589-acre reservoir for drinking water.
Macon Water Authority member Frank Patterson brought the board a mixed message at Thursday's meeting.
"I've got some sad news," Patterson said. "We won't be having the kids fishing derby this year. We decided because of the COVID it was best to skip it."
The Macon Water Authority typically stocks the big pond in preparation for the derby which encourages fishermen to teach children how to fish. The first load of trout was already in the water when the event was canceled this year.
"We do have some trout in that big pond we have. You need to come out and see what you can do and see how many you can catch," Patterson told the authority members.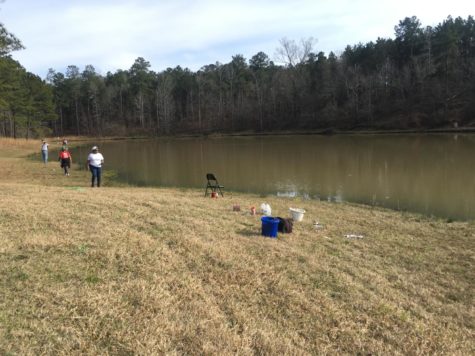 2021 Fishing schedule
From now until Sunday, April 25, the lake off Upper River Road in Jones County will be open Fridays, Saturdays and Sundays from 6 a.m. until 7 p.m.
Between Friday, April 30 and Sunday, June, 27, the lake will be open Fridays, Saturdays and Sundays from 6 a.m. until 3 p.m. before closing for public fishing in July and August.
In September and October, the lake will reopen on weekends from 7 a.m. to 4 p.m. before closing for winter.
A seasonal $100 pass is available for boats propelled by paddles, oars or electric motors. To fish from the shore is $50 for the season. Daily passes also are available for $10 for boats and $5 to fish from the shore.
The authority could close the lake in the event for maintenance or inclement weather, natural disaster or emergency.
Patterson, who is a passionate supporter of teaching youth to fish, lamented the cancelation of the event when the weather was going to cooperate after years of cold and rain on derby day.
Authority executive director Tony Rojas agreed that the sunny forecast could draw crowds in the opening weekend.
"It's good to be able to offer that to the public and our customers," Rojas said. "It'll be a great weekend to be on the lake."
To learn more about fishing at Javors Lucas Lake visit the authority's website at www.maconwater.org and click on the "Fishing at Javors Lucas Lake" link at the bottom of the home page.
To contact Civic Reporting Senior Fellow Liz Fabian at 478-301-2976 or email [email protected].