Central Georgia Colleges Jump in on the Vaccine Rollout
Some colleges and universities in Central Georgia are opting to make their campuses vaccination sites even though it could be months before most college students are eligible to be vaccinated against the virus that causes COVID-19.
The question of who gets vaccinated and when is a state decision. Currently, Georgia is offering the vaccine to health care workers, law enforcement, firefighters, employees at long-term care facilities as well as those over the age of 65. However, the state's list does not include most students.
Even though colleges and universities are unable to vaccinate their students just yet, that has not stopped them from trying to get in on the vaccination game before it is their students' turn in line.
Photo Courtesy Amyre Makupson
Instead of vaccinating students, many Macon colleges are setting their sights on vaccinating local community members.
"I had one participant who said she was so excited she thought she was going to cry," director of health services at Wesleyan College Ashlie Pullen said. "They were all really thankful and grateful and they felt a sense of relief. And aside from that, they just had basic questions about some of the side effects and what to expect."
Wesleyan College is one of the local colleges in middle Georgia approved to be a vaccine rollout site, and Wesleyan is the first to actually get shots in arms. 
On their first day as a vaccine site in late January, Wesleyan administered 54 doses, a little over half of the doses in their first shipment. 
"One of our missions is to make sure all of our students have the opportunity to bring leadership into the community," Pullen said. "This (clinic) is one of the ways we feel like we are giving back."
Since then, Middle Georgia State and Mercer University have been approved as vaccine distribution sites, too. Currently, they are both waiting for their first doses of the vaccine to start distributing to eligible recipients.
In order to become a COVID-19 vaccination site, healthcare providers must first complete Center for Disease Control training and acquire proper storage facilities.
The Biden administration has suggested that universities and colleges may play a critical role in the vaccine rollout. Colleges' scientific and medical experts can dispel vaccine misinformation in the media. Then, students can also lead as an example for any vaccine-wary family members.
Lynn Denny, Mercer University's director of student health, said she is still waiting to hear how many vaccines will be shipped to the school's medical school and medical center. Like Wesleyan, Mercer is hoping to help get the community vaccinated.
"We want to do all that we can to help our Mercer community but also our community at large," Denny said. "Vaccines, once we have them, can give us herd immunity. That's going to be critical for us to get back to a more normal state of life."
Both Wesleyan and Mercer see their involvement in the vaccine rollout as providing a service to the community as well as an opportunity for their students to give back. 
"We've reached out to public health and offered up all the resources of Mercer University to help the state," Jean Sumner, dean of the Mercer School of Medicine, said. "We had already done a lot of community testing but we wanted to do the same with vaccinations."
Wesleyan has given students in their community health nursing class the opportunity to take part in the vaccine clinic on campus. While the students administer the vaccine, they also earn clinical hours they need for graduation, Pullen said.  
Giving the vaccine in the community has also earned class credit for Mercer's third- and fourth-year medical students at the university's medical school prior to the school's approval to distribute the vaccine themselves. 
In fact, Sumner, dean of the medical school, received her shot from a Mercer medical student.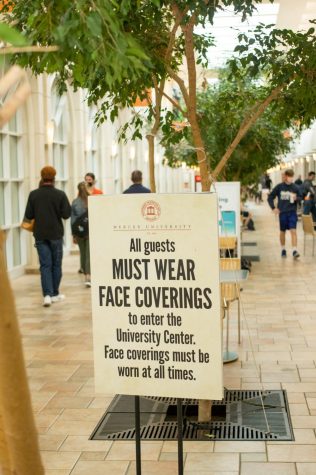 "He did a great job," Sumner said. "He was a little surprised to see the dean walk in."
For schools to reopen safety, many colleges and universities have had to take on some of the same roles of public health agencies. Some schools, like Mercer, have implemented mass testing infrastructure to keep an eye on COVID-19 transmission on their campus. 
Another role for healthcare workers at both Wesleyan and Mercer is handling vaccine misinformation. Wesleyan will be holding events providing information about the vaccine and its safety, Pullen said. And the leadership in Mercer Medicine is trying to model good behavior.
"I think it is really important to live what you preach and do what you say you will do," Sumner said. "You don't want to take this home to your family."
When it comes to getting their students vaccinated, both Wesleyan and Mercer are getting prepared to get their students vaccinated when it is their turn in line. 
"As soon as they give us the go-ahead, we will be the first clinic to vaccinate students," Pullen said. "I don't care if that is on the weekend — I will probably be here vaccinating students myself if I have to." 
Georgia Gov. Brian Kemp recently added public school teachers and school staff to the list of people able to get the vaccine. They will be able to get their shots starting March 8. Kemp also added adults with certain developmental and intellectual disabilities and parents whose kids have complex medical conditions.