Mercer Students on Living King's Dream
In less than a week, the nation will recognize the holiday of Civil Rights icon Dr. Martin Luther King Jr. 
Mercer student Genesis Cooper said she sees a direct connection to Dr. King's dream and the opportunities people have today. 
"He made things happen and I think it's important to definitely emphasize why we should be so appreciative of what he was able to accomplish," Cooper said. "And the big picture of how we have so many students of color on this campus, we have such a melting pot of backgrounds, races, religions and creeds.  And it's really important to emphasize that we're literally living his dream today." 
This week, Mercer University will recognize King's life and legacy with its 3rd annual Dr. Martin Luther King Jr. Living the Dream campus march and commemorative event. The program honors the work of King, and takes time to reflect on the continued fight for equality and justice.  
Mercer's Minority Mentor Program and the Office of Diversity and Inclusion are sponsors of the event. Students, faculty and staff are invited to participate in a silent campus march beginning at Mercer's Cruz plaza and ending at Willingham Auditorium.  
The MLK activities at Willingham Auditorium will include a special vigil and words from this year's keynote speaker, the Honorable Willis Louis Sands. Sands is the U.S.District Judge of the Middle District of Georgia. He is also a former Mercer Trustee and 1971 Mercer College graduate. Judge Sands also received his Juris Doctor Degree in 1974 from Mercer Law School.                                                                                                                               
Organizers look to hear inspiring words from Sands, who himself was the first African-American to step into a number of legal leadership roles. Among those roles included assistant district attorney in Macon, and local and state judgeships.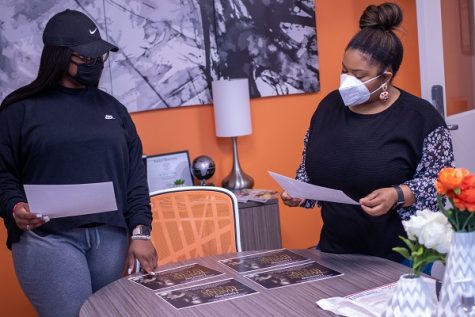 As the nation looks at how far we have come since Dr. King's "I have a Dream Speech," Mercer student Sheridan King reflected on other visible advancements, like the recent wins in the general and Georgia runoff elections.
"I think when Dr. King gave the 'I Have a Dream' speech 58 years ago, these were the things that he was talking about," Sheridan King said. "So to have the first black female vice president, to have the first black senator, and he's from the South… Those are the most monumental things that black people have been working on for years."
But Mercer students are well aware that the  social change that Dr. King call for remains incomplete. Many students believe they are part of the solution to positive change. 
Mercer student Ethan Gazan said his generation, ages 15 to 25, have been more unified and done a better job handling the current state of social change.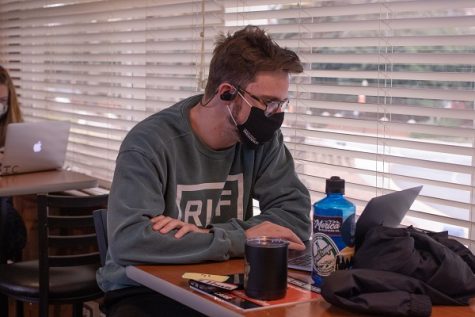 "I would say that there's been a lot more unity with the people in those age ranges than outside of it. And I think the younger generations are gonna see that," Gazan said. "And I think, because of that, they'll see what it looks like to be unified and to have actual quality discourse about issues. In my opinion, that's what it comes down to, is being able to talk about issues that, in a sense, make you uncomfortable. And I think that's super important, because that's how progress is made."
Gazan said it is evident that Dr. King understood the value of open and honest communication, and used it to bridge the divide. 
Genesis Cooper agrees with Ethan Gazan and adds that there is a reason why young people communicate  better with each other  than their parents and grandparents did.
"They weren't exposed to the different backgrounds and the manner in which we're exposed to different backgrounds," Cooper said.  "It pretty much created the avenue to force us to be unified. These are the people who we grew up with, these are the people who are our neighbors. These are the people who are best friends. "  
Mercer student Laila Frazier said there are still times when people will have to push themselves out of their comfort zones. 
"I think just talking to one another, it seems so easy, but these days, it's so difficult, Frazier said.  "I think just having meaningful conversations, coming together and talking about what we agree on where there will be disagreements, is most important."
One of the tools of communication that the younger generation has mastered is social media.
"So we're all intertwined through social media, and we have so many different resources. So if we band together and utilize those, we will be a lot better,"  Sheridan King said. 
Organizer Dr. Ansley Booker, director of Mercer's Diversity and Inclusion Initiatives, reflected on the fact that coming out of  2020 and into 2021, both young and old face two enemies — injustices and a pandemic. She said it's important to keep focus on Dr. King's Dream.
"And I'm not saying that we have, really (move) from it. But I think some of the ills of our society still remain as barriers to us working in solidarity, working towards equity and justice for all Americans," Booker said.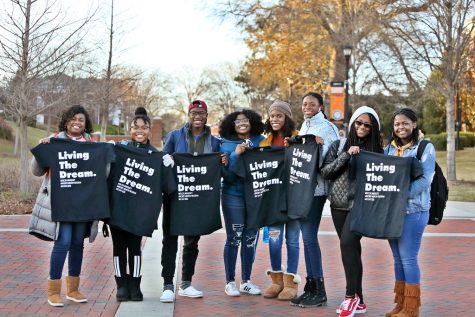 The Martin Luther King Jr. Live the Dream event kicks off with Jan. 14 ay  3 p.m. with Live the Dream t-shirts given away to the first 100 students, faculty and staff meeting at the Cruz Plaza's Big Bear Statue.
The silent march to Willingham Auditorium starts at 4 p.m. 
The maximum number of seats allowed in Willingham Auditorium for the program are 120 due to social distancing guidelines. To reserve a seat, event registration is required. Click here .
The program and speaker will also be available to view virtually on Zoom. Here is the link.  (https://mercer.zoom.us/s/93448894662)