Census folks could come calling as Macon sees mixed response rates
As of Wednesday, U.S. Census Bureau workers will be back on the streets of Georgia after field operations were suspended in mid-March due to the COVID-19 pandemic.
Marilyn Stephens, assistant regional census manager, said the crews will be hand-delivering packets to residents who do not receive mail at their home.
"We had to leave the field so those persons who get their mail from a post office box more than likely have gotten nothing from us," Stephens said in a phone interview Friday.
The new coronavirus has disrupted all kinds of business and the census is not immune.
Georgia lags behind the national response rate and Macon trails the state average.
As of Saturday, 58.5 percent of U.S. residents have responded nationwide compared to 54.6 percent for Georgia and 46.4 percent for Macon-Bibb County.
As of May 9, the response varies greatly within Bibb County with a maximum of 66 percent of people responding in the north Macon census tract around Zebulon and Forsyth roads down to just 20.5 percent east of Interstate 75 near downtown.
These two tracts are not only separated by geography but prosperity.
Less than 10 percent of the high-response rate area lives under the poverty level compared to nearly 70 percent of the low-response rate neighborhood.
Plus, a large section of east Macon-Bibb has a response rate of less than a third, so far.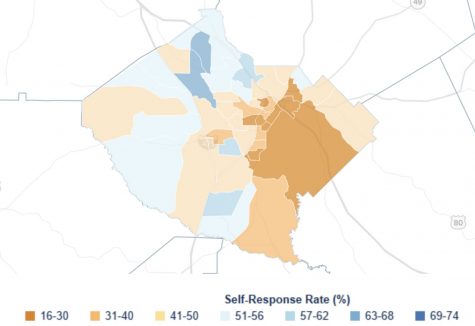 During last week's Downtown Macon Community Association meeting, local census partnership specialist George Muhammad encouraged business owners to spread the word through posters and flyers to make sure new loft residents are counted.
"We have fairly low participation in downtown right now," one of the members explained to the group.
The creation of multiple loft apartments in downtown over the past two decades should boost numbers in that section of town. The association has a census reminder pinned to the top of its Facebook page to try to boost the response.
You can track response rates across the country at 2020census.gov through a continually updated map that dials down to the census tract level.
Filling out the application online can take less than 10 minutes. The bureau also measures how many people are responding via the internet.
For instance, more than half of north Macon's top performing census tract, or 57.7 percent, filed online. That compares to only 11.2 percent of those in the lowest performing neighborhood.
Residents are to indicate their place of residence as of April 1, but there is a caveat during this pandemic due to college students studying online.
In a typical year, Macon would be hosting thousands of out-of-town college students who would be counted as living here.
The census has a special designation for people in group living arrangements such as college dorms.
Mercer University transitioned to online learning March 23. Most of the students left campus in the middle of that month, but all of them are supposed to be counted as residents of Macon.
The Census Bureau issued this update to clarify: "Please note that college students should still be counted at their usual on- or off-campus residence, even if they are home early this spring because of the COVID-19 situation. Students who are no longer living abroad are counted where they are living in the U.S. on April 1."
Mercer's director of media relations, Kyle Sears, said the university's Office of Housing and Residence Life is working with census field managers to count those students locally.
Middle Georgia State University completed its census interviews March 18-19 before spring break and the "mass move out," housing director Brian Harrell stated in an email via the university's marketing and communications department.
The group quarters response period was to run until June 5, but has been extended until Sept. 3, because of the delays caused by the health crisis.
The self-response phase for households initially expired July 31, but that deadline has been extended until Oct. 31.
If your household does not mail back a census form or fill one out online by late summer, teams will be dispatched to knock on doors between Aug. 11 and Oct. 31.
Stephens encourages everyone to respond as soon as they can and not put it off.
"People have multiple priorities and they move on to something else," she said. "We want them to do it now because in July we're going to have to come knock on their door."
Stephens wants to assure people that their information is secure and cannot be shared.
"The data is protected by two laws," Stephen said. "No agency, no law enforcement can get their information."
To learn more about this year's census visit www.census.gov.
Contact Civic Reporting Senior Fellow Liz Fabian at 478-301-2976 or [email protected].