2020: Housing Authority begins final phase of Tindall Fields; plans north Macon senior living
Early in 2020, construction of the final phase of Tindall Fields will begin to the southeast of Mercer University.
Monday, the Macon Housing Authority closed on the final piece of the $50 million residential development on the site of the old Tindall Heights public housing neighborhood.
Since about 2016, four phases of the Tindall Transformation Plan have been submitted and approved by the Department of Community Affairs, said Mike Austin, executive director of the Macon Housing Authority.
The authority offered $13.6 million in tax credits to entice investors.
The concept of the development, which is in various stages of construction, is to create a small village of different sized and shaped dwellings. Gone are the cookie-cutter style brick duplexes or apartments of the past.
"We don't build affordable housing like we used to," Austin said.
The former Tindall Heights public housing neighborhood had 410 units on the tract of land between Plant Street and Little Richard Penniman Boulevard. The new development will have a total of 270 units in a variety of housing options ranging from the 76 apartments in the completed Tindall Seniors Towers to multi-family dwellings and smaller houses.
The neighborhood will have about 66 percent of the number of units that used to be available.
Thick population density on public property has historically shown to be problematic, Austin said.
"I don't care who you rent to or what demographic, anytime you put a lot of people on a small piece of land you're going to have a challenge," Austin said. "We do everything we can to make affordable housing something people can be proud of."
About 18 months ago, the completed Seniors Towers were fully occupied in about eight weeks and there are currently about 100 people on the waiting list, Austin said.
"That goes to show that there's a huge demand for affordable housing in Macon-Bibb… and the entire United States of America," he said.
Phase 2, which is multi-family dwellings, also is complete with a waiting list with units ranging from $565 for a two-bedroom apartment and $630 for a three-bedroom unit.
A stack of several bathtubs sitting on an empty lot is evidence smaller homes with 64 units are still under construction in Phase 3, which will have 65 units. Ground will be broken in 2020 for Phase 4, Austin said.
Each phase had to get federal approval and there were no guarantees the whole project could be build when they started.
"We feel like one of the reasons we were so successful was our community partnerships," Austin said.
Residents adopted nearby Ingram Pye Elementary School and have an arrangement with Navicent Health for routine health screenings for the seniors.
Macon Transit Authority has agreed to add new stops for the neighborhood, too, he said.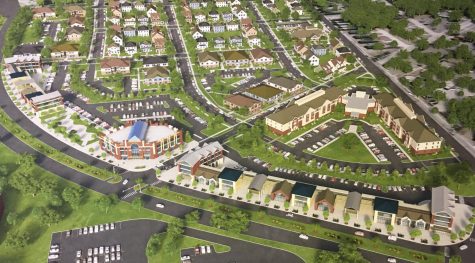 As the residences are being completed, the authority hopes to lure a commercial developer to sign a relatively cheap ground lease and build along a strip of land the authority owns that borders Little Richard Penniman Boulevard across from Mercer.
"We think a light grocery and maybe some light office space would be something just terrific for everybody," Austin said.
A food market could help surrounding neighborhoods in the wake of the closing of the Pio Nono Avenue Kroger last year, he said.
"We're already getting wonderful stories from the people who live here who are able to afford the rent and have a great place to live," Austin said.
As an added bonus, the Community Foundation of Central Georgia and Middle Georgia State University have offered $55,000 in scholarships for students living in Tindall Fields.
The neighborhood project should be completed in 2022.
The Macon Housing Authority is also for the first time venturing out into north Macon with the Northside Senior Village. The  nearly three-acre site at 3568 Northside Drive is across from Holiday Drive North between Tom Hill Sr. Blvd. and Riverside Drive.
The land was conditionally rezoned to Planned Development Residential from General Commercial in May contingent on the future approval of the site plan which must be consistent with future planning in that area.
The mid-rise apartments will have 72 units although the architectural design is still pending, Austin said.
The proposed complex is expected to be a single three-story building with a community center, outdoor amenities and a community garden.
OrthoGeorgia's CEO submitted a letter to the Macon-Bibb Planning and Zoning Commission in support of the project.
"We see this as a perfect opportunity to have a quality affordable housing development for seniors as our neighbor without it burdening the neighborhood school systems or other social or physical infrastructure," Bill Lindsey stated in the letter to P&Z
Austin hopes to have that project open in early 2021.
The authority also is looking ahead at options for building another affordable housing complex in downtown.
"It's just super," Austin said. "National statistics show basically for every three units of affordable housing there are 10 people waiting for it."
Contact Civic Reporting Senior Fellow Liz Fabian at 478-301-2976 or email [email protected].