Company plans $22 million renovation project for Vineville Christian Towers
Five months after senior citizens complained about poor living conditions at Vineville Christian Towers, a Boston company plans to spend nearly $22 million dollars to buy and renovate the 1972 high rise.
Resident Jim Strong, 65, who has lived in the Vineville Avenue apartment building for five years, said repairs are overdue.
"Right now it's messed up," said Strong as he smoked a cigarette Wednesday in one of the gazebos at the complex. "The gates won't work. The doors won't work. There's a lot not right."
Weston Associates, Inc., a 50-year-old firm that manages over 5,000 housing units across the country, is in the process of buying the property from current owner Christian Church Homes, a nonprofit based in California.
Weston specializes in low-income housing and program-enriched lifestyles for families, seniors and people with special needs, according to its website.
Tuesday, Elliot White, head of acquisition for Weston Associates, told Macon-Bibb County Commissioners the 196-unit apartment building is in a "pretty bad state of disrepair"
"The whole property is obsolete and will need to be rehabbed," said White, who is applying for a $400,000 loan from the Macon-Bibb County Economic and Community Development department's Home Grant funds.
"The plan is to spend about $74,000 per unit," White told commissioners. "Everything will be brand new."
The project will include repointing and sealing the building, new windows, a new roof, safety system upgrades, new HVAC and mechanical systems and elevators.
Strong was happy to hear the windows were being replaced.
"It rains in every window here because they put them in wrong," he said.
Weston, through Vineville Housing Associates, L.P. as it's listed on county documents, also is trying to secure state and national funds for the project, White said.
The company intends to finalize the purchase of the property and begin work in late spring or early summer.
Currently, the building is about two-thirds occupied which will give contractors the opportunity to restore unoccupied units first and allow current residents to move into a new space while theirs is restored.
Strong is a little skeptical, but seems to think Weston will "do what they say they're going to do."
He's hoping his health will hold out and he'll live to see the renovations.
"I'm going to stick it out," he said.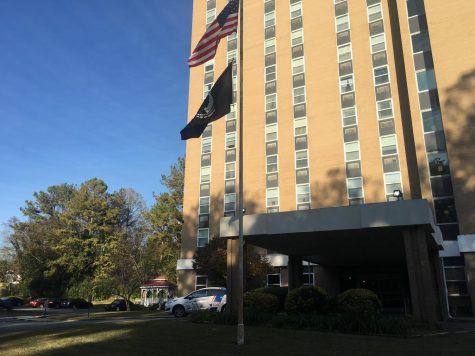 Commissioners are all too familiar with complaints from people who endured days of no air conditioning, bed bugs and other issues with the 47-year-old building.
Although Weston boasts an untarnished business record of half a century, Commissioner Al Tilman questioned White about allegations of discrimination related to a property in Baltimore.
White said he wasn't familiar with the complaints alluded to by Tilman, who did not provide specifics.
Macon-Bibb County Economic and Community Development director Wanzina Jackson said they have looked at instances of concern and that there would be additional vetting on the state level.
"As we're about to loan you this money, we want everyone to know there are issues," Tilman told White.
Tilman said he also wants to make sure residents' current needs are being met.
"People are still having issues over there. We need to make sure those people, while the sale is going on, are not still being neglected," he said.
Commissioners questioned whether Weston is wiping out the county's allocation of HUD funds for the year, but Jackson assured them that all the qualified applicants who met the deadline will receive some funding.
White told commissioners Weston will likely be in the community for many years.
"We stay with our properties," he said. "We've only sold one in 50 years."
Mayor Robert Reichert reminded commissioners of what happened to the old Crystal Lake complex as maintenance was not kept up over the years. Residents were forced to move out of their apartments last spring.
"I think we're very fortunate to have Weston interested. I'm very encouraged they are here," Reichert said.
The committee approved the $400,000 loan, and the full commission is expected to do likewise as commissioners are pleased the promised upgrades will last about 30 years.
"We look forward to regular updates," Commissioner Elaine Lucas told White. "Some of those folks, the conditions were horrible."
Contact Civic Reporting Senior Fellow Liz Fabian at [email protected] or phone 478-301-2976.