"They tried to kill us, we survived, let's eat." Exploring the Macon Jewish identity through food
When Rabbi Aaron Sataloff moved to Macon from Los Angeles last year, he had to adjust from the vibrant Jewish community he knew to the Southeast, where Jews comprise a tiny minority. To stay connected to his culture, Sataloff decided for the first time to abide by kashrut, a set of laws in the Jewish faith that applies to everything from work to diet.
Following these rules is known as keeping kosher, and it's one of the ways Jews stay connected to their religious faith and cultural identity.
In an interview at Temple Beth Israel, the Reform Jewish synagogue he's served since his ordainment in spring 2017, Sataloff said keeping kosher has "more than a dietary significance."
"It's the formation of a social identity," he said. "It allows you to demarcate parts of your life that are Jewish."
Reform Jews follow a philosophy centered on evolving the faith and tradition to accommodate modern lifestyles. Sataloff said that about 100 families belong to Temple Beth, and most of them keep kosher, although this hasn't always been the case.
"Maybe in the last 20, 30 years, kashrut has become more significant because it's a social marker," he said. "It's what identifies and keeps us together. It allows us to be more food-conscious as it relates to environmentalism, as it relates to health, as it relates to so many different things that have become important to us as a society now."
One major tenant of kashrut is that animals must be killed and processed ethically, and a Jewish religious leader must oversee the process and bless the meat. Pork and shellfish are forbidden, and many Jews also avoid mixing meat with dairy.
Samantha Friedman, director of development and communications at Temple Beth, is the incoming president of The Jewish Federation of Macon & Middle Georgia. She said that there are no kosher restaurants or grocery stores in the region, and few places provide kosher alternatives to menu items. In fact, some families who belong to Temple Beth must travel more than 80 miles north to Atlanta to purchase kosher meat.
"If you are one of those people who (believes) it's important to have meat that is prepared properly, you can't do it here," Friedman said in the interview in Sataloff's study. "You have to eat vegetarian. No question."
Friedman grew up in New York, where Jewish and non-Jewish residents alike appreciate the ubiquitous kosher delis and restaurants. The Jewish population in Middle Georgia is quite small by contrast: Macon is home to the state's fifth-largest population of Jews, although that equates to just about 1,000 individuals, or .8 percent of total residents, according to the Jewish Virtual Library.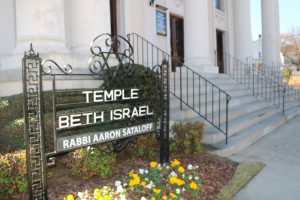 Not all Macon Jews keep kosher, but for those who do, finding the products is only the first step. Friedman said high costs can prevent people from making a purchase. For example, a regular chicken breast priced at $1.66 would cost four to five dollars in a kosher supermarket, she said.
"If you're feeding eight people, and you have a markup of four or five hundred percent, how do you do that? And how do you manage to stay (kosher)?" Sataloff said.
Kosher meat is more expensive to purchase because it's expensive to properly prepare, according to the international wire service Jewish Telegraphic Agency (JTA).
A 2009 JTA column article addressing the high prices reported that only about 20 percent of cows in a given slaughterhouse are even eligible for the kosher process under kashrut.
"To be kosher, an animal must be healthy, and must have no broken bones, no diseases and no scarred or punctured organs," to ensure the meat abides by the ethical standards associated with the kosher label, according to the article.
Achieving kosher certification can also be a hassle for meat plants. The JTA explained that meat must be soaked in water for thirty minutes, salted, washed three times and blessed by shochtim, individuals "trained in the laws of shechita, ritual slaughter."
This process not only reduces the amount of meat the company can produce and impacts potential profits, but companies must also account for the salaries of additional staff: shochtim are usually employed and paid as full-time staff in a kosher meat plant. Because kosher meat is so costly to produce, consumer prices skyrocket.
Cost is just one reason that not all Jews in Macon keep kosher. For example, adopting a more flexible form of kashrut to accommodate personal identity isn't uncommon in Reform Judaism.
Sam Friedman said growing up with a Japanese mother meant pork was an essential part of her culinary tradition early on, but since her father practiced Orthodox Judaism, she was exposed to both cultures.
"I would grow up eating very, very Jewish food one night, you know, we would have a completely kosher meal, and then it would be a Japanese meal the next night, and it would have, like, a pork cutlet in it, and I wouldn't think twice about it," Friedman said.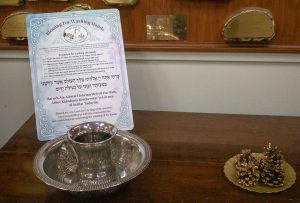 Pork is still a part of Friedman's life today because of her interfaith marriage. She said her husband was raised on a pig farm to a Lutheran family in the South, so dishes all throughout her life have been strongly influenced by cultures where pork is front and center.
Sataloff said the way he views kashrut is part of shaping his rabbinic identity. He lives "kosher-style," meaning he follows as many rules as he can as often as possible, but recognizes that there are situations where it's impossible to pay attention to every detail — especially in a place like Macon where few restaurants or social venues offer kosher options.
"Do I know that the vegetables you prepared for me weren't prepared on the same skillet as the sausage or the bacon you just fried? I don't know. I can only do my best," he said.
"I don't want to miss out on opportunities to share a meal with friends, because that's important to me, to sit across the table from good friends and meet new people, especially in the South, where life kind of revolves around food."
Jews who follow less restrictive dietary rules subsequently have less trouble finding food that fits their needs. Shanna Mattson is a senior at Mercer University who practices Messianic Judaism, which combines traditional Judaism with elements of modern Christianity — most importantly, the belief that Jesus Christ is the Messiah.
Mattson founded a campus organization called Students Supporting Israel in 2017. She said there aren't many Jews on Mercer's campus, and most of them follow kashrut more loosely. These students don't have too much trouble finding kosher options at the school's main dining hall, called The Fresh Food Company, or at the handful of chain restaurants on campus.
While Rabbi Sataloff said keeping kosher is about personal identity, it can also signify a connection with and responsibility to God. Jews believe they are God's chosen people, and Mattson said keeping kosher is mostly a means of honoring that relationship.
"I think a lot of the commandments in Leviticus are intended to set the Jewish people apart," Mattson said. "The world can see, 'Oh, that's the Jewish people. Wow, look at all these ways that the Lord has stayed with them and protected them through history when the whole rest of the world is trying to destroy them.'"
Sataloff said that the resilience Mattson described is one of the most important values embodied by keeping kosher.
"It's how we imbue culture in just lunch," he said with a laugh. "The classic line is, 'They tried to kill us, we survived, let's eat.'"