The Macon-Bibb County Commission emerged from executive session Tuesday to approve reopening two downtown bars shut down after a recent homicide, and also enact a temporary moratorium on new solid waste facilities.
Mayor Lester Miller said the consent agreement will allow Recess and Hoops to resume operations on Martin Luther King Jr. Blvd. after Sheriff David Davis closed the clubs following the shooting death of Robert Evans. The August 20 killing happened at about 4 a.m. when dozens of people were lingering on the streets after the bars closed for the night.
Under the agreement, the lounges can open Monday and stay open until midnight for two weeks before they can resume normal hours and close at 2 a.m.
Commissioners also approved a temporary moratorium on new private solid waste facilities in the county.
The county's Solid Waste and Materials Management Plan for 2016-2025 was scheduled to be reviewed and updated in 2021, but due to uncertainty with the COVID-19 pandemic and difficulties with the former solid waste contractor Waste Management, the county was not in a position to amend the plan, according to the ordinance.
Macon-Bibb will hire a firm to evaluate and revise the plan, which will need Commission approval.
No new private proposals will be considered or approved during the moratorium, which could include a proposed solid waste transfer station on Mead Road that is opposed by Lynmore Estates neighbors and nearby businesses. That facility has struggled in recent months to gain approval from the Macon-Bibb County Planning & Zoning Commission.
The county has its own plans for a private company to build and maintain a solid waste transfer station on public land, according to a request for proposals sent out in July.
At Thursday's Keep Macon-Bibb Beautiful board meeting, Ryland Environmental Managing Partner James Lanier said his company submitted a proposal that is currently under review.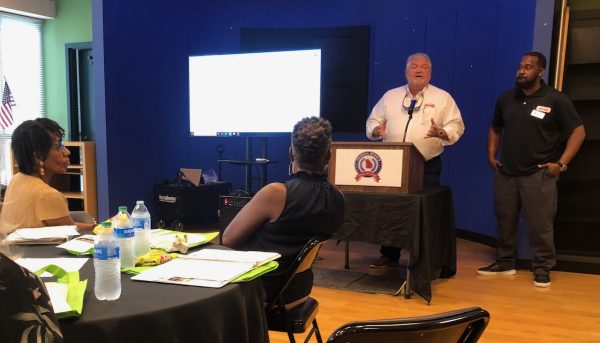 "One of the proposals we're looking at doing is trying to put a transfer station that Macon-Bibb has control of at the old landfill site, so we can control our own destiny and haul it where we want," Lanier said.
Without its own facility and control over where the solid waste goes, Macon-Bibb would be at the mercy of tipping fees set by other counties or private companies, Lanier said.
"The county's vision is to seek a cost-effective and efficient means for managing solid waste for its citizens," the request for proposal stated.
A transfer station on county-owned land could create a revenue stream for Macon-Bibb through a hosting fee, Lanier said.
During Tuesday's meeting, Commissioners also accepted a $20 million grant from the Federal Aviation Administration to subsidize passenger service at Middle Georgia Regional Airport over the next four years.
The county also amended the budget to allow for takeover of the airport's Fixed Base Operations, where private planes refuel and are serviced, that had been run by Lowe Aviation since 1946. All but two of Lowe's employees have accepted positions with the county, Miller said.
After a lengthy discussion over paving Macon-Bibb County roads at their previous meeting, the Commission also added about $621K to allow for repairs of the county's worst roads.
Here is a summation of the debate from Tuesday's agenda.
– Civic Journalism Senior Fellow Liz Fabian covers Macon-Bibb County government entities and can be reached at [email protected] or 478-301-2976.