P&Z: Neighbors oppose transfer station, disappointed homeowner must alter fence
New Chick-fil-A approved, changes for Vineville Christian Towers and Wesleyan College plans to open new venue in downtown
Lynmore Estates neighbors and business owners along Mead Road told Macon-Bibb Planning & Zoning commissioners that a new solid waste transfer station is not welcome in their community.
Monday's hearing, which included considering a disgruntled Beall's Hill neighbor's misplaced fence and a new Chick-fil-A building off Zebulon Road, drew a standing-room-only crowd to Terminal Station for the transfer station. Land owner Guy Eberhardt, of Eberhardt Industries, and Mead Road Environmental want permission to build a transfer station on 171 acres near the corner of Mead Road and Broadway.
The parcel is zoned for heavy industrial use, but requires P&Z approval for this intended purpose.
Attorney John Kennedy, who serves as president pro tempore of the Georgia Senate and secretary of the body's Regulated Industries and Utilities committee, represented the applicants before P&Z. Kennedy said he wanted to clear up confusion about the project.
Kennedy said the transfer station will take in household trash, other mainstream solid waste, and construction and demolition materials. Loads would come in from smaller garbage trucks and go out in larger trucks to be taken to landfills in Twiggs and Taylor counties.
No solid waste will be stored on site, Kennedy said.
"Material cannot stay there more than 24 hours," Kennedy said. "The business model is based on material being shipped out quickly and efficiently."
The concrete dumping site would be washed down daily with the runoff water being collected and carted away to be treated.
Neighbors are concerned about the proposed facility's proximity to the county's five-acre Lynmore Estates Playground and the effect a transfer station might have on their property values.
Macon Area Habitat for Humanity Executive Director Ivey Hall also opposed the transfer station. Hall declared that Lynmore Estates has changed dramatically with $10 million of investment from her organization since 2005 and now boasts over 60% of the homes are owner-occupied.
"They are making equity and changing the entire course of their family's future through home ownership," Hall told P&Z commissioners.
In 2000, P&Z approved the 171-acre site for a construction and demolition dump, or C&D landfill, that was never built. Back then, Lynmore Estates "was a forgotten neighborhood," Hall said.
Jaime Weatherford, whose family has run Crown Candy at 4145 Mead Road through three generations since the 70s, said he feared pests and rodents from the transfer station will adversely affect his business.
"We're extremely concerned," said Weatherford, who said he was making his fifth trip to P&Z about the property as he also fought the C&D landfill 23 years ago.
During his testimony, Weatherford turned to Eberhardt and offered him $225,000 to purchase the property and turn it into greenspace.
"It's worth it to us to put this issue to bed," Weatherford said.
Nearly three years ago, engineer Carl Hofstadter told the Macon-Bibb County Commission the land without improvements was worth about $100,000.
In 2020, then mayor Robert Reichert proposed spending up to $8.75 million in SPLOST dollars to purchase the land that could be used to build the county's own C&D landfill, which would save tipping fees and shipping costs to other landfills after the Walker Road Landfill closed.
The county was going to pay Eberhardt $1.75 a cubic yard for the heavy-clay fill dirt they could take from Mead Road to use in closing the landfill. County commissioners tabled the matter and the landfill permit expired.
P&Z's criteria for evaluating a conditional use application changed in 2022, so commissioners are also considering the effect on the neighboring property, such as the playground, and odors that could come from the transfer station.
Mike Casteel, who operates a transfer station at 4466 Mead Road, told P&Z there is no need for a second facility, although he showed commissioners pictures of several trucks he said were lined up near his scale that morning.
In his rebuttal to the opposition, Kennedy said that photo made his client's case that there is a demand for this type of facility. Kennedy also vowed that the new transfer station would be run according to EPD regulations and doubted the operation would increase the pets and rodents that are already a problem in the neighborhood, according to Weatherford's testimony.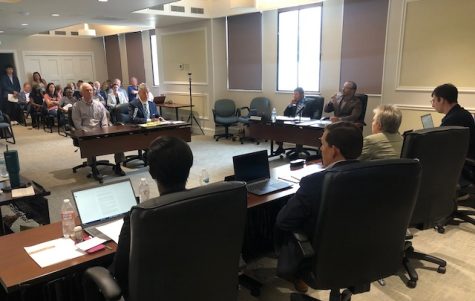 Commissioners raised concerns about the site plan for the transfer station and asked for a more detailed drawing that would show where trucks would line up, as a significant portion of the property is wetlands.
P&Z Chair Jeane Easom suggested the applicant return with a redesigned site plan that moves the entrance "as far away from that playground as possible."
Putting it on the July 24 agenda would not guarantee approval, she warned, but Eason also saw the merit of the proposal.
"This is the only zoning that this type of use is allowed, and I would think that more competition and more access would be beneficial to the community," Easom said.
P&Z Commissioner Wykesia Stafford, president of Stafford Builders, thought the additional location to dump construction debris would benefit building contractors.
"Landfills are at capacity," Stafford said.
Historic district fence fervor
A Beall's Hill resident is the latest historic district homeowner to say he unknowingly violated design guidelines that he didn't realize were in place to govern a handful of Macon neighborhoods.
Michael Caputo told the Design Review Board and P&Z commissioners that he had no idea he was supposed to seek prior approval to erect a privacy fence on his corner lot at 942 Elm St.
"I had no way of knowing I would need a certificate of appropriateness for this fence. No Historic Macon alert, no neighborhood association message… and the character of this neighborhood doesn't show me any uniformity regarding fence heights," Caputo told P&Z.
After spending nearly $5,000 on the project, he was told to either move the 6-foot fence about six feet into his backyard, or lower it 3 feet to comply with rules concerning the public right-of-way since his property abuts Calhoun Street Lane.
"I think this would be punitive in nature and I would ask for the commission to allow the fence to be as it is," Caputo said.
Caputo said it would cost about $1,200 to comply with P&Z's directive.
While P&Z Commissioner Josh Rogers said he was "very sympathetic," he also pointed out the entire neighborhood is under design guidelines.
"I can't see making an exception for someone not making an application," Rogers said.
"How would I have known?" Caputo answered.
Rogers said it is up to the homeowner to find out what rules govern their property and that ignorance of the guidelines is not an adequate excuse.
"I'm disappointed," Caputo said, after he was told to comply with the rules or he could end up in court, face fines or jail time and still have to fix the fence.
New Chick-fil-A, Wesleyan in downtown, refurbished Vineville Tower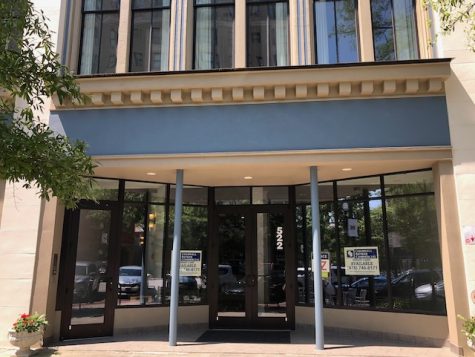 Wesleyan College will soon have a presence back in the heart of the city, less than a mile from where the first college chartered for women began on College Street in 1836.
P&Z granted approval for Wesleyan's Leadership Lab to move into 522 Cherry St. which housed the Travis Jean gift shop that evolved into the Bohemian Den down the street. The college, whose main campus is on Forsyth Road, wants to house several initiatives there, including an entrepreneurship program to pair student interns with downtown businesses.
Wesleyan will create offices, an art gallery and event space in the near 2,000-square-foot building that is expected to be open from 9 a.m. to 5 p.m. Monday through Friday with occasional nights and weekends.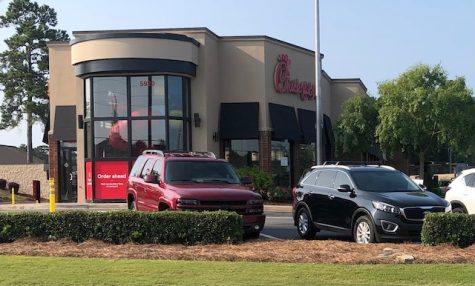 Patrons of the Chick-fil-A at 5920 Zebulon Road will have more places to park and line up in the drive-thru under plans to demolish and rebuild the fast-food restaurant.
CPH Engineering, of Sanford, Florida, plans a larger restaurant of more than 5,100 square feet and 78 parking spaces on the nearly 2-acre lot which includes more than three-quarters of an acre recently purchased from the Bibb County School System for $750,000.
A new dual drive-thru will have an expanded layout to accommodate more vehicles on the corner lot.
No timeline for construction was noted in the application and CPH declined to share that information in a telephone inquiry Tuesday.
Major renovations are nearly complete at the former Vineville Christian Towers at 2370 Vineville Ave.
P&Z and the Design Review Board approved a new "Vineville Tower" sign for the high-rise that was bought by Vineville Housing Associates out of Warwick, Rhode Island, for $6.5 million in 2022, according to tax records.
The building was originally named Vineville Christian Towers because of its affiliation with an organization of Christian churches that built it in the late 60s as the first project of its kind providing non-profit, low rental housing for the elderly, according to Telegraph archives.
Owner Michael Packard said the company has worked with the Macon Housing Authority and Georgia Department of Community Affairs to secure Low Income Housing Tax Credits to upgrade the 196 units that will rent to senior citizens for 30% of a tenant's adjusted income.
"I've been working on it for very many years," Packard said in a phone interview last week.
Packard said crews are waiting for delivery of a major air conditioning unit in August to complete the project.
"We love Macon and we're glad we're a part of the community and very exicted to be able to provide additional affordable housing," Packard said.
Other P&Z actions:
– Liz Jarvis Fabian covers Macon-Bibb County government entities and can be reached at [email protected] or 478-301-2976.