Those seeking to serve alcohol at special events have new hurdles to overcome after Macon-Bibb County set new regulations that some commissioners say were too hastily enacted.
Commissioners spent more than an hour discussing the changes before taking the 5-4 vote, but Mayor Lester Miller said the new regulations aim to resolve years of complaints about people skirting alcohol license safety requirements like surveillance cameras and hiring trained security guards.
"I know it's hard for you to believe but we have applications now where one business is catering to another business, some of which they own, and they're conducting the normal business as they would every day," Miller said. "There's no special event around it. It's just away to get around the loophole."
For example, the former Full House Tavern in the old Olive Garden restaurant location, did not have an alcohol license but relied on a caterer's license. After someone was shot dead in the parking lot last December, the caterer told The Macon Newsroom that the business owners were abusing her license. 
At the time, Macon-Bibb Planning & Zoning Commissioner Josh Rogers said: "That is huge. It gets you around all the requirements for being a bar. … They're saying it's a special event, but they're having a special event every day."
In Tuesday's meeting, Miller said NewTown Macon supports the changes, but commissioners Paul Bronson, Virgil Watkins, Al Tillman and Elaine Lucas wanted to table the matter for more discussion and to give the public and business owners a chance to comment.
Lucas predicted she will come back before the Commission after her term ends next year to tell them, "I told you so," because the changes would negatively impact a "bunch of folks."
"Smart folks look at all the questions being brought up. Smart folks don't take the chance you're making a mistake by acting so quickly. Smart folks give others the opportunity to implement some suggestions like having a public hearing. So, are we smart folks?" Lucas asked.
The new rules for special events
The new ordinance increases the cost of a special event permit from $50 to $250 for each day. The original language upped the fee for a nonprofit organization from $25 to $125,  but Mayor Pro Tem Seth Clark secured an amendment that eliminated the fee for nonprofits.
Under the new regulations, applications must be submitted 30 days before an event and include the name of a host who is responsible for the operation but is not working for the caterer or the venue. The event cannot mimic the operation of a regular business, and not be regularly occurring.
The location must be in a place that would allow alcohol sales under zoning regulations such as distance requirements from schools and churches.
The applicant and venue owner must be in good standing with the county and not be behind in taxes. Code enforcement will review the applications for compliance before sending them on to the tax commissioner for processing and payment.
If an application is denied, the applicant can appeal to the mayor for a final decision.
An application packet must be submitted for each day of operation and special events must stop selling alcohol at 11:30 p.m. and close by midnight.
Tillman, a promoter himself, said he didn't want to set back downtown which is now thriving with nightlife. The 11:30 p.m. last call was too restrictive, he said.
"I mean, really? Have we forgotten how young some of us are?" Tillman asked. "There are a lot of promoters that this is going to hurt and you're probably going to put a lot of people out of business."
"It's not going to affect anyone who wants to run a legitimate business and be held accountable," Miller said. "I don't think it's going to put anyone out of business. What it's going to do is make this a safer community."
Miller explained that regular occurring theme nights to generate a profit, such as Karaoke Night or Tequila Tuesdays, do not qualify as a special event. The permits are for non-recurring events such as wedding receptions, anniversary parties, graduations or other celebratory events.
Commissioner Mallory Jones, who was once in the wholesale beer business, said it's a public safety issue.
"I think all of these things are needed. I think we have chaos and people abusing the system," Jones said.
Commissioner Raymond Wilder also supported all the changes, which went into effect immediately after the vote but does not impact existing applications.
"Bottom line is, I think this just adds teeth to reality," Wilder said. "We know it's existing out there that people are abusing the process."
New cameras approved, bonds backed
Commissioners also approved new school speed zone cameras near Stratford Academy, ACE, First Presbyterian Day School and Bernd Elementary.
They lowered speed limits by 5 mph on Twin Pines Drive, Hall, Ruark and Tucker roads, and accepted a $1.6 million grant that will provide more surveillance technology for the sheriff's office.
Commissioners also signed off on a $600,000 grant for River Edge to build tiny houses in Bloomfield, $100,000 for emergency shelter services at the Salvation Army and a $70,000 grant to help youth with substance abuse problems.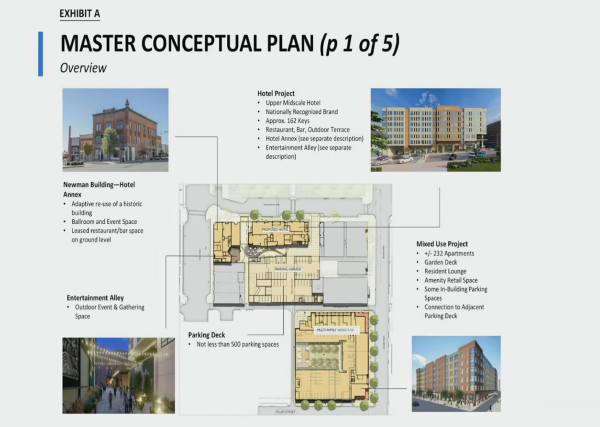 The county also agreed to back $18.5 million in bonds for the Central City Commons project to build apartments, a hotel and a parking deck that the county will purchase once it's complete.
Urban Development Authority Executive Director Alex Morrison said groundbreaking on the long-awaited project will likely happen at the beginning of next year.
Here are highlights from Tuesday's discussions on all the agenda items.


-Civic Journalism Senior Fellow Liz Fabian covers Macon-Bibb County government entities and can be reached at [email protected] or 478-301-2976.