The Macon-Bibb County Commission denied alcohol licenses for three local convenience stores during its July 18 meeting at City Hall, and clarified licensing requirements for food marts not selling fuel.
In 2021, the county aimed to eliminate food deserts by outlawing alcohol licenses for so-called "vice marts" that do not sell fresh food or gasoline.
Assistant County Attorney Frank Howard explained that some vice marts were trying to skirt the intent of the law by claiming to be food marts selling perishable items, which are eligible for alcohol licenses.
"It was clear grocery items were being purchased from grocery stores and then being offered for sale in the food mart, and that there needed to be minimum food requirements," Howard told the Commission.
The new ordinance that passed Tuesday evening mandates at least four pounds each of five different types of fresh fruits or vegetables, at least four pounds of meat, at least four dozen fresh chicken eggs, at least four pounds of bread and at least four gallons of fresh cow's milk. Food marts also will be required to maintain a Georgia Department of Agriculture certified scale to comply with food mart regulations to acquire an alcohol license.
Going forward, the County Commission also will have the authority to temporarily revoke a temporary alcohol license while a business owner appeals an alcohol license application denial.
"There would be no more situations where a business is allowed to continue to sell alcohol for four or five months while the appeals process proceeds if there's reason to believe they are not in compliance with the code while the appeal is underway," Howard said.
The code change also specifies the new role of the Macon-Bibb County Tax Commissioner's Office in the alcohol licensing duties that used to be under the department of business services.
County commissioners approved the final denial of alcohol licenses for Golden Food Mart at 6407 Hawkinsville Road, Marketplace at 2006 Vineville Ave. and Qwic Store at 722 MLK Blvd. after owners did not request a hearing on those pending denials.
Saving cash and saluting Special Olympian
The county learned more about millions of dollars in projected savings after Schneider Electric has upgraded technology at major facilities such as the Macon Coliseum, Bibb County Courthouse and Macon City Auditorium. In 2020, commissioners approved a list of projects for improvements that totaled $23.4 million with a projected savings guarantee of $30.9 million over two decades.
The approved list included the 10 facilities that make up 41 percent of the county's total energy cost: the courthouse, annex, Grand Opera House, Coliseum, Wilson Convention Center, City Auditorium, Government Center, Middle Georgia Regional Airport, Luther Williams Field and the Emergency Management Agency bunker.
Tuesday, the Commission also voted to move forward with hiring Piedmont Mining for the 600-foot runway expansion that will allow larger jets to fly into Middle Georgia Regional Airport.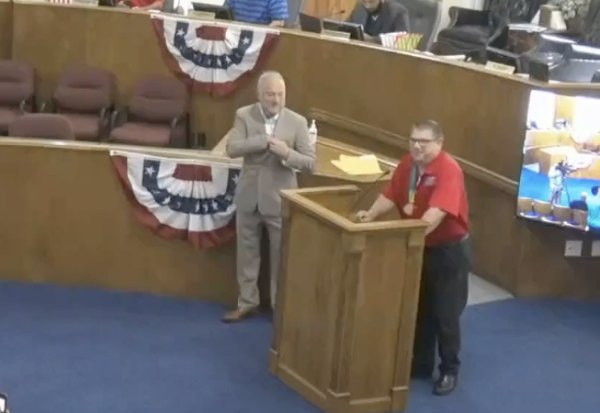 Also Tuesday night, Mayor Lester Miller honored Special Olympics World Games bronze medalist James Thigpen of Wesley Glen Ministries who competed in the sailing competition last month in Berlin, Germany.
After the mayor declared it "James Thigpen Day," the athlete, who has competed for more than 20 years and trains at the county's Lake Tobesofkee, wanted to address those gathered to support him.
"Germany was fun," Thigpen said from behind the podium. " I met a lot of people I didn't know. The food was good and we tipped the boat over and the water felt good."
The county also recognized its summer interns and designated July as Black, Indigenous, People of Color Mental Health Awareness Month.
Here are highlights from the meeting captured in tweets summarizing the discussion of agenda items: