Bibb Schools enrollment headed in 'a very positive direction'
Bibb Schools has more students enrolled this school year than projected, prompting the district to reevaluate its staffing levels.
"We have 21,499 students that are enrolled which puts us very close to our pre-pandemic enrollment," Kevin Adams, chief information officer for the school system, told the Board of Education at its monthly meeting Thursday. "We've seen a gradual decline over the last several years and we're moving back into a very positive direction."
Earlier projections from the district for this school year have ranged from 20,319 to 20,958.
The spike in enrollment is a hopeful sign for the district, which has reported an annual decrease in enrollment since 2015.
Adams' update was welcome news to board members who for months have heard the district's chief financial officer implore consideration of cost-cutting measures amid a looming budget crisis that would occur in matter of years if enrollment continued to decline.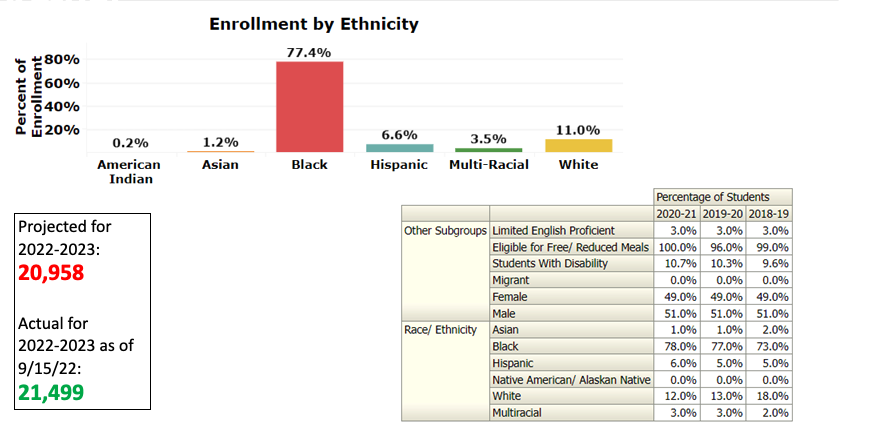 In fact, about 430 students have enrolled since Aug. 11, when Superintendent Dan Sims said there were 21,068 students enrolled.
Asked where the new students are coming from, Adams said any answer would be purely speculative. While it is possible students are leaving private schools, it cannot be confirmed because private schools have no requirement to make those numbers public.
In other business Thursday, the district now has a way to accept gifts donated to it for a specific purpose.
The school board adopted a revised policy at its monthly meeting to allow the district to use its nonprofit to accept money donated to it for a particular use, something the district is otherwise unable to do lawfully itself.
State and federal laws restrict how school systems can spend money, but the Bibb County Education Foundation nonprofit, formed June 2021, is not subject to those limitations.
The revised policy, unanimously approved, also will require employees to get permission from the superintendent before setting up gift wish lists on websites such as Amazon, GoFundMe and DonorsChoose.
Teachers use those websites to crowdfund special items for their classrooms that might not otherwise be available to students. Examples of such items include bean bags, wobble chairs and a cleaning station where special needs students can wash their clothes at school.
The board must approve any gifts that require additional costs for upkeep or future operation, according to the revised policy.
The board also unanimously approved amending its policy on school ceremonies and observances. A sentence was added to make clear that students' participation in the daily  Pledge of Allegiance is optional. Students may stand and refrain from reciting the pledge or remain seated.
Gallup contract 
The board voted to increase payment to a consultant company by $18,220 after an error was realized in the contract the board approved in a split vote at the July meeting.
The 1-year $224,350 contract with Gallup, which is helping the district identify employee strengths, should have been for $242,570 but an error during negotiations resulted in an incomplete list of deliverables requiring a correction to the price. The contract is automatically renewed annually for three years at lower costs each year.
Gallup is a consultant company Superintendent Dan Sims worked with when he was assistant superintendent of Atlanta Public Schools.
The amended contract with the increased amount was approved in a 7-1 vote with board member Daryl Moron voting against the measure. Morton attended the meeting virtually.
Damaged Devices 
After students returned their district-issued computers at the end of the school year, it found thousands of the laptops had been damaged and were not insured.
Last school year, students and parents were responsible for paying for damaged and lost devices at cost. In December 2021, the district began offering an internal insurance policy that allowed parents to purchase insurance from the district at a cost of $25 per semester to cover first-time damages.
However, few parents opted to buy the insurance and at the end of the year, 3,200 Dell Latitude laptops were returned to the district with damage that had not been reported, according to a school board meeting memo.
Adams said student debt related to the damages is not being forgiven, but the district is not requiring payment prior to issuing a new laptop.
The board voted unanimously to have Conyers-based Lexicon Tech Solutions repair all of the damaged laptops for $284,800.
In May, the school board approved buying insurance from Lexicon Tech Solutions at a cost of $423,000 to cover all laptops students use in the 2022-2023 school year.
'In the Loop with the Supe'
Sims announced he is producing a new podcast series entitled "In the Loop with the Supe," to help keep parents informed about district happenings.
"As I've visited schools, I've noticed parents often early arriving for carpool pickup and I wanted a way to communicate with them while they wait for dismissal," Sims said.
In other business Thursday, the board approved the following:
A contract with Lizella-based Ogles Construction, Inc. for design, removal and construction of a new playground at Northwoods Academy for $287,850 in ESSER funds.
A contract with Macon-based Andrews, Hammock & Powell Inc. to replace the HVAC systems in 18 schools by September 2024. The cost is $5.3 million in ESSER and American Rescue Plan money.
A contract with Savannah-based Stage Front to upgrade the audio visual system in the auditorium at Central High School for $424,465 in 2016 ESPLOST money.
To contact Civic Journalism Fellow Laura Corley, call 478-301-5777 or email [email protected]