Bibb School Board gives taxpayers a break, new superintendent hires consultants
Bibb County Schools could face a budget crisis in coming years without cost cutting measures, but the school board gave taxpayers a break for now.
The district plans to roll back the millage rate from 18.099 to 16.720 and an official vote is set for Aug. 11 at 6 p.m.
Even so, the district expects to rake in roughly $1 million more in revenue from taxes than it does currently, Bibb Schools Chief Financial Officer Sharon Roberts said at Thursday's regular meeting.
That's due to "real increases in the (tax) digest, not just reassessments" and folks buying more expensive cars, Robert said.
Still, it will need to find other ways to reduce spending. The fund balance is forecast to drop to critical levels by 2026.
To cut costs in the $337.4 million budget passed last month, the board voted to eliminate nine assistant principal positions that had been recently vacated. Still, expenditures eclipse revenues by about $9.64 million. The district is getting fewer state dollars because of declining enrollment.
Thursday's meeting marked the first for new Superintendent Dan Sims who was sworn into office late last month. It also was the first board meeting for the district's new Chief of Staff Katika D. Lovett and new Executive Officer Nelson L. Render. Sims, Render and Lovett all recently worked for Atlanta Public Schools.
The Bibb school board unanimously voted to hire another of Sims' former colleagues at Atlanta Public School, Tilnisha Rosser, as its director of student support services. Rosser has 15 years of experience and was most recently Special Education Coordinator in Atlanta.
The school board also adopted a state-mandated policy that stems from the controversial "Protect Students First Act."
Of all items discussed Thursday night in the board's committee meeting, a new sole-source contract with a consultant firm garnered the most questions and comments from board members.
Lovett detailed a $224,350 one-year contract with Gallup, a Delaware corporation headquartered in Nebraska that "helps organizations solve their most pressing problems." Atlanta Public Schools also uses Gallup and Lovett said it saw "major dividends."
In 2018, Atlanta Public Schools contracted with Gallup for "survey administration, support, and training for employees" for the school year, according to board records. Although the Atlanta school system has more than double the number of Bibb's students and employees, it was charged $180,000, about $44,000 less than Bibb's quote.
The company also has contracted in the past with DeKalb, Barrow and Richmond schools.
Board member Daryl Morton said he was unsure what the company offers.
"It's not very clear to me," Morton said.
Lovett said the company will conduct an engagement survey for students and employees that would help identify strengths and weaknesses plus ways the district can provide support. She added that "this is an extension of #Built4Bibb and is a critical step in aligning our employee's strengths with the needs of our students."
Lovett also said Gallup provides professional development through coaching during which employees will learn how to use their identified strengths.
Morton asked if other companies that offer similar services were considered. Lovett said no, because the product is "unique to Gallup."
The contract with Gallup is for one year with an optional renewal for two years and a penalty for nonrenewal.
"I'll just be kind of up front," Morton said. "What I've noticed in looking at this contract is that if you cancel it after the first year you have 25% of the balance that is due, which troubles me a little bit. I am also a little troubled that perhaps we haven't looked at other people who might be able to provide a similar service to see if the costs are commensurate."
Morton added that he was "still sort of confused about what this service actually is."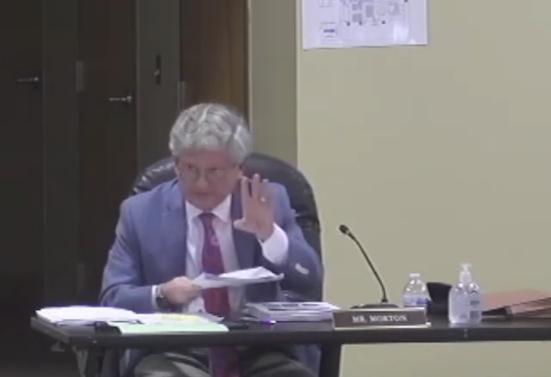 "If it were that good of a product, I don't know why they would think you're going to want to get out after year one," Morton said.
Sims said it would not make sense to do Gallup for a single year and he plans to use the consulting firm as part of his approach to focus on individuals.
Sims praised the abilities of Gallup's professional coaches and the resources the company offers beyond what is included in the contract. He also said Gallup "is going to help us to increase our opportunities to retain teachers."
"We have not found another organization that focuses in the way that Gallup focuses," Sims said. "Gallup is going to help us … use that strength-based approach as the lens of professional development that guides everything else we do."
To Morton's concerns, Sims said he didn't see a need for the nonrenewal penalty, and "we don't foresee an issue with us making a modification."
Board member Kristin Hanlon has been on work teams that contracted with Gallup and had taken the company's strength-finder survey.
"Part of what you get is a 30-page report that tells you what you're good at," Hanlon said. "I hope that every teacher can take it. I wish there was a way we could get this in the hands of students."
Board member Myrtice Johnson, a former Bibb Schools principal, said she had experience with Gallup or a similar program in the past.
"It was a tremendous thing to find out what each teacher's strength was. It helped me as a principal be able to better work with them," she said.
Board member Lisa Garrett said Bibb County Schools contracted with Gallup about two decades ago under former Superintendent Sharon Patterson, the district's top leader from 2000-2010. Garrett, a retired Bibb Schools teacher, said she identified her strengths through such a survey.
Board member Sundra Woodford wanted to know if the company also would work with board members. Sims said he would make that happen.
The board voted 7-1 to approve the contract with Gallup with Morton voting against the measure.
In other business Thursday, the board approved the following:
A contract with Alpharetta-based Robertson/Loia/Roof P.C. for design, construction and management of the new Springdale Elementary School. No cost was stated but money will come from the 2021 ESPLOST.
A $25,000 settlement with an employee who slipped in water and fell, injuring her neck and back in June 2020. She returned to work without restrictions in May 2021 and was injured again while buffing the floor when her feet got tangled in the cord and she fell and injured her right knee.
A $15,000 settlement with an employee who injured her elbow and shoulder after a fall caused by a special education student who intentionally pulled a chair from under the teacher as she was working on the computer.
A contract with Maryland-based Maxim Healthcare Staffing Inc. to hire eight special education teachers at a cost of $851,000 from the general fund.
A contract renewal with Michigan-based Kelly Services Inc. for $5 million including substitute teachers for an estimated cost of $1.85 million, 74 floating substitutes (two for each school) at a cost of $1.8 million from ESSER II funds and 47 paraprofessionals for 17 schools at a cost of $1.3 million from ARP-ESSER III funds.
A contract with Delaware-based Tutor.com for online homework assistance and tutoring services for the 2022-2023 fiscal year at a cost of nor more than $528,000 in ESSER funds.
A contract with Canton-based Aios Group LLC to upgrade network switches at 10 schools for a cost of $3.27 million in ESSER funds. The estimated cost for the company to upgrade systems at other schools over the next year is $10 million from CARES II and ARP funds.
A contract with Atlanta-based Cumberland Group LLC to migrate the district to Cisco Webex Calling and OpenText XM Fax Cloud. The district's current technology uses software for which updates are no longer available. The cost is $238,269.91 in general funds.
A contract with SP Design Group for architectural services related to phase 3 upgrades at Thompson Stadium including renovations to the former Appling Middle School. No cost was included.
A purchase order for milk and dairy products from Conley-based ITI Milk Distributor LLC for $814,624 in school nutrition funds.
A purchase order to GSBA Risk Management Fund for property, auto, liability, school leaders liability and cyber liability insurance for one year in the amount of $950,406 in risk management general funds.
To contact Civic Journalism Fellow Laura Corley, call 478-301-5777 or email [email protected]