Water Authority weighs new 'elder abuse' claims against Desmond Brown
MWA delays vote on asking governor to remove Brown for abuse of power or forward case for potential prosecution
As the Macon Water Authority considers taking action against District 2's Desmond Brown, new allegations of elder abuse gave authority members pause before making a decision on how to proceed.
The authority's special counsel David Cooke, who was hired in December to investigate whether Brown misused his elected position, delivered a second supplemental report with the latest claims at the start of Thursday's meeting.
If Cooke were still district attorney, he would call in his "elder abuse" team to investigate Brown's pattern of conduct in dealing with older clients of his Blue Armour of America disaster mitigation company, he said.
Wednesday, after repeated attempts to reach Brown for comment in recent weeks, he told The Macon Newsroom he expected to release a statement in the coming week and break his silence on the matter.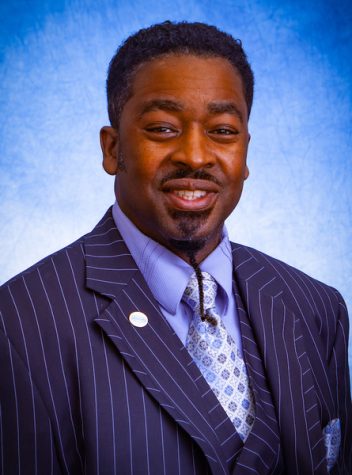 The authority asked Cooke to probe allegations Brown inappropriately billed the authority and Macon-Bibb County for an elderly client's flood damage and pushed for payment. Thursday, the former DA presented new allegations of Brown's potentially fraudulent conduct and recent legal troubles.
"I'm not saying definitively what they've reported is true. Obviously, some of them are very solid leads," Cooke told the authority. "The kind of smoke that if I was still in the business would be pursuing to see if there's fire."
Brown did not attend the meeting, although he was released from jail a week ago. He spent four days behind bars for contempt of court in an unrelated 2019 civil case where he was ordered to repay a client's $40,000 investment plus 25 percent interest. He hasn't repaid a dime and the sum with interest now totals about $150,000
Since Brown had not complied with an order to produce documents, Judge Connie Williford ordered him to jail. She released him Feb. 25 so he could better assemble the documents by a new deadline of March 18.
Although the civil case dates back to 2011, long before Brown's 2020 election, Cooke included it because Brown was found in contempt while in office which could be considered "conduct unbecoming a member."
Cooke's initial report, which resulted in a formal censure of Brown and his removal from committees, concluded Brown had a "blatant conflict of interest" and "potential criminal liability" as some questioned whether Brown committed insurance fraud by inflating the invoices.
A supplemental report explored allegations Brown targeted and exploited two elderly clients who paid $99 a year to his disaster mitigation company.
Cooke introduced three new cases of alleged abuse in Thursday's report. In one of them,  an elderly woman he was suing for nonpayment suffered a fatal stroke upon arrival at the courthouse for trial, according to the report.
After hearing Cooke's latest information, authority member Dwight Jones said he felt they had a fiduciary duty to continue to investigate these leads before deciding whether to take action against Brown. The authority could turn over Cooke's findings to the sheriff or district attorney for potential criminal charges in addition to appealing to the governor for Brown's removal from office. Case law is not very well defined on what constitutes "conduct unbecoming," Cooke warned.
He agreed that "it would be prudent to see what the incoming leads bear out."
The authority will revisit the issue at next month's meeting.
Additional information continues to come in, but the cases could be difficult to prosecute since the alleged victims are of an age when dementia and health issues could come into play, Cooke said.
"Elder abuse cases are so hard to prove, which is why they're a good target," he said.
– Civic Journalism Senior Fellow Liz Fabian covers Macon-Bibb County government entities and can be reached at [email protected] or 478-301-2976.