Board member censure fractures Macon Water Authority, stymies committees
MWA Chairman Sam Hart balked at removing District 2's Desmond Brown from committees after 'blatant conflict of interest' as authority also faces redistricting challenges
Macon Water Authority board members fear the utility's reputation is on the line as they deal with multiple complicated issues, including the censure of one of its own.
District 2 board member Desmond Brown, who walked out of Thursday's meeting during discussion of the censure, faces multiple sanctions following "blatant conflict of interest" and potential criminal liability in billing the authority and Macon-Bibb County for insurance claims on behalf of a client of Brown's disaster mitigation company. Some people interviewed in special counsel David Cooke's investigation considered the invoices over-inflated which could constitute fraud, but the homeowner denied access to a third-party disaster mitigation company for a second opinion.
The censure passed Thursday by vote of 4-1 with MWA Chairman Sam Hart opposed and board member and Macon-Bibb County Commissioner Valerie Wynn absent. As a result, Brown will be permanently removed from the Macon Water Alliance, a fundraising arm of the authority. He also is banned from serving on standing committees for at least a year, but he would be allowed to serve on the ad hoc Outdoor Recreation Committee that oversees things such as the annual Fishing Derby and hunting on authority property.
Brown is prohibited from serving as a chairman or vice chairman of any of the committees and cannot serve as an official representative of the authority.
Stalemate over committees
Hart chided Cooke for saying that he believed that the censure — specifically the ban on committee service — was consistent with the authority's governing bylaws. Hart pointed out that under the bylaws, the chairman makes recommendations for committee assignments. Although the board has to approve the recommendations, the censure barring Brown from committees effectively cancels out Hart's role in recommending Brown's assignment. Hart said that violates the intent of the bylaws, Hart said.
Hart said he still wants Brown to serve on the finance committee.
"You effectively eliminate any input, so his people being served were not being served because the person they elected has no voice," Hart explained. "We need to censure him. I don't have an issue with that. … Let's take our pound of flesh but let's not do it to the bones."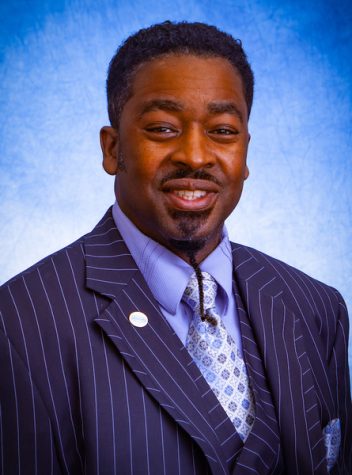 Hart said he wasn't ready to vote on the censure Thursday night as he had not had time to consider amendments presented to Cooke by District 3's Dwight Jones, who introduced the removal from committees.
Last week, Cooke reported the findings of his weeks-long investigation into Brown's conduct regarding October flooding at 2358 Lancerlot Place. The Stormwater Management division of the authority determined the flooding occurred through a private easement and the authority was not liable. They had already denied a prior claim on behalf of the same homeowner.
As part of the findings, Cooke recommended disciplinary action and the authority asked the former district attorney to draw up a letter of censure.
The authority's attorney Virgil Adams and Hart told members they could give input on the censure directly to Cooke, which Jones and others did.
When presenting the document with Jones' suggested committee removals, Cooke said his one-on-one conversations with members indicated there were enough votes in support.
Hart took issue with that assessment and mention of "votes."
"We haven't been in a meeting. Haven't been a vote. So, don't you read again into your report what haven't happened," Hart said sternly.
The issue resurfaced at the conclusion of this week's meeting after board members failed to make a motion to approve Hart's committee assignments. For now, the authority will operate outside of its usual committee structure.
District 1 board member Anissa Jones said she was "shocked and appalled" when Cooke spoke of having the votes needed to pass the censure.
"Nobody asked me," she said. "I'm trying to figure out what's going on."
Macon-Bibb County Commissioner Bill Howell, who represents the county on the authority, said there were no "clandestine meetings or discussion." Howell pleaded with Hart to resolve the matter so committees could be set.
"I hate to see us at an impasse because I don't want to hold up the business of the board," Howell said.
Howell suggested that Brown could be added back to committees later. The censure allows for Brown to resume his place on committees in 2023, if he hasn't had any "further infractions." He could be allowed  to serve as chair of vice chair, only if the authority lifts the censure by a vote of no fewer than two-thirds of its members.
Hart did not budge on his stance not to remove Brown, but agreed they needed to have committees in place.
"This is an organization that is still held high in the esteem from the public," Hart said. "Doggonit, we are not looking to destroy that."
Committee compromise sought
Recognizing Hart's determination to keep Brown on at least one of the three standing committees, Dwight Jones suggested Brown serve somewhere other than finance.
"With somebody, who based on the investigation had financial misdealings, which we have no way to know, a law enforcement officer could decide to pursue that. I just think… to have him on a committee that deals with finances might be incongruent," Dwight Jones said at the meeting.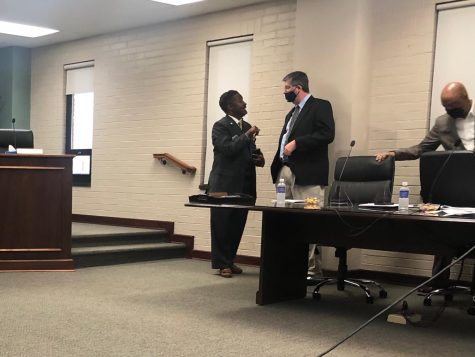 Although board members made no mention of it, the Center for Collaborative Journalism has learned Brown also is under a court order to repay a former investment client of Brown's defunct company D-Money Enterprises.
In July of 2019, then Bibb County Superior Court Judge Verda Colvin ordered Brown to return the client's $40,000 plus 25 percent interest that began accruing yearly from March 1, 2011, the date Brown signed the promissory note to the client. The total amount due is now more than double that $40,000 investment.
In her ruling, Colvin concluded Brown abused his corporation, co-mingled corporate and personal funds, did not have sufficient capital and did not properly operate the company or document its financial dealings.
Brown, who represented himself in that court proceeding, admitted he was not a certified financial planner, nor did he provide the promised services for the client. Colvin's order stated Brown pledged to turn the man's "investment into millions of dollars less than four months after (Brown) had been homeless and impoverished."
Colvin's remark about Brown's homelessness referred to a bank foreclosure in 2010. He and a co-signer defaulted on a 2008 Magnolia State Bank loan and their property was sold on the courthouse steps.
Since Colvin's order, attorney Sam Alderman III has been trying to get Brown to document his assets so Alderman's client can be repaid with interest, as the judge instructed.
"My dealings with him have been absolutely surreal," Alderman told the Center for Collaborative Journalism in a phone interview Friday morning.
Brown still hasn't responded despite multiple attempts to contact him, said Alderman, who is determined to pursue all his legal options.
It is not clear whether any of the authority members are aware of Brown's pending legal case, which was not discussed in open session.
Hart said he took into consideration Cooke's investigation when considering committee assignments. Hart decided to put him on finance because of committee chair Dwight Jones' "strong leadership," he said.
When considering the assignments, Hart said he struggled to find an appropriate spot for Brown, who had been called out in prior meetings for circumventing the chain of command with staff.
Because of that conduct, Hart felt it inappropriate for Brown to serve on the engineering committee.
Hart also declined to place Brown on the personnel committee chaired by Anissa Jones, which surprised her.
"What contention is there with me?" Anissa Jones asked. "I guess I'm up here being naïve."
Gerrymandering allegations
Hart intimated he ruled out her committee due to Brown's allegations of gerrymandering of her district in the recent reapportionment process.
On Jan. 6, when Cooke's investigation was well underway, Brown summoned the media and accused Howell of gerrymandering District 1 to accommodate Anissa Jones' new business and residential loft under construction on Cherry Street. Howell denies the allegation and said his map, which the authority approved, was solely designed to compensate for shifts in population based on the 2020 Census.
Howell also served on the county's redistricting committee and drew the county commission's new district map.
Brown's allegations of gerrymandering led to Macon-Bibb NAACP President Gwenette Westbrooks and local civil rights advocate George Muhammad calling for transparency and public meetings related to the new districts. Both addressed the authority Thursday night.
"I'll tell you I have no issues with Mr. Brown and him serving on the committee," Anissa Jones said. "I'm still quite perplexed why the witch hunt is with me, especially when I own three properties in the district."
The meeting concluded with no committee assignments approved at all.
Hart said the authority could continue to meet as a "committee of the whole" or have called meetings to conduct business.
Cooke's recommended changes in the bylaws as a result of Brown's conduct will be reviewed over the next few weeks before a vote is taken.
The censure states Cooke's report determined Brown could be subject to removal from office or face criminal charges related to insurance or wire fraud, but that the board is not currently pursuing other consequences "in the hopes that Brown recognizes his transgressions and appropriately reforms his current and future conduct, provided however, the board reserves the right to pursue all remedies, at any time, should the board or appropriate law enforcement agency deem appropriate."
Brown was only present for the first 30 minutes of the meeting before putting his feathered fedora back on, grabbing his briefcase and walking out.
Repeated attempts to reach him for comment were unsuccessful, nor did Brown return repeated text messages.
Hart urged board members to allow Brown to serve his constituents and for them to resolve the issue or risk doing further damage to the authority's reputation.
"I beg this board to let's be human," Hart pleaded. "Let's provide some wisdom and not take everything personal and extract two pounds of flesh for everything that we do."
– Civic Journalism Senior Fellow Liz Fabian covers Macon-Bibb County government entities and can be reached at [email protected] or 478-301-2976.