CCJ Top Takeaways: Macon-Bibb commission meeting
New trash contract, fire training center, sale to Quik Trip, Centreplex alarm upgrade and business licensing changes.
Macon-Bibb County Commissioners approved more than 40 items Tuesday's, but most were on a consent agenda for measures that passed by majority in last week's committee meeting.
Here are the CCJ Top Takeaways from that Oct. 19 meeting:
New trash company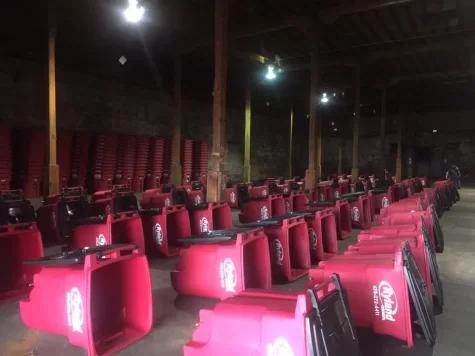 After a rather brief executive session, commissioners approved a new sanitation contract with Ryland Environmental out of Dublin.
Months of staffing issues with Waste Management led the county to contract with other companies, but complaints continued due to collection disruptions.
Beginning next year, Ryland will take over trash, recycling and yard debris pickup for the county.
Commissioners also approved $3.5 million to purchase new red garbage cans that will go into service with Ryland at the first of the year.
Business licensing changes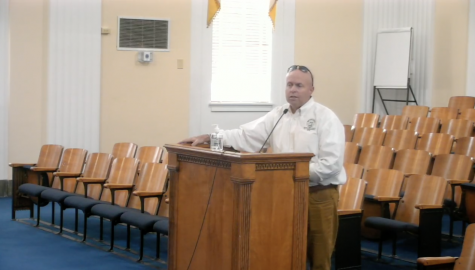 Business owners will now have until March 31 to renew annual business licenses.
Although no one showed for a required public hearing on the pending change, Tax Commissioner Wade McCord explained the prior Dec. 31 expiration date often meant a gap in licensing that delayed allocating money.
"Some government agencies at state and fed level withhold funding if you don't have an active business license to show them," McCord said. "That was pretty much the reason behind this."
The change also gives the tax commissioner's office enforcement authority over licensing and sets a minimum fine for operating without a license.
Going forward, business owners will also pay a $25 fee to change the name of the business.
McCord explained that fee will pay for workers to search records to make sure there is not a conflict with the new name.
Making way for new Quik Trip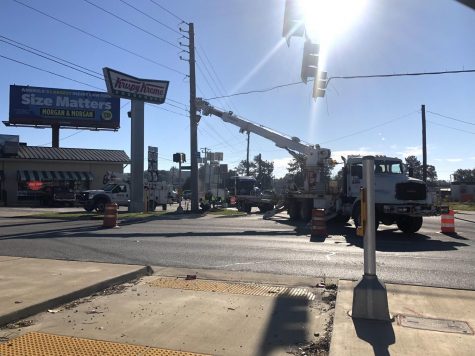 Commissioners authorized closing Wilson Street East between Emery Highway and North Avenue to allow for construction of a new convenience store.
The county also agreed to sell a third of an acre of land to Quik Trip if the company purchases remaining lots to complete the pie-shaped piece of property needed for the store.
In 2019, Macon-Bibb Planning & Zoning approved a Tommy's Car Wash for that triangle of land near Interstate 16. New QT plans show the demolition of the current Krispy Kreme and old Wilson's Bakery and Chi-Ches-Ters locations.
Owners of the nearby Nu-Way and shopping center, that includes COMPASS Cares pharmacy, signed off on the project, according to documents presented to the county.
Quik Trip had not yet submitted plans to P&Z, so the fate of the doughnut shop is uncertain, but it possibly could be included in the new store. There is currently a moratorium on new convenience stores while P&Z considers code changes.
The prior car wash plans approved by P&Z two years ago showed a new, separate Krispy Kreme building on the property.
$2.8 million for fire training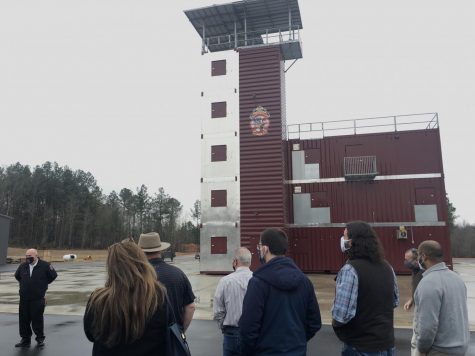 Commissioners approved a $2.8 million contract with Warren Associates to design and build a new Macon-Bibb County Fire Dept. training facility off Tinker Drive.
Mayor Lester Miller was ready to commit SPLOST dollars after a February tour of the Warner Robins Fire Dept.'s training complex.
Macon-Bibb's current makeshift burn house of old shipping containers is no longer safe.
Commissioners also approved nearly $575,000 in the fire department's capital improvement fund to purchase a new triple combination fire pumper and they allocated nearly $215,000 in SPLOST funds to upgrade the fire alarm system for the Macon Coliseum and separate it and the Lewis B. Wilson Convention Center from the Marriott City Center's fire alarm.
In the past, when the alarms had to be turned off for entertainment acts using smoke, it shut down the hotel's system.
The upgrade will negate the need for firefighters to be stationed on the property during those events.
$2.5 million to fight crime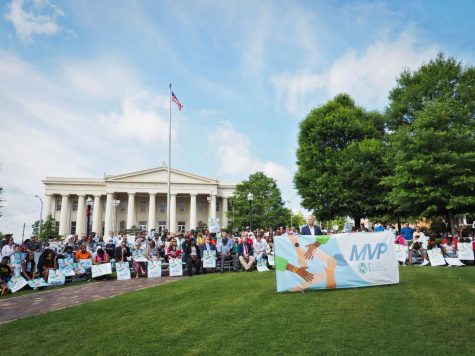 In the latest development in the Macon Violence Prevention program, the county appropriated $2.5 million for the Crime Prevention and Violence Interruption Grant Program of the Community Foundation of Central Georgia.
The grant will fund, promote and evaluate the effectiveness of programs consistent with the goals of the MVP program's Strategic Plan developed last month.
– For a more complete summation of actions taken Oct. 19, here is a collection of live tweets sent during the meeting.
–Civic Journalism Senior Fellow Liz Fabian covers Macon-Bibb County government entities and can be reached at [email protected] or 478-301-2976.