Here's how to check the status of your voter registration in Georgia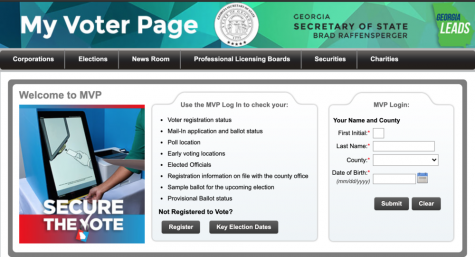 Today is a great day to check on the status of your voter registration in Georgia, and it's easy to do thanks to the secretary of state's office online portal.
The My Voter Page is where you can also register to vote or change your registration, check your Election Day polling place, view a sample ballot for upcoming elections and see your absentee voting status once that window is open.
Close to 7.7 million Georgians are registered to vote, in part because of the state's automatic voter registration law that updates that information when voters interact with the Department of Driver Services unless they choose to opt out.
Once logged in to the My Voter Page, you can see your voter information, your election precinct and polling place, a list of early voting locations for your county and the specific elected officials that represent you in federal, state and local government.
Those representatives could soon be changing because of the once-a-decade redistricting process. Polling places could change before the election, too, as county elections officials are the ones tasked with reassigning voters to new precincts — some of which are still facing location shortages stemming from the coronavirus pandemic.
RELATED: Reporting Recipe: How To Be A Redistricting Watchdog
When it gets closer to election dates, you can also use the My Voter Page to access a sample ballot for your precinct as well as check to see your status for in-person early voting or absentee by mail voting.
The voter registration deadline for the Nov. 2, 2021 municipal elections is Monday, Oct. 4. The deadline for the general primary election held May 24, 2022 is April 25, 2022. For the Nov. 8, 2022, general election, the deadline is Oct. 11, 2022.
A calendar with all important election dates in 2021 and 2022 can be found on the secretary of state's website.
Have questions about voting or elections in Georgia? Send them via email to political reporter Stephen Fowler at [email protected].

See the full story here.