'It Was Sorely Needed': Black Alternative Artists Building Creative Spaces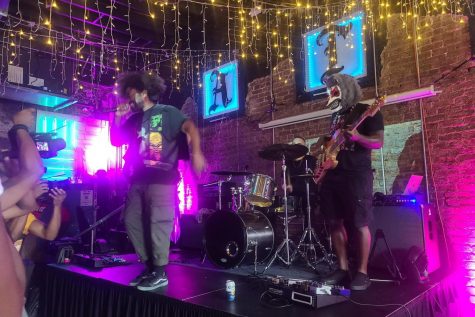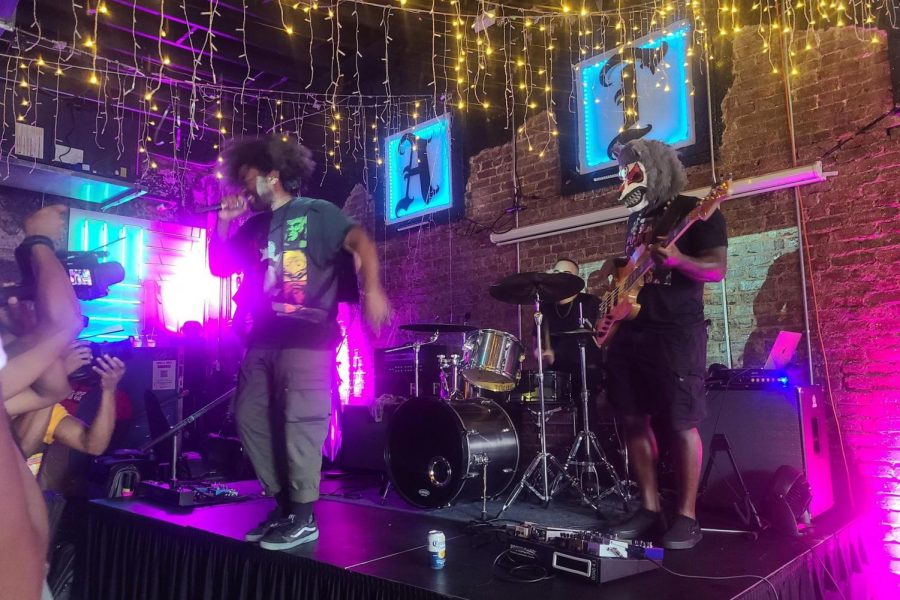 Seating is hard to come by on a Saturday in Our Bar on Edgewood, not only because it's the weekend, but because everyone is filling the room ready for the next band to perform. The crowd faces the stage on the rear wall, waiting. Then, after a quick sound check and introduction, the band steps up to the mic and the punk show begins.
The Punk Pop Up Show is a long-awaited collaboration between Our Bar and Punk Black, an organization founded in 2015 to create radically inclusive spaces for Black and brown punks.
Punk Black co-founder Von Phoenix said it started with a house party for his band, Howling Star, with a lineup made entirely of rock bands of color.
"While we're doing the show, we had so many people come up to us and they were like, 'Man, we really appreciate you doing this — Atlanta really needs this,'"  Phoenix said.
He said the event really struck a chord at the time because other Black punk festivals such as Afropunk Atlanta were straying from their mission.
"Afropunk was already sort of deviating from really, really pushing rock artists at that time," Phoenix said. "So it was sorely needed."
In a music scene dominated by all-white bands, Punk Black has placed a spotlight on upcoming Black and brown rock artists from Atlanta and around the country.
Photographer Nia Marjani is also part of Atlanta's growing Black alternative and punk communities.
She said growing up in Atlanta without Black representation in the subcultures she was interested in was difficult and affected her self-expression.
"When you wear something or you speak a certain way and they're like, 'Oh, why are you acting white?'" Marjani said. "And that's not even a thing. I'm expressing the person that I've always wanted to be inside of me."
Now, as an artist, she's creating that representation that she always wanted to see within the alternative community in her series of portraits called "Alternatives." The photography establishes that Black people, especially Black women, are foundational to the goth and punk subcultures.
For Marjani, sharing her photography means sharing who she is and who she spends time with, but she's faced some pushback from curators when she has tried to show her work.
She remembers one gallery curator in particular.
"I told her it was portraiture of goth and alternative people," Marjani said. "And she was like, I kind of need it to be more than just portraiture. And it kind of made me feel demeaned. I actually got off the phone with her and I cried. Not even because of what she said, but because it just felt like my work isn't serious enough."
Despite those setbacks, Marjani was still able to land an internship and a solo show of her work at the MINT gallery in Atlanta's West End neighborhood.
Finding space, and oftentimes literally creating it, is a recurring theme in Atlanta's Black punk scene. In fact, Our Bar got its start in part through Punk Black's fundraising.
Which is why Phoenix said he plans to expand Punk Black further and create its own Black-owned rock network studio.
"Basically like MTV, but people of color — but, you know, just way cooler than what MTV has become, unfortunately," Phoenix said, adding that the studio's aim will be to shoot Black shows and record bands for discounted prices and more — "a studio where we can we can do all the things that we really want Punk Black to do."
While fundraising for that project is underway, Punk Black continues to host events in Atlanta and beyond. Phoenix said to look out for Punk Black ATL Festival coming in October.
Listen to the full story here.