Streetline Percussion earns Downtown Challenge Grant, promotes Black businesses
According to Streetline Percussion CEO Charlene Waller and her son Cedavean, their drumline can bring cars to a screeching halt.
"A lot of businesses call us for promotions to have us perform," Charlene said. "And when we're playing drums, traffic will stop."
Streetline Percussion, the Wallers' nonprofit community drumline, received a Downtown Challenge Grant of $10,000 from the Community Foundation in June. The grant has enabled the organization to play multiple concerts in Macon to promote Black owned businesses downtown.
"We got the grant from the Downtown Challenge because we wanted to bring more awareness to the Black businesses downtown, make sure they get promoted," Charlene said. "A lot of people call us to perform for grand openings and just attention in general."
Using their Downtown Challenge award, the group has performed at the Vibez restaurant grand opening and plans to perform at several other businesses in the future.
"When we did the grand opening at Vibez, if people didn't know about that and you heard the drum, it'll lure people over to see what's going on," Cedavean said. "So when people came over they said, 'Oh, this is it.'"
Streetline is a non-profit organization that focuses on providing a positive outlet for kids and teens through working together as a drumline. The program, founded in 2009, has nearly 40 kids and teens performing in events across Middle Georgia.
Since performing for businesses is already a big part of the experience that Streetline provides for kids, the grant and initiative to collaborate with Black businesses seemed like a no-brainer for Charlene.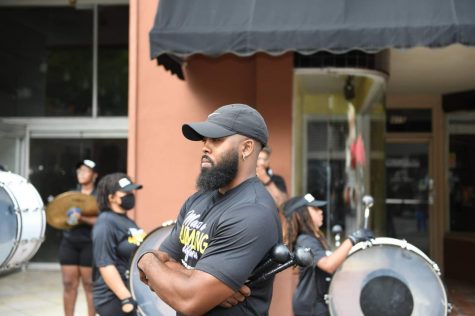 "We chose to try and bridge that economic gap because a lot of people are unaware of the Black businesses downtown that are growing," Charlene said.
The grant helps kill two birds with one stone according to Cedavean and Charlene, allowing kids to have the experience of being on a drumline while providing marketing for growing Black-owned stores and restaurants that are not typically afforded that luxury.
"Not only is it a performance, it's free advertising," Cedavean said. "The thing that's different is that it's downtown. Usually when you hear drums downtown it's like Bragg Jam or something big that's going on, so we want to treat these businesses like something big is going on every time we perform."
Charlene said that the crowds for Streetline performances can be large and will help bring shoppers to the businesses.
"People are fascinated with the ages of our children, you know, they see a nine year-old playing next to a 19 year-old, it's fascinating," Charlene said. 
Streetline will also be using their grant in collaboration with Bringing African Americans Downtown, or B.A.A.D, another recipient of a Downtown Challenge Grant. The two groups will host multiple events in downtown Macon using the money from the Community Foundation this fall.