Mayor talks trash delays, off-road vehicles taking over streets, public safety and COVID-19 funds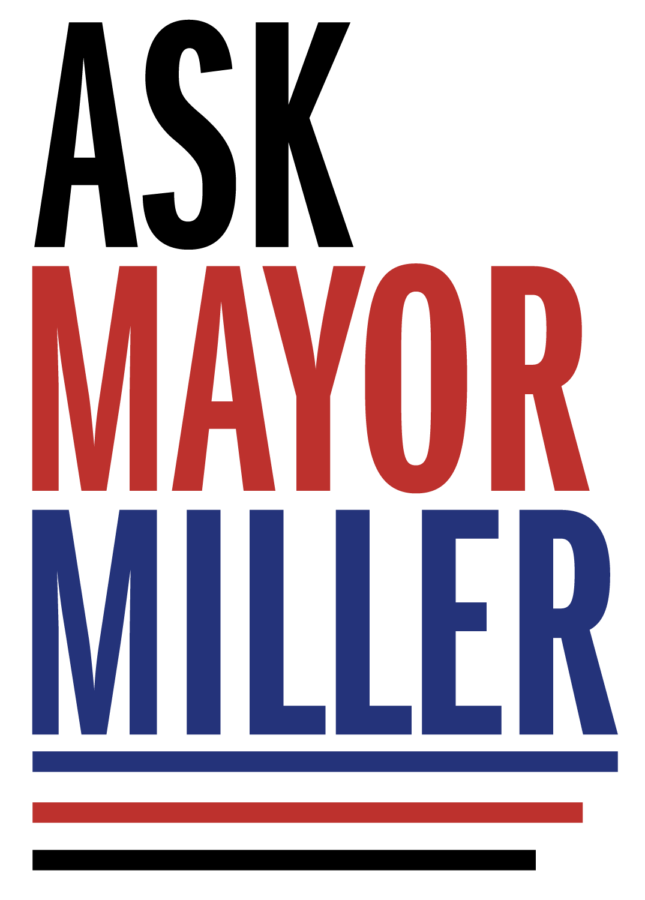 In the latest segment of Ask Mayor Miller, the public submitted questions about the county's struggle with trash collection and recycling, cuts for museums and tourism entities, all-terrain vehicles and motorcycles taking over streets, public safety initiatives and COVID-19 relief money priorities.
Trash collection delays
CCJ's Liz Fabian: Mr. Mayor, thank you for joining us for the May edition of Ask Mayor Miller. We have been soliciting questions over the past four weeks and residents are seeing the garbage still not being picked up and the schedules being shifted and virtually no recycling collections in some neighborhoods. Previously, you've told people to leave the cans where they are and they will eventually be picked up. But can you explain the current status with Waste Management, the private company that handles Macon-Bibb trash pickup? And is there a way to update residents, at least weekly, about the situation until it is resolved?
MAYOR MILLER: Yes, we first of all, we do continue to update residents on a weekly basis on various social media, as well as questions and answers that we have. And we get we get plenty of calls here at the mayor's office as well. First of all, this is not anything to do with Waste Management. Their company in general has nothing to do with the fact that we're behind on picking up trash. It's not unique to Macon-Bibb County, is what I'm saying. The this is a problem in many, many places across the state of Georgia, across the southeast United States, those places where you have a company that actually picks up trash.                                                                                    So they have had job fairs at Waste Management. We've been in communication with them every day. We send emails to them when we get customer complaints because they're a third party that is picking up trash. It's not the county. There is not another service that we could go out to do any better of a job than than what they do now. But the bottom line is they have a severe worker shortage. This is something that's probably going to continue for a little while longer. They had a job fair over a week ago. They did hire 10 new people, which is very encouraging. But they were 32 behind and 16 of those are drivers. So when you look at the talent pool out there and the people that are actually ready, willing and able to go to work, they're few and far between. People simply are not going to work despite a five thousand dollar signing bonus that Waste Management has. Their firm has designated about three million dollars to hire new people to help with household garbage pickup and still has been unsuccessful to get people to come to work. So it is something like I said, it's not unique to them. We realize that people are complaining about that, but we have much more serious issues than picking up trash. I know recycling is a big thing and people recycle and we appreciate that. We're looking forward to having those convenient centers. I think once you have those in place, I would be a lot better situation for us. But what's happening is they're delaying the picking up of recycling because they're putting more of a priority on the household trash. So that's pretty much where we're at. I know people, sometimes their trash is three or four days late. I've heard a couple of people there got missed on the routes for a couple of weeks, but that's usually a new driver who has a new route on a day and they just hired that driver and they have to get accustomed to working the entire Bibb County. This not only happens in Bibb County, has happened in Houston County, Peach County, Baldwin County, everywhere in Atlanta, south Georgia. I'm in constant contact with mayors all over the place. So there's nothing I can blame on one particular company.
CCJ's Liz Fabian: So are you still suggesting that people leave the cans out and eventually they'll be picked up?
MAYOR MILLER: We are. We are, yes. If you if you bring your trash out there and then you take it back in and they pick up two days late, then you've missed it and then you'll call back and saying, you missed your trash for a second week when really we were just a couple of days late during this pandemic and during the crisis we have right now with worker shortages, you should be fortunate they only miss for a few days. And unfortunately, sometimes people have to put their recycling in the trash if they have no other place to store it. I can understand that. We hope that don't happen, but unfortunately, it does happen. But as you know, like we talked about the last time, if you drive up and down every highway we have in Macon-Bibb County, you'll see every single place needs workers. They cannot get workers. They can't open. You know, they have drive thus because they can't afford to have people to come inside to restaurants and even the fast food restaurants. We have severe shortages at all of our places that li pay good money. We've been recently out to Yancey, John Deere, Irving Tissue. They're all short on workers. This is nothing specific to one company and one area. It just hits people kind of hard because it's trash. A lot of these people, it may be a good time to start using, you know, less things that create trash and doing a better job of recycling and a better job of compacting things before you put it in a trash can. Some of these people who have two cans of trash have two people living in a household, and that's entirely too much trash in this throwaway society for one week. So we're telling them just to be patient, we're working on the problem. We're well aware of the problem. I do hear all the time. People say, well, we spent a lot of money on trash, but honestly, you only spend about a 25 cent a day on trash. The recycling is a $1.50 per month and and Waste Management loses a lot of money on that. It's not a profit maker for anyone. It's a convenient service that we're doing. And no one's guaranteed to have their trash picked up during the week anyway. It's a monthly bill and a quarterly billing cycle, but. You probably pay about two dollars and fifty cents a week for your trash to be picked up, and if they miss it, they'll pick up the same amount of trash the next week.                                                                                                                                                    It just wasn't as soon as you like for it, too. So, we just asked people to continue to be patient. So we're working on the problem and we understand that it is an issue. But I think it's something that as soon as people start back to work, I know the governor recently changed the benefits in Georgia. We'll see what type of benefit that has, if any, to get people back to work. A lot of companies now are offering extra incentives to come back to work, which is good, offering better benefits and increase in pay. So if that's one way to drive prices up, so be it. But I think people sooner or later, people going to have to go back to work. And we are looking forward to that day. Also with Waste Management there, after the $5,000 they put out there for drivers, other trucking companies started putting $7,000 and $10,000 dollar signing bonuses out there. So you get into a competition for the few workers that we do have. But if anybody has any better solutions, we certainly would be interested in hearing those. But I really do think that is not unique to Macon-Bibb County and it's something is going to take another probably 60 days or so if we get caught up and then we'll be back to normal, as usual. But I think we have more issues in Maco-Bibb County that are more important, we need to address. And it's just a minor inconvenience right now for our citizens.
Museums, tourism cuts in budget
CCJ's Liz Fabian: Now, you've recently unveiled your first budget proposal and some people are raising concerns about the zeroing out of funding for arts and museums. They say that quality of life can make or break a community. So what is your rationale for zeroing out the budget items for those entities –  Fort Hawkins, Douglass Theater, Museum of Arts & Sciences, Tubman Museum, Sports Hall of Fame, Macon Arts Alliance and Atrium Health Navicent.
MAYOR MILLER: Well, first of all, the first two on your list have been zeroed out for two years. So it's no stranger to that. The first thing I did in January is met with all those folks, every museum, everybody on the hotel motel tax. I convened them in a meeting. Let them know that we had to make some changes to the, uh, the funding structure. We can't continue to carry the day for other folks in the museums and as well as someone like Navicent.  So they were very, um,  I was very open and transparent with them from the beginning. They knew this was coming. But actually they're going to get more money now than they ever got before. So what I would say to those folks is, is, we still value them. We're still going to support them. It's just coming out of a different pot of money. There's been signals for the last several years they were supposed to already be off the county budget and they keep telling me every year, but yet they keep coming back and they keep coming back. And you finally just have to say, look, we're not only saying it, we mean it. We need you to be self-sufficient. We're going to be there to help you out. For example, the Airbnb, the new law concerning Airbnb are going to be hotel motel tax driven, which means now there's a way to track that and that's going to be about 150, 200 thousand dollars more per year. That goes in a hotel motel tax. All these entities you spoke about received money from.  Several of those entities received thousands and thousands of dollars from the PPP last year, and they made sufficient cuts. And I'm sure they're still losses there. The other thing is we're looking at redrawing the amount of percentages that people get next year. That's going to get more money to these organizations. But the last thing is the American Rescue Plan, ARP.  Part of that plan is going to be for tourism. And certainly every single one of those partners are going to get money for that. And I've already reached out to Gary Wheat through our proposal and through my recommendations to the commission. We're going to make sure they're made whole. So what I'll tell people is we value them. They're going to get plenty of money. They're going to be in better shape than they ever was. Also, as you may recall, last year, the the amount went from seven to eight percent for the hotel motel tax. But it was a year ago a pandemic. You can't recognize that, you know, the increase. This year will be recognizing the increase this upcoming year. So they're going to get even more money than they got before. So I think they're going to be in better shape now. The $50,000 or $30,000 they didn't get from the county is probably only about half what they really get. So they could come out better using the ARP money, using the hotel motel tax money than they would if they was on the county.
CCJ's Liz Fabian: So this is going to continue going forward, not funding those type agencies, because, you know, next year we probably won't have the American Recovery Plan money. But, like you said, there'll be increases in hotel-motel and such.
MAYOR MILLER: Yeah, I think if you remember two years ago, they increased that amount and they pulled people off the, uh, some of the, uh, outside agencies off of the general fund. Last year they went back and added a couple at the last minute, but they've been signaling for a while. Matter of fact, they told them five years ago. We're going to start weaning you off in five years, you will no longer be part of the county budget. We had a $15 million budget deficit at the beginning of this year. We were looking for places to make cuts. Quite honestly, if they get the money and get more of it to them, it shouldn't matter where the money comes from. The ARP is going to be something that we use in a way that's going to increase tourism. So their money is going to keep going up. So we're not going to forget about them. If you talk to all of them, they'll let you know that I spoke with him ahead of time. They're confident in what plans we have. This is not a surprise to them. We still will be doing all the great things, but they got to become self-sufficient. We've offered budgeting advice to them. We've offered and given them mentorship on how to run their budgets, how to find other money, how to request grants, how to save money on utilities and things that they have there. Some of them have endowments that they have. I've been talking to Harold Young with the Tubman Museum this year. The Pan African Festival did much better. They started charging five dollars at the gate. They made some good money on sponsorships. They're expanding their event area upstairs. You know, the county spent a couple hundred thousand dollars, well, several hundred thousand dollars in our SPLOST to give to the Tubman Museum so they can expand their event area, which is going to increase their revenue. The county pays for all the improvements at the Douglas Theater. So we give money in other places and we certainly have been a good partner than them. But the general fund is just another avenue that we gave money out before, but we feel like it's best to come out of the American Rescue Plan. The CARES Act money,the hotel motel tax and any grants as opposed to coming out of the general fund
Planning & Zoning changes sought
CCJ's Liz Fabian: Now also as part of your budget, you increase the funding for planning and zoning, but on the condition that the fees be lowered. You've mentioned last month concerns about Macon-Bibb County's process that differs from other counties in Georgia. So can you explain what changes you're looking for in that department?
MAYOR MILLER: Well, the first change I'm looking for is a rollback in their fees. I think that a couple of years ago, we were in a different situation and there was some funding issues. And and I just compare I want to be competitive with our surrounding areas. And I don't want to hear from businesses that they look at our price structure and somewhere else. And not that it makes or breaks that decision, but we should be very competitive and we should be very business friendly. Something I want to continue to do. I'm looking at several different, um, what I'd consider other areas and throughout Georgia that may be doing a better job at planning & zoning than we are. I'm not sold on having it go straight to commission for a vote because I think politics sometimes gets in the way. But sometimes, you know, instead of going to that next stage, you have to go to the the courts, it becomes very expensive. But if you don't put a price tag and they don't have skin in the game, everyone will appeal the decision to the commission. And I don't want to get the commission bogged down in hearing planning & zoning hearings all the time and having the political pressure they may feel from certain businesses, owners, developers, and make the wrong decision for political reasons. So we're looking for some type of a hybrid that we can have. Also, I'm going to be very creative in the type of people that we appoint as members of the planning & zoning to make sure we get a good variety of people on there from different backgrounds. We replaced someone, you know, initially already, and we'll be looking for some other appointments we have over the next couple of years.
Public Safety
CCJ's Liz Fabian: Now, one of your main focuses has been on public safety, and we do have a question from a citizen asking, what are you doing for all the citizens of Macon-Bibb County to make this a safer place to live?
MAYOR MILLER: Well, I mean, we can have this conversation every single, every single day. I mean, since day 1, we've been doing something, whether you see it or not. When we did the liquor store moratorium, that was a public safety initiative. When you do the payday lending moratorium, that is a public safety initiative, when you do the blight, the tearing down, where people hide crime, where people come to gather for gangs or start fires, that's a blight initiative. That's public safety, we continue to do things like that, picking up trash is a public safety issue. Mental health funding is a public safety issue, funding a $6.5 million pay scale, which includes all of our first responders is a public safety initiative. So people say, what are you doing about public safety? Everything we do is about public safety, everything.Our cooperation that we have with the school system with Macon-Bibb County is a public safety issue. Good jobs, economic development is a public safety issue. We can't address the root causes if we don't take care of these things and look at the end game. Because the endgame's going to be jail. The root causes of tackling these mental health issues early on and be very preventative. So everything we have ever done has been public safety.We don't have to get on the street and march. We don't have to have charades and tell people theyd better stop the killing. We don't have to do things like that just to make a show to let people know we care. We've been doing this all along. Now, there's some things that are happening behind the scenes. Yes, we've got more cameras out there. We're not going to tell where they're at. We're not going to tell you about a big sting operation we're going to do to roundup of thousands of guns. So, it's something you don't need to know about until it happens. We're not going to tell you about where the cameras are at or what the special units we have out there working, the gang unit right now to infiltrate. Those are things you should mention. So, I'm sorry that people don't, you know, understand that sometimes you can't say that. But every single day I come to work, every single thing we do in this office is public safety-oriented, everything. So, when I looked at the budget, everything you see in there addressed one aspect of public safety.
Crackdown on off-road vehicle violations
CCJ's Liz Fabian: Now, we also had from a couple of residents complaining about non-street vehicles being out on the road, the dirt bikes, the ATVs. And racing down Walnut Street, one man said, late at night and every Sunday. There's also been a serious accident involving a go kart on Log Cabin Drive. And a resident near downtown says that there are vehicles continually violating noise ordinances down there without consequences. Have you had complaints about this and what is being done?
MAYOR MILLER: We've had numerous complaints. Some of the burnouts in parking lots. There's been drag racing two o'clock in the morning on MLK that we've heard about. I've seen evidence of burnouts and racing over at Virginia College. Certainly I've seen many videos that people send me of people riding 4-wheelers or motorcycles, on the streets that are dangerous even in our traffic. Unfortunately it's kind of the new thing. People have been shut down in  houses, not going to school, not going to work. Got a little of stimulus money in. They're buying motorcycles. They're buying 4-wheelers and they're playing around and they're not doing it in the woods like we used to do. They're doing it on the roads and highways and and there's not a lot of supervision. Not that they're all teenagers, but a lot of them are. I've been in constant contact with the sheriff. Every time I hear about one, we let him know. But that's the sheriff's job to do that. The governor and the state have enacted some laws about that recently. And about, you know, not necessarily the car clubs. There are some good car clubs. I'm certainly not picking on them, but some of this activity has brought attention to the state and national level, and they've changed some of the laws, added some penalties on about taking the property.I think you'll see that happen in the very near future. The sheriff is is on it anytime we hear about those entities or people doing that and we have focus areas. There are certain areas they happen more frequently than others. And the sheriff has as a squad now designated to that. And when they get that certain call, they're going to target those areas and they're going to confiscate the property. And we hope that that may be a deterrent. But I do think that this is some pandemic related. I think that when we go back to school and go back to work, some of those things won't be as nice and shiny and new anymore, and it'll kind of go through a fad.
At-risk neighborhoods
CCJ's Liz Fabian: Also, we've been talking a lot these past couple of months about the American Recovery. Plan funds that are expected to come to Macon-Bibb County. And so we have from the Westside Neighbors Group, how can we invest in at-risk neighborhoods and monitor their growth? And also, what do you think about a pilot, citywide entrepreneur economic program with oversight?
MAYOR MILLER: Well, all that sounds good and something the county commission is going to have to address. We still have not received our money yet. We're supposed to get $37 million in and we have not received it yet. But we are looking through the regulations. Some of that's allowed and some of it's not. A lot of what we hear now, people wanting money for small businesses, for entrepreneurial. There's other buckets of money that that will come out of. We have to make sure that we don't jump the gun and spin and designate a lot larger money we have on areas that may get funding later. For example, the small business. We were looking at the possibility of designating a certain amount of money for small business. But then you look through all the people who got PPP money, millions and millions of dollars, what the people here in Macon-Bibb County, who are still asking us for money. And they got large amounts of money for for the PPP. And then we talked to the governor's office and we understand that at the end of June, they're going to be releasing hundreds of millions of dollars for small business. So there's no sense of taking the money that we have for the American Rescue Plan to fund strictly small business if there's going to be another grant or pots of money to come out. Same thing with public safety, same thing with infrastructure. The Westside Neighbors Group are very active and they've been sending requests all the time.Some of the things that they wish to do are probably good things. Some of the things are kind of things that's been tried before. Other places have not been successful. But what we'll do is like we always do. We're going to come up with a plan. Commissioners are going to discuss that. We've asked for their constituents to reach out to them. We'll have some surveys that go out on how they want to recommend that we spend this money. But the bottom line is the elected officials are elected by the people and they're elected to act on your behalf. And it should be up to them to make the decisions after hearing from the constituents. So we have a lot of great ideas that we believe that I'm going to be presenting to the commission. But we want to wait until after the budget to do that. We want to see if there's anything that gets left out of the budget so we can make sure we're taken care of for the American Rescue, you know, Plan. For instance, we talked about tourism earlier. Tourism and the budget has been decreased by a couple of hundred thousand dollars. We certainly can make that up in American Rescue Plan. There's some things that the sheriff requested in the budget as far as equipment and things that have not been approved yet because it's something that could come out of the rescue money. There's many other people, like the funeral homes, have asked for money. Well, they have money out there for funeral homes that you can get for burials that you may have had or people get recovered. Plenty people ask for money for evictions, but there's $542 million out there for evictions and landlord assistance for people who couldn't pay their money. And they haven't tapped into that. So we've got to, you know, send them in the right ways. Mortgage assistance is another one. They got $336 million dollars coming out in July for mortgage assistance. So we don't use the money that we got on the American Rescue to fund those initiatives because there's other pots of money that's out there for that. So we're going to be discussing with all parts of the community on how they believe the money could be used. But the bottom line is we're going to be held accountable for that money. We have regulations that tell us how we can spend that money. But you have to remember, too, that the county has lost money because of the pandemic. And we have to make ourselves whole. We make ourself whole for what we have lost. Then we have no restrictions on that money and we have no time limit on that money. So we need to make ourself whole first and then we'll take care of all the needs that don't have a specific pot of money to come from.
COVID-19 fund distribution
CCJ's Liz Fabian: You mentioned $37 million. Seemed like people were talking about double that months ago. Has there been a shift in that or is it more you just know the direct figure now and didn't before?
MAYOR MILLER: No, just like before, you know, we had heard before $20-something million during the CARES Act. So we got $8 million to begin with and never got the rest of it. So right now, we've heard a number $76 – $77 million. We're scheduled to get a $37 million check soon –  this week. Doesn't mean you're going to get the other half and you can't pretend like you've already got the money and spend it before you get it. They made that mistake last time before. They gave away a lot of money to help people out and counting on a second amount of money that never came in. And the county got stuck with just a small amount of money in the CARES Act where we were thinking we were going to get a lot more. So, we have to be very careful that we don't, you know, we don't get too far ahead of the game. But at the same time is, we've already seen people make mistakes on moneys that they're getting in and get called out on that and use it improperly. And we want to make sure that we take a breath, we sit back, make sure we use best practices, make sure we know where all the money is coming from, what's going to be covered or not covered, and then use it more efficiently instead of making the mistakes that people make in the beginning. For example, yes, we could use $5 million for stormwater, but why do that out of our money when there's going to be infrastructure money that's coming that you can use that same money out of. Once you spend it, once you designate that money that some people are jumping on, then you can't get that money back. You know, one of the things I mentioned before is the homeless initiative that we had. And I want to put $4 million and to fund the Brookdale Center in advance. And I want to pool that money with another $4 million that someone is going to donate –  a company. And I want to take another $4 million that we raised from philanthropy, that we actually raised the money, and we want a third party to run this Brookdale. So, we're forever financed for at least fifteen years. That's how you maximize and leverage the amount of money you get instead of just getting some money and throwing money at the problem. We're going to probably do something on, um, taking care of our youth and violence that you can relate to COVID. But you can't just start throwing money at the problem here and there and expect to have some instant results because that's not going to happen. And you have to be wary to. There's a lot of people out there that are ready, willing and able to take the county's money and you get nothing in return, and we get those calls each and every day. It's no secret that affordable housing is going to be one of the things that I try to promote. That's why we're taking these houses down and that's why I intend on building them back up and also making sure that we have some revolving loan fund so we can have people that can actually borrow money to purchase homes or to repair homes. So, we have many, we have plenty of time to do this. We shouldn't be rushed in it. We should make an informed decision. And it's going to be a true mayor-commission effort.
Final Thoughts
CCJ's Liz Fabian: Anything you want to say to the citizens at this point
MAYOR MILLER: About?
CCJ's Liz Fabian: Anything. Just any final thoughts?
MAYOR MILLER: Well, I just want to tell them that we are making very good progress and we have a long ways to go. What I will say is that we know crime is always at the forefront and public safety is always at the forefront. But I don't want them to think one minute that we're not addressing the issues. You don't have to be public and vocal to be concerned and address the issues. We are making changes each and every day, getting at the root causes. And we know that if we're very consistent about this and very intentional about this, it's going to result in changing lives for people for the future and not just a slight dip in the crime rate by putting a whole bunch of police out there. So, I think the mental health, we're going to continue to fund that appropriately. I think that's at the root of a lot of the problems that we have. And we're going to be working with our school system because they're getting $106 million in as well to make sure that we pool the money in an appropriate way to help our entire community in this effort.
Have a question for Mayor Miller? Email [email protected].