Inmates jam door locks "all the time," sheriff tells Macon-Bibb Commissioners
Commissioners learned of jail safety improvements and approved Eisenhower Business District, funded designs for Rosa Parks Square and Bass Road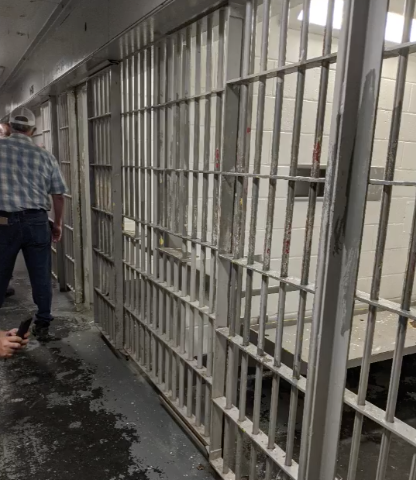 Steps are being taken to improve safety and conditions at the Bibb County jail after a February Grand Jury report noted multiple issues.
During Tuesday's committee meeting, Bibb County Sheriff David Davis briefed Mayor Lester Miller and county commissioners about work underway.
Davis said these are the first real improvements in about 20 years. In 2017, grand jurors recommended demolishing the facility and building a new one.
The list of items needing attention include: exposed wires, floor repairs, broken windows, damaged ceiling tiles and what appears to be black mold in some locations.
Contractor Warren Selby Jr., of Warren Associates, explained they are trying to do what they can to "keep the wheels turning" on the old building.
Equalizing temperatures with the piecemeal HVAC system is a challenge but shoring up existing doors is a top priority as inmates continually jam the locks.
Davis said the inmates get out of their cells to move around within the block, not to escape.
Commissioner Virgil Watkins Jr. asked how often inmates tamper with doors and what is being done about it.
It's "happening all the time," Davis said because of the locking mechanism.
Selby is testing different methods to add protective covers to keep inmates from tampering with them.
Davis said staffing remains an issue but he has new deputies joining the department. The jail is the first position a deputy holds, which means they are continually training new people but are making progress filling vacancies, he said.
Mold on kitchen ceiling tiles, which was mentioned in the jurors' report, comes from steam in cooking, Selby said. He plans to fix the exhaust system before replacing tiles and making other cosmetic improvements, he said in response to an inquiry from Commissioner Valerie Wynn.
Selby said he did not feel it was an environmental concern at this point.
Commissioner Bill Howell commended Davis and Selby for trying to save taxpayer money while making the jail safer for inmates and staff.
Highlights from Tuesday's commission agenda are included in the following compilation of live Tweets sent during the meeting. All measures approved Tuesday will be up for a final vote by consent agenda at the June 15 commission meeting.