Bibb County School's YouthBuild Changes Lives
Braijon Jones is among more than 30 students currently learning construction skills under the Bibb County Schools SOAR Academy's Youthbuild Program.  
A brand-new, blue house on Sycamore Street is the first in the YouthBuild program, which is funded by the U.S. Department of Labor. The program allowed the students to help build a Macon Area Habitat for Humanity house.
Jones who is 20-years-old said this program has given him a second chance in life. He said he was 16-years-old when his daughter was born. After that, he started working late nights and would often fall asleep in class.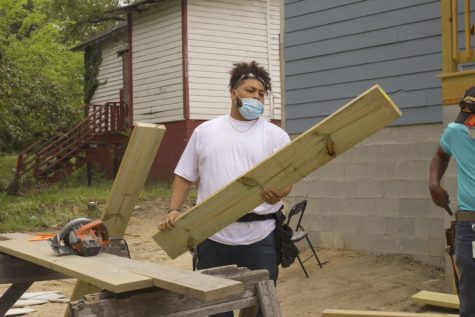 "So I ended up giving up on school, and I ended up dropping out my 11th-grade year. Yeah. I was disappointed in myself because I always dreamed of, you know graduating and stuff like that, But I quit," Jones said. "… they kind of gave me a second opportunity."  
Since working in the YouthBuild program, Jones was able to finish his classwork through the district's online courses. He will graduate with a high school diploma in May. He also completed an online industry safety course, earning OSHA Safety certification.
Richard Vaughn is the construction teacher for Bibb County Schools and SOAR Academy, which offers a personalized alternative learning environment for students in grades 7-12. Students like Jones refer to him as Pastor Vaughn. He said Jones is the epitome of what the program is designed to do.
Nicole Bailey-Covin
"Take a student who has said I am giving up on school. I am not going back or whatever, get that student back into a program that allows them to see the possibilities, and then it allowed him to complete what he had started and start feeling good about it," Vaughn said. "So the program is actually working."
Vaughn says the program's success includes building relationships with the students and helping them develop critical workforce skills that lead to jobs and internships. He said the third important key is of course getting them to graduate with a diploma or GED. 
SOAR Academy was awarded the YouthBuild grant in February 2019. Bibb County is one of only two school districts in Georgia that received this grant.  
Before COVID-19 hit, students started learning their construction skills in the classroom. 
"Built things like dog houses, and showed them how to layout and do a flooring system," Vaughn said, "…teaching them how to cut and measure, how do you measure, how to read a tape measure, things of that nature." 
Jones came to the worksite ready to learn more.
 "They have been teaching me how to use the saw and work the nail gun and basically just put the outside of a house together," Jones said.  "I have a simplistic look of it and I just have to learn more so I keep doing this in the future."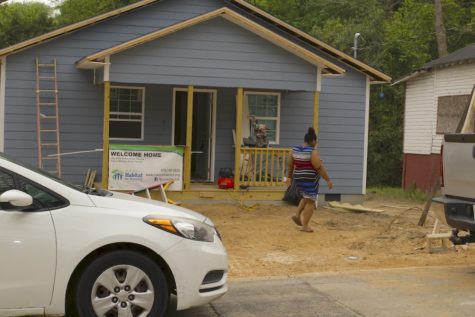 Jones said this second chance gives him hope that he can one day work in the construction field like his grandfather. He said It also feels good to help build someone else's dream. 
"Once I got here and found out that they are helping a family get a home, it made me feel even better," Jones said.
Students have been helping Habitat recipient Whitney Johnson who is looking to move into her new home in May.
"I'm really grateful for the students. They play a big part. When I'm not here they help put the solar panels in and I am really gracious for that," Johnson said.
Ivey Hall, Executive Director of the Macon Area Habitat for Humanity said this unique partnership between the Bibb County Schools and Habitat continues to provide many opportunities during such a difficult time for many in the community.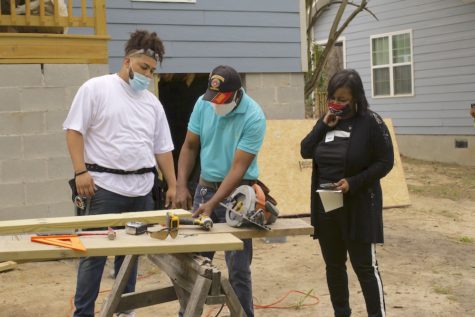 "A low-income family will have an opportunity to become homeowners, students will learn valuable skills in the high demand construction industry and have the hands-on experience to go with their work in the classroom, and revitalization efforts in the Pleasant Hill neighborhood will take another step forward," said Hall.
The YouthBuild program is for young people ages 16  thru 24. So far more than 62  Bibb County students have had an opportunity to build up their futures.
Dr.Julia Daniely, Director of Personalized Learning & Alternative Education for the Bibb County School District said, "YouthBuild is an important program for students in Macon-Bill County because it works to remove barriers that are often caused by socioeconomic status while giving them the tangible skills needed to live successful and meaningful lives."