Macon Rocks is bringing rock climbing to Macon
Macon Rocks opened its doors to the public on March 22 inviting in newcomers, local aficionados and traveling climbers.
Macon Rocks is locally owned and operated by Kevin Reaves and Bryan Nichols, who also co-own local coffee and art gallery Taste and See. Their new project is a three-story indoor rock climbing facility with a 24-hour gym. There is free climbing, bouldering, top-rope belaying and auto-belaying available, as well as climbing classes and belay certification.
John Hur, the operations manager, has been working with the team since November, but he said that the project has been in motion for about two years. Nichols and Reaves originally projected to have the project running as early as Summer of 2020 according to their Facebook page, but had to push it back to early this year due to COVID-19 delays and shutdowns.
The gym has been open for about two weeks and is already seeing regular visitors including locals like Hope Wood and her 10-year-old daughter, Hannah.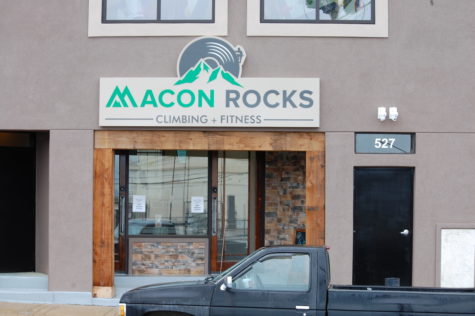 "We lived in Colorado for a year, and we did a little bit of indoor rock climbing there, and she really fell in love with it," Wood said. "So we were very excited to learn Macon rocks opened and we could come and do it here, in our town where we have lived for a long time."
In addition to the construction and architecture, the individual routes on the walls and their difficulty levels have to be planned and determined. Hur sets the routes, which includes determining the difficulty.
"At our gym, we still are using the Yosemite decimal system for route setting, which is kind of the standard way of grading routes here in the U.S.," Hur said. "For bouldering we have the v-scale, which is also standard. With each grade, whether it's for routes or for bouldering, at our gym, it's tied to our specific color. Each color is a reference to a particular grade that is standard."
Hur said that most of the work to come is based around expanding the facility to have more room for the different types of climbing.
"As far as what's next on the table is next door, the owners, Kevin Reaves and Bryan Nichols, they own this entire block." Hur said. "The building next door, which is actually the old Capricorn Records offices, they are gutting it out right now and setting it up for the next phase, which is to expand and have more bouldering and climbing-centric tools for a climbing gym.