COVID-19 Vaccines in Macon-Bibb County
Mercer University administered 752 Pfizer COVID-19 shots into arms during its first two days of vaccinations in Macon. Dr. Jean R. Sumner, dean of Mercer University School of Medicine, reported those numbers for the Macon campus, which vaccinated people on March 30 and 31.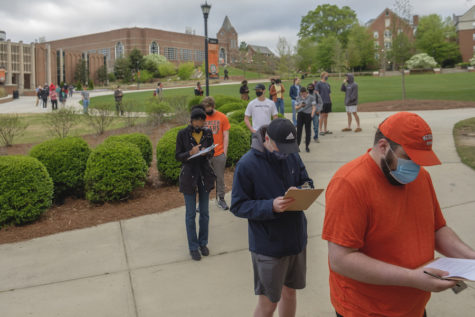 Mercer's Central Georgia campus accepted vaccine requests by both appointments and walk-ins from students, faculty, staff, and the community.  Everyone patiently waited in a long line that spilled outside of Penfield Hall on campus. It was a first come first serve opportunity and no insurance was required.
Mercer's Atlanta campus offered the Moderna vaccine.
As of March 25, anyone 16-years-old and older became eligible to receive the COVID-19 vaccine at one of 15 different sites in Macon-Bibb county.
Georgia has slowly allowed more people to receive the vaccine, like Mercer University senior Kimberly Davis. She's a student teacher in a Bibb county elementary school and was able to get vaccinated when Georgia opened eligibility to its public school teachers and faculty on March 8.
"The vaccine is a great step in helping us get back to "normal" as well as helping to protect members of our community who would most likely suffer worse side effects were they to get COVID-19. The more people who get the vaccine the closer we get to herd immunity and a more normal day-to-day life," Davis said.
Davis received the Moderna vaccine at the Macon-Bibb County Health Department. Along with the health department, there are other vaccination sites including Family Care of Middle Georgia, Navicent Health's Family Health Center, and Navicent Health's Wellness Center.
Macon's Farmer Market is currently a mass-vaccination site for the state. Several pharmacies are also currently giving out vaccinations. Those sites include Kroger Pharmacy, Sam's Club Pharmacy, Walgreens Pharmacy, and Walmart Pharmacy.
Mercer University sent out a mass email to students on March 23 with all of the current vaccination sites in Macon, and that list is currently available on their website.
Mercer Medicine became an authorized vaccination site along with several other Central Georgia Schools earlier this year. A number of Mercer students were among those getting their first of the two doses required for the Pfizer vaccine.
"I fully believe students should take advantage of Mercer offering the vaccine. It is a way for students to receive it no matter their circumstances with insurance or ability to go off campus to a pharmacy," Davis said.
Among the places to schedule a vaccination appointment include the Georgia Department of Public Health.