Macon actor brings in Hollywood with movie roles for folks back home
Growing up playing sports in Dublin, Bradford Haynes could hardly imagine the life he now leads.
At a moment's notice, he could be kissing his wife and daughters goodbye in Macon and heading to a movie set in a far-off land. Yet, he never set out to be an actor.
This month, his career is taking him only a few miles from home to play baseball at Luther Williams Field. The role is not much of a stretch as Haynes played professional ball in farm teams for the Dodgers and Reds until he injured his quadriceps. He wound up in Japan on the roster of the Ishikawa Million Stars and played in Australia, Mexico and the Dominican Republic before he blew out his other thigh at age 28.
"I don't know how much longer I've got," Haynes told his wife back then as he wondered what he would do with the rest of his life.
Sitting in the stands of Macon's historic baseball stadium recently, Haynes explained: "I'm one of those people that gives 100 percent."
Not being able to give the game his all was not an option, he said.
A friend in Atlanta worked for a casting company and told him a new television series was looking for someone to play an offensive coordinator in "Necessary Roughness."
Haynes, a cousin of Hershel Walker, had football experience as East Laurens High School's quarterback and also played basketball in high school.
Shooting commercial endorsements overseas, he had grown accustomed to the camera. He landed the USA TV role role in 2011, appeared in several episodes and began studying acting.
Over the past decade, he's added dozens of film, TV and commercial credits to his resume and formed his own company – B12Haynes Productions, which is helping produce "unDefiled" with Light of Life Films out of Joplin, Missouri.
Haynes stars as an aging minor league baseball player who struggles with pornography. His character, Mitch, faces sex trafficking head-on when he catches a married teammate with a young woman.
Haynes helped write the Christian film which draws from his own experience with the seedy side of professional baseball.
Macon is now home base
Realizing his wife would never be happy living in Los Angeles, the 39-year-old Haynes has come full circle from his youth.
As a teen, he ventured to Macon from Laurens County to play summer ball with the American Legion Post 3 and travel teams.
The movie reunites him with another familiar face from his Dublin hometown – Jasha Balcom, who stunt-doubled for Chadwick Boseman in the Jackie Robinson story "42," which was filmed on the same baseball diamond.
Balcom will be playing first base while serving as the baseball coordinator on the film that will be in Macon March 7-12.
The two played against each other while Haynes was an East Laurens Falcon and Balcom slugging for Dublin High's Fighting Irish. They even faced each other again in college after both landed baseball scholarships.
If it were up to Haynes, he would bring all his commercial shoots and filming productions home to Macon. He has become good friends with Visit Macon's film liaison Aaron Buzza, who works closely with film scouts looking for locations and production resources around Middle Georgia.
Haynes enjoys including friends and family in film projects and will do that while shooting "unDefiled."
His 6-year-old daughter, Addison, will be playing his daughter in this movie.
"She only wants to be on TV if Daddy's going to be in it," Haynes said.
"I don't like when you have another family," she told her dad, who has a long list of acting credits including "Stranger Things," "Teen Wolf" and a new TV pilot for a drama series called "Running," the story of a south Georgia attorney's campaign for governor.
Although his acting profile touts "great smiles" and "dimples on both sides," it was a texted selfie of his "meanest face" that landed him the role of a security guard in an ESPN commercial for the college football playoffs.
As a spokesman for Glock handguns, he was once blindfolded and driven about an hour to shoot at a secret, secluded training ground for FBI and GBI agents.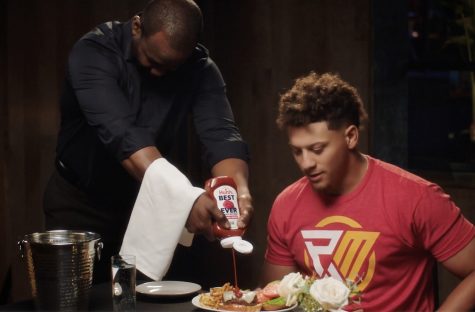 He's even squirted a mound of Hunt's ketchup onto a hamburger for NFL star quarterback Patrick Mahomes and learned how to perform a tracheotomy while playing a doctor in a University of Miami production.
The role he most relishes is that of a faith-filled husband and father.
Back in high school, in a chance meeting in physical therapy, Haynes met a rival school's cheerleader who stole his heart.
Kyrsten Storey Haynes teaches school at Macon's Academy for Classical Education, or ACE, where Addison is now in kindergarten. The couple also has Lauren Grace, who is "1 going on 15," her father says.
Their love of family keeps them in Macon, closer to the couple's siblings so the girls can grow up with their cousins as they did back in Laurens County.
"Macon is our home base. … We don't want our girls to miss out on that," he said.
Even the director of "unDefiled," Matt McCaulley, said he would move to Macon in a heartbeat if he could persuade his family. McCaulley said local Macon-Bibb County officials have treated them like "royalty."
"We're going to be filming the majority of the time at Luther Williams field," McCaulley said in a recent phone interview.
He gave a positive shout-out to Macon Bacon president Brandon Raphael who is assisting the production and will likely make a cameo appearance in the film.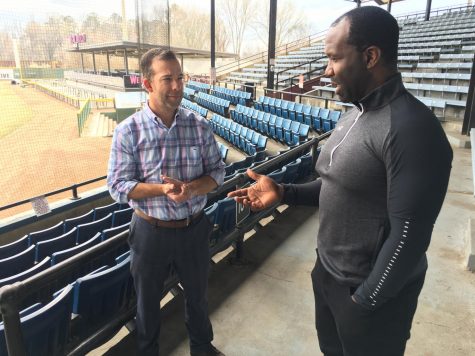 Roles for unpaid extras
McCaulley and Haynes are inviting families, couples and fans to sit in the stands and watch the action while serving as unpaid extras in the film.
"We're not trying to pack the stands," McCaulley said. "We can do that in post-production."
The casting call states: "We cannot pay the fans but some will have the opportunity to receive signed balls, bats, hats and T-shirts from the cast as well as former Atlanta Brave Adam LaRoche. You will also be a part of a great film"
Fans are needed Tuesday from 9 a.m.-5 p.m. and Wednesday and Thursday from noon until 10 p.m. Masks are required and extras should dress as if they are going to a baseball game.
You can email [email protected] or simply show up at the stadium, fill out a release form and go through COVID-19 screening.
Friday, March 12, extras in casual church clothing are needed at Riverside Methodist Church on Pierce Avenue from 9 a.m. – noon and at Macon-Bibb County Government Center from 1 p.m. until 4 p.m.
Those interested in the Friday scenes must email [email protected] as slots are limited.
The film has already hired local baseball players for the action scenes.
Haynes, a Black Belt in Karate, will not only be playing in the game but will have a fight scene filmed in the Poplar Street railroad underpass near Terminal Station.
"I love to do stunts," Haynes said.
Before the pandemic disrupted schedules, they were set to film four weeks in Macon.
Haynes said they will be back later in the year to finish up.
He's excited about plugging some friends into the production, including a former neighbor who will be playing a judge.
"All these people that I know in Macon, friendships that I've developed, I get to do really cool things like that. For me, it's really rewarding," he said.
He sees it as payback for the good fortune he's had to be a working actor based close to home and family.
"If I didn't have that friend in Atlanta, I wouldn't have had that opportunity."
Civic Reporting Senior Fellow Liz Fabian can be reached at 478-301-2976 or [email protected].