Cost of COVID: Impact on Addiction Recovery
The ongoing fight against substance abuse became harder when the Coronavirus surfaced. The cost of COVID-19 on addiction recovery includes statistics revealing increased cases of overdose, painful personal stories, and current pandemic protocols making treatment challenging.
Amyre Makupson
The challenges and lack of in person connection is one of the biggest problems for people suffering with alcohol and narcotics abuse, said Dr. Shannon Terrell Gordon, CEO of River Edge Behavioral Health.
"Recovery really is about connection, about forming new connections," she said. "People come into treatment in pain and that ability to truly connect with them and offer hope, via videos is reduced." 
COVID'S BRUTAL IMPACT ON NEW RECOVERING ADDICTS
One Macon man shared his experiences with the COVID-19 crisis. For privacy reasons, he is referred to as "Friend of Bill" — a common reference to Bill Wilson, the co-founder of Alcoholics Anonymous (AA).
"Friend of Bill" said he has maintained more than 12 years free of narcotics and alcohol through Alcoholics Anonymous. There he found a solid recovery, a strong foundation with God, and a strong community network. Not only has he been on a successful personal journey, but he has also spent a lot of time helping other men recover from their addictions.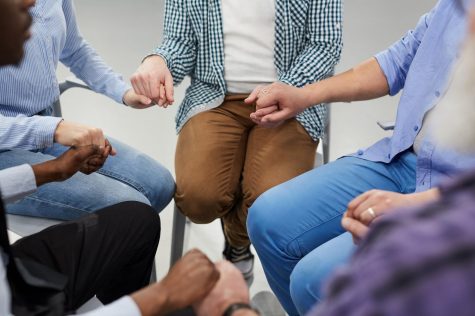 "Prior to the pandemic, I could hit an early morning meeting, I could hit a mid morning  meeting, I could hit a late afternoon meeting, an evening meeting, just a plethora of meetings, whatever my schedule allowed," Friend of Bill said.  "I could get a meeting and have that contact with people, see people's body language, see their facial expression, I mean sharing from the heart, intense connection with other alcoholics and addicts." 
In person, AA meetings were very easy to find, he said. But when the shelter-in-place order hit in early March and April, those in person meetings were abruptly stopped. And when that happened, "Friend of Bill said he knew he had to go to war in the fight to stay clean.  He said it was a matter of survival.
"I knew that I had to find a way to stay plugged in and keep going. And so, I doubled down on staying connected with people by phone and started going to Zoom meetings,'' he said.
Adding to the problem of addiction recovery was the emotional stress produced by the pandemic.  Research studies revealed that pandemic stress may increase the risk of substance abuse among some people. Doctors point to the act of worrying as fuel for substance abuse.  A combination of shelter-in-place related isolation, a loss of income and fear of the unknown was enough to cause some people in recovery to turn back to their addictions as a way to cope.
"Friend of Bill" said because he was strong in his 12-step AA recovery plan, and had strong faith in God, he was set up to handle whatever happened in his life. But he said for people he knew who did not have the same stability, and were in the early stages of recovery, the impact of COVID-19 was brutal. 
" I can't tell you how many people that I love, how my people that I was loosely connected with, who were trying to get sober, and have had a little bit of time under their belt,who have gone back out and relapsed, even in this short time," "Friend of Bill" said. " I've already seen several divorces from failed marriages from people who relapsed, and I've seen a bunch of overdoses, some of those have resulted in deaths. Some have not. But people who were not rock solid and able to handle the transition, it's been brutal on them, it has been absolutely brutal."
At quick count, he identified at least six people he knew whose deaths were addiction related, and happened during the early months of the pandemic. 
Another overwhelming concern of "Friend of Bill" was not knowing what happened to the many new faces he has seen at various walk-in meetings prior to the pandemic. He said what worries him is not knowing if they were able to find any supportive zoom meetings or connections.
"People who were trying to come in, thinking about getting sober, who were so close to that point, I don't know where they've gone."
                              WHERE THERE'S A WILL THERE'S ALWAYS A WAY
As people around Middle Georgia experienced the negative effects of COVID-19, some of them simply refused to give up their fight for health and sobriety. 
"Outside meetings started springing up in various places like Amerson River Park in Macon," "Friend of Bill" said.  He said people were getting creative and having their own individual meetups.
 "People would sit outside of their house, and other people in recovery would drive by. They were calling it something like 'drive-bys.' But people would just pull up and sit there and talk for a bit, see each other and  then move on," he said.
"Friend of Bill" said in rare cases some AA meeting  places remained open and followed strict guidelines like wearing masks, social distancing and not handing out literature.
Over the summer, some churches and regular AA sites reopened to help meet the critical need for safe places to connect. Participates attended these locations with COVID guidelines in place and much smaller groups.  
The challenges of COVID-19 were equally difficult for facilities where people were receiving  both long-term residential and outpatient care.  For example, River Edge Behavioral Health, based in Macon, faced a series of issues impacting its many service areas. 
River Edge continued providing in person addiction recovery care through its 12  recovery services located around Macon, Milledgeville and Fulton County.  The newest, River Edge Recovery Center opened in October as an unique acute detoxification facility in Macon. The Fulton Mill Road center operates a 24-hour a day crisis center that serves children and adults.     
Dr. Shannon Terrell Gordon, said despite COVID-19 they continued addiction care by moving to more telehealth care for outpatient services and more restrictive guidelines for residential crisis care.
"When the Shelter in Place Order was lifted for Georgia, except for the most vulnerable populations we have, we actually never stopped face-to-face care for crises," Gordon said.  
While River Edge gave clients the opportunity to obtain services using telehealth or face-to-face, residential care experienced pandemic related changes. 
"We had to go to things like screening for symptoms and temperature screenings and putting people in isolation when they first came into care. The pandemic has had a tremendous impact, but we never stopped services," she said.  
Gordon said having to send people to immediate self isolation in order to protect them from positive COVID and asymptomatic cases made recovery extra hard for new patients.  
"Now think about it, you are a person who has an issue with a substance use disorder. You finally make the decision to go to treatment, and you have to go immediately into isolation. That's hard,"  she said.  "And so our team has had to work really hard to keep them engaged and settled."
River Edge also offered virtual school for the children of residents living at the River Edge LifeSPRING Center or Life, Shelter, Purpose, Recovery, Including the Next Generation.  Mothers with children, pregnant women, and women primarily of childbearing age continued receiving care at the facility which houses up to 60 people. The facility also continued to work with expecting mothers to help them deliver drug free babies.            
As the pandemic continued, insurance companies allowed for the expansion of telehealth services beyond just prescriptions. While Gordon can point to the fact that virtual care is much more stable than it was early in the pandemic, there are still some basic drawbacks. 
Among the concerns include how insurance companies control the number of people treated by telehealth, and how the personal connection between therapist and patient is just not the same over the phone.  In some cases patients experience technical issues, or may not have the cellphone plan available to complete a full counseling session. 
Gordon said the National Alliance on the Mentally Illness shows substance use and overdose is up 30% since the pandemic started. She said the challenge for service providers now is be able to connect with all the people needing help. There have been cases when River Edge staff went  directly into the community to address crisis situations. 
As essential workers, River Edge staff also joined other healthcare providers experiencing death due to COVID-19.  Gordon said people on the team have lost family members and they have had team members to contract COVID-19.
"We've had one team member to pass away. We've had one of the individuals we serve to pass away. So I mean, it's a challenging time for our country," Gordon said.
            WINNING THE NEVER ENDING BATTLE AGAINST ADDICTION
Gordon said substance use disorders can be really sneaky. She has treated thousands of people with chemical dependency and has found one common factor.
"No one sets out to become an alcoholic or want to destroy their lives with drugs," she said.  "They started using it, because it was fun, because they wanted to see what it was like, because they were trying to manage mental health symptoms. And then the tiger got them by the tail."
For people already suffering with depression, anxiety, or some history of trauma, Gordon said they often develop substance abuse disorder unintentionally. 
COVID-19 has also resulted in more hospitalizations and even deaths of people suffering with SUD's. According to a National Institutes of Health-funded study published in the Sept edition of Molecular Psychiatry, people suffering with substance abuse are physically more susceptible to COVID-19 because their lungs and cardiovascular systems have already been compromised by the years of abuse. 
Gordon reminds those in recovery that they must remain persistent, and hopeful. 
"Treatment is effective, recovery can be expected, recovery is real and possible for anyone. And recovery is about more than managing symptoms. It's about creating a great life," Gordon said.
"Friend of Bill" echoes Gordon's message of persistence. But he also said some addicts may only push for their own recovery when hit with what AA calls the  "Addict's Gift of Desperation."
"When I'm desperate for God's help, to have connection with other people and to have a life, I'm desperate for that," he said. "If I seek it hard enough, I'll find it. And so that's been my experience with my recovery."
"Friend of Bill" adds that not just during this pandemic, but all the time, it's vital to stay connected with strong support sources, connected with people on the same journey, and to help as many people as possible.