Alpha Delta Pi recruits during the Pandemic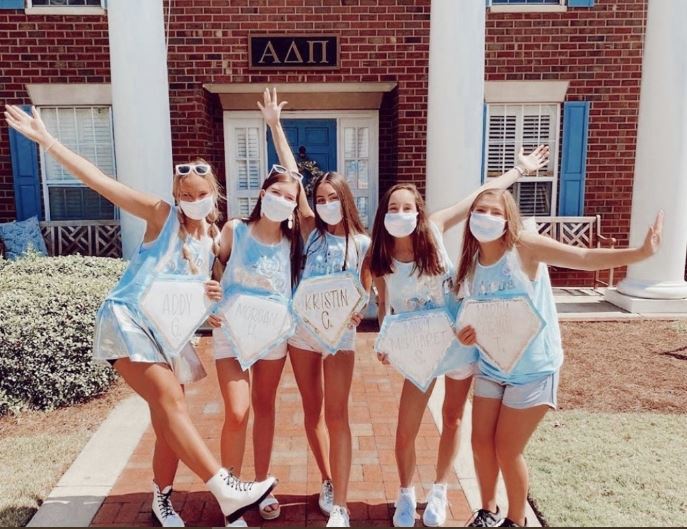 Amid a pandemic, organizations everywhere are struggling to stay afloat.  Despite all of the economic turmoil, Alpha Delta Pi at Mercer University has managed to adapt to the times and continue to thrive under the circumstances. 

Elizabeth Tadlock, a junior at Mercer University and a member of Alpha Delta Pi, is very outspoken about how the sorority is handling themselves in light of the pandemic. 
"Personally, I am very proud of how the executive board and members of the Beta Sigma chapter of ADPi have handled COVID-19. Our President, Jordan Pruitt, has really made this her priority to keep our members safe but also has advocated for the safety of the Mercer and Macon community as a whole that is impacted by each student's choices," Tadlock said.
Tadlock and her sorority worked through the challenges of recruitment and embraced the changes. 
"Recruitment practice and recruitment itself was all online through zoom. We used the breakout room feature on ZOOM to talk to individual Potential New Members (or PNMs) and get to know them during recruitment rounds," Tadlock said. 
Mercer University and Alpha Delta Pi have been working together to create a safe and enjoyable environment for all Mercer students involved with Alpha Delta Pi.  
"Due to certain regulations by Mercer Campus Life and the Alpha Delta Pi National Executive Board, our chapter decided to not have any social events or large group sisterhood events this semester.  Any mixers with other fraternities or sororities fall under social events and will not commence this semester," Tadlock said. 
Despite complaints across the country from sororities raising their dues to combat COVID-19, Alpha Delta Pi decided to do the opposite.  
"Our semester dues did decrease, thanks to our vice president of finance Allie Dawson. We reworked our budget so that members could better afford dues during the financial times of the pandemic and not have to pay for events (in the social budget of the chapter) that will not occur this semester," Tadlock said.
Tadlock was at least comforted in knowing that her sorority has taken the steps necessary to continue through these trying times, and keep everyone safe. 
"Although I am sad we are primarily on Zoom, and that events have been cancelled, I know that it is the smartest and safest choice for everyone involved so that we can possibly have events in the future," Tadlock said.  
Alpha Delta Pi, founded at Mercer University in 1937, continues to flourish despite the challenges of the pandemic.