Bracing for a Bad Flu Season While Still Fighting COVID-19
What You Should Know about Symptoms, Treatments and Staying Healthy
The flu season is already here in Macon. Traditionally doctors look to see an increase in influenza cases between October and December, but this year the flu season has arrived earlier, and infectious disease experts are bracing for a hard hit.
While COVID-19 may not be the cause for this year's bad flu season, it has added serious health complications for people still recovering from COVID.  
Macon pulmonary specialist and critical care physician Dr. Gerald Tarirah says about 85% of the patients in his care are recovering from COVID-19.  
"Unfortunately, it's going to be a bad flu season because of both things [COVID-19 and Influenza] are happening at the same time, and they cause bad lung disease," Tarirah says.
Tarirah says he is concerned about the new influenza cases he's beginning to see among his patients still recovering from COVID-19.
"It is a slow recovery for many patients who are really sick. What happens with COVID- there is a lot of fibrosis that goes on in the lungs, scar tissue, and that takes a long time to recover from," he said.  
Influenza and COVID-19, which is caused by infection with the new coronavirus (SARS-CoV-2), are both viruses that attack the respiratory system. Since COVID-19 is a much stronger virus than Influenza, the symptoms last longer and are harder to get over.
There is still so much to learn about how COVID-19 affects the body. However, it's clear the virus can cause short and even long term lung damage.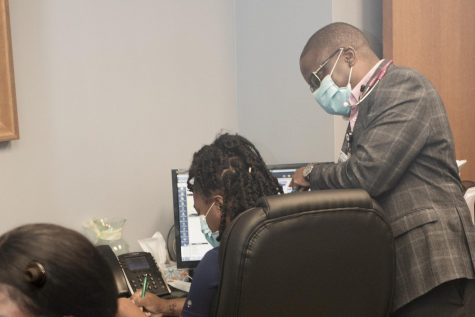 Tarirah says if you have already been infected by COVID-19, and then become infected by the flu virus, your recovery experience is likely to be worse than someone who has not had COVID and catches the flu. The combination of the two, for a recovering COVID patient, is extremely problematic and a setback that can be fatal.
Adults age 65 year and older, and people of any age with chronic medical conditions are at serious health risk from both the flu and COVID-19.
What you need to know about Identifying COVID-19 and Influenza Symptoms 
A scratchy throat alone may not set off a COVID-19 alarm, but doctors say it is very important for people to pay close attention to their body symptoms. With that in mind, many people may try to do their own self-diagnosis to determine which virus they may have contracted. 
Doctors say both the Influenza and COVID-19 viruses have similar symptoms that negatively impact the respiratory system. Therefore, they do not advise people to try to self-identify which virus they think they may have based on early symptoms. 
Both COVID-19 and Influenza have a range of common symptoms from asymptomatic (no symptoms) to severe. According to doctors and the CDC those common symptoms are:
Fever or feeling feverish/chills

Cough

Shortness of breath or difficulty breathing

Malaise or Fatigue (tiredness)

Sore throat

Runny or stuffy nose

Muscle pain or body aches

Headache

Some people may have vomiting and diarrhea, though this is more common in children than adults
In addition to the above symptoms, a person with COVID-19 can also experience a change in, or loss of taste or smell.
Here is what you should do if you have virus concerns:
Call your physician or emergency care clinic first

Discuss symptoms with the physician or emergency care professional

If experiencing two or more symptoms, immediately make medical contact, and  an appointment for a health screening and or chest x-ray

DO NOT go to an emergency room 

Take a COVID-19 Test which can be administered with an appointment, by the physician, a health professional or with any of this area's 13 County Health Departments

Self Isolate if advised to by doctors, if tested positive, or have multiple symptoms

For questions and assistance also call the Governor's COVID-19 Information Line –

844-442-2681
With both COVID-19 and the flu, it's possible to spread the viruses before experiencing any symptoms. If a person has COVID-19, they may be contagious for a longer period of time than if they had the flu.
If a person has contracted the flu virus, the prescribed treatment is almost always antibiotics and plenty of rest. 
There is no vaccine or proven cure for COVID-19.
        Prevention and Community Health
The entire medical community is recommending that everybody get a flu shot, and  as soon as possible in order to fight this season's strain of Influenza. Doctors say while the flu shot does not provide 100% protection, it's the best defense.
Flu shots are available at a number of locations including: individual doctor's offices and clinics by appointment; all 13 Georgia county health departments by appointment; store pharmacies like Kroger's by appointment, and CVS and Walgreens pharmacies where no appointment is needed.
There are two types of flu shots available, regular and high dose. The high dose is recommended for people 65 and older. 
With insurance there is usually no cost for the flu vaccine.
Michael Hokanson, spokesman for the North Central Health District says, for those without insurance, flu shots at the health department start at $25, but most of the time individuals qualify for additional assistance opportunities. 
The health department is also in the planning phase of providing additional public access to the flu vaccine.
"We are planning on how we will conduct larger flu vaccine operations during the ongoing pandemic, and are awaiting guidance from the state office to inform our own planning. We want to ensure the safety of everyone seeking a flu vaccine while also protecting our employees," Hokanson says.
In terms of preventing community spread, experts say the health precautions already in use now to protect against COVID-19, may also help to slow down flu inflections.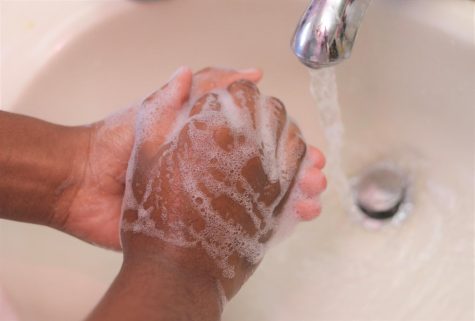 Maintaining six feet of social distance and regular hand washing are just as important in fighting the flu as it is in fighting COVID. Regularly cleaning and disinfecting high-touch objects and surfaces is good too. 
Wearing a cloth face covering or face mask when in public is also a key tool for reducing spread and the Macon-Bibb City Commission recently mandated face coverings in public and government building settings. The Macon-Bibb County Health Department is providing free face masks to the community through Operation M.A.S.K., which involves distributing over 13,000 masks throughout Macon-Bibb.
Health experts also point to some studies finding that maintaining a healthy immune system is another way to help the body fight off many types of viruses. 
Most of Dr. Tarirah's COVID-19 patients at Southern Lung Specialists are older residents who have either been discharged from Navicent's COVID Unit, or are still battling COVID-19 in ICU beds at Regency Hospital. 
Now he's seeing younger people, who tend to recover much faster, but are making up a lot of the new COVID-19 cases. 
" I encourage young people to do more self distancing. I see a lot of my patients getting infected by their children," he said.
According to the CDC annual U.S. statistics , between 12,000 – 61,000 people have died annually from the flu since 2010. In comparison, Georgia has marked more than 5,600 COVID-19 deaths this year.