Sales Skyrocket at Mulberry Market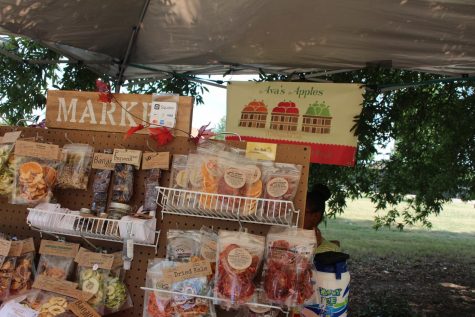 A volunteer wearing a mask counted through wooden tokens as she spoke with another woman, also wearing a mask, about blueberry bushes for sale a few tents over. 
"Remember that your green tokens count for double when you're buying produce or anything under that tent." She said as she pushed the tokens across a plastic table. 
The tokens, shaped like large coins with dollar symbols on them, are what the Mulberry Market uses in place of cash or credit cards – though most vendors also accept cash and cards.
As she finished placing the tokens in a fabric satchel, more shoppers arrived from the parking lot.
While many stores have reported a drop in business to COVID-19, business is booming at Mulberry Market, which takes place from 3:30-6 p.m. in Tatnall Square Park every Wednesday.  
"In the very beginning, I wasn't really sure what to expect with market business," Lacey Resch, who runs the market, said. 
The open-air, community focused farmer's market was started in 2009. At the market, patrons can find fresh produce, plants, and homemade goods. 
She said that in preparation for a drop off in business at the start of the pandemic, the market moved their tents closer to the road so that they could be more visible by passersby. It turned out her worries were all in vain. 
"We've been busier than we ever have been," Resch said.
Shoppers did not stop but instead continued to come and abide by social distancing guidelines. As vendors adjusted to prepackaged tomatoes and pre-ordered plants, the patrons of the markets also adjusted. 
Resch said that while business didn't slow from existing patrons, there was an increase in new shoppers. She attributed this to the fears that come with buying food inside stores.
"It's really important now for people to know where their food is coming from," she said. "If you buy tomatoes from Tim and Kaye, Kaye is the only one that touched those tomatoes. Period."
Resch also said that it helped that the market is outside. 
The CDC reports that the open air of the outdoors provides the best ventilation. Because of this, Resch said that patrons felt more comfortable at the market where they were not sharing air with all other customers in the same way they would a building. 
Some vendors also began to allow customers to buy products online and pick them up from the market instead of choosing their products in person. Resch said that these vendors have still not seen a dropoff in their business for patrons who chose to come in person. 
"They're reporting at least double the sales," Resch said. 
While she was worried when patrons started to go back to work, she found that most whose work schedule got in the way of them coming began to order online. This meant they could come by later in the afternoon when they got off of work to pick up their orders. 
Resch has seen no signs of the business slowing down. She thinks that some of this is due to people being able to get into the routine of going to the market on a weekly basis. She hopes that this will continue being a routine as Macon works to recover from COVID-19.
Correction: This story has been updated to reflect the Market runs weekly until 6 p.m.