Christ and Queerness- A Southern Souls Story Pride Edition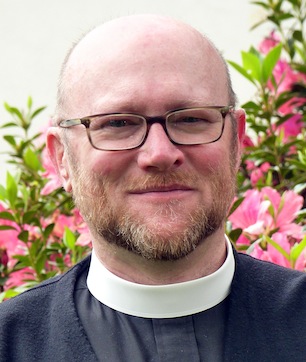 Ben, 61- Priest, St. Francis Episcopal Church 
Southern Souls is a story-telling series that offers a personal look into the lives of people around us, showing that all souls can relate to one another through our laughter and tears, successes and failures. As pride month comes to a close, we want to end this special time by highlighting stories in the LGBTQ+ community. Our goal is to show that there are a variety of experiences with being LGBTQ+ but especially being a member of this community in the South. The goal is to discuss, educate and grow as a community, so that we can all come together and create a more inclusive environment for generations to come.
Editors note: I use the word queer in this article because I have seen and heard from other LGBTQ+ community members that it is an overall umbrella term for everyone in this community. Also the person that I interviewed for this article used the word queer for his community so I decided that the language was still appropriate. I do however understand that every LGBTQ+ person has a different relationship with the word queer and are entitled and valid in that opinion and experience.
My name is Aliyah Dorsey. I am a Couric Fellow with the Macon Newsroom and a contributing writer for the Southern Souls series. I'm also the Event Coordinator for Common Ground at Mercer University since my freshman year. I've been working in queer activism since then and am incredibly dedicated to lifting up queer voices in the world.
I know so many friends and colleague who often discuss how lonely growing up as an LGBTQ+ person can be. By talking to queer people in the South, I hope to make another LGBTQ+ person in the world feel less alone in their lives and in their experiences. That's also why I chose Ben as someone to interview for part of my edition to the Southern Souls series. Meeting him changed my life and gave me so many new perspectives. I hope that his story will do that for someone else.
I met Ben Wells my freshman year at Mercer University. A friend of mine invited me to a church service at St. Francis Episcopal Church. I wanted to go because I had not had many positive experiences with church in the past. Most other spaces felt suffocating to me. I grew up in the Baptist church and I often felt like an "other" among believers. There were so many things about church that never made me feel comfortable going; things like what I felt was misogyny from my pastors, judgement for my own doubts and behaviors, as well as often hearing hateful words about LGBTQ+ people. None of these things align with my values and so church always felt hostile to me. When the opportunity came to attend Ben's church, I felt encouraged because she told me that Ben is gay and I had never met a gay clergy member before. 
When I met Ben, I felt like he was radiating with light and a lot of love. He's the kind of person who is just so open with his thoughts and when you're around him, you feel welcomed in the space you're sharing with him. 
When we started our talk, the first thing I wanted to know was how he became the person that he is today.
"Have you ever heard of The Andy Griffith Show?" he asked me. I said yes and he said "Okay, now this is gonna sound really corny, but pretty much that was my life. I grew up in a small town in Kentucky; a little town called French Burg, Kentucky."
Ben spent much of his childhood playing in the creek by his home and and riding bikes with his friends. He even had a pet chicken for a part of his life. 
He told me that growing up in rural Kentucky was a journey.
"I pretty much kept my sexuality to myself; that's a different journey. But it was a journey that I didn't quite understand, had no one to talk to about it and didn't quite know how to make sense of it at that point," he told me.
Ben says that he thinks his father might have known much before he did. When he was about sixteen years old, his father began to talk to him about gay people. 
"My father said, 'gays go to heaven'. I'm freezing up. At that point. I'm thinking, 'why is he talking to me about this'. He said, 'people that are gay can have a wonderful life and a fine life'. And I'm just, I'm just freezing more and more. And here's the line that that got me, 'but if I were gay, I wouldn't tell my mother'. I still didn't get it but after that conversation, and you know, years later it started sinking in," Ben told me.
"I appreciate that now, but at the time, I wish I could have sat there and taken it in and talked to him about it. But I just, I wasn't ready for that."
Ben went the the University of Kentucky for College and that is when he began to understand more about his sexuality. He says that after his undergraduate years is when he began to "settle down", as he describes it, into who he is. He told me, "I wasn't estranged from my family at all. But I was creating new family."
"Well, now, coming out as gay was nothing compared to coming out that I was going to become an Episcopal priest. (My mother and sister) couldn't understand it and (they thought) I was going to tell people to do the wrong thing. It was much easier to come out as gay than it was to come out as an Episcopal priest." 
Ben told me that he came out as gay to his mother and sister after he had finished graduate school. By that point his father had passed.
"I was in relationship, at that point I considered it was going to be a long term relationship. And my sister was on the conservative side of things; she did not like it. My mother said, 'Well, I guess God has a plan for everybody'. And that was it. Even though she said she didn't know, I think she knew, she'd been thinking about this day for a long time."
Ben being an Episcopal priest is the surprising part of his story. He told me that after he got out of college, he believed he would never go to church again.
"I did not like church growing up and when people were nice, it was a great little place, in our community, there in the church, nobody was mean or anything. It's just that I wasn't getting it. That was also about that time that the Moral Majority started up. That was back in the 70s, way  before your time, but they were saying a lot of bad things about people, especially, queer people. And  I just didn't want anything to do with it. And I was angry at that. And so when I did go to college, that's when I said, I'm not going to go back. I probably never, probably never go back," Ben told me. 
But that changed when he visited St. Bartholemew's Episcopal Church in Atlanta. 
St. Bartholemew's partnered with Project Open Hands to feed AIDs patients who could not get out of their homes.
"This was right at the height of the AIDS epidemic..a lot of churches wouldn't let them (AIDS patients) use their facilities or anything. I mean, that's how bad it was."
After learning this, Ben did what he said was unusual for him. He went by himself to church. 
"It was amazing. I actually saw people putting their faith into action. Instead of just using words to hurt people. They were really trying to live off the gospel of Jesus Christ and helping people in social programs. I had never seen that before. Oh, yeah, I had never. I mean, my church was nice, but it was like we get together and worship and then leave. And these people were actually a community, and they took responsibility for their community. And what the community was about was service. And, I just, I fell in love with it." 
It was after this that Ben started going more regularly to church and eventually decided that he wanted to become a priest in the Episcopal Church. 
He said being in St. Bartholomew's church on the day he first visited made him fall in love with the liturgy. St. Bartholomew's had not only been a positive religious experience for him but it also was where he met his husband.
Years went down the line and Ben says he felt called to be a priest.
"I got to the point again, that tapping on the shoulder of its time to make a decision here about becoming a priest. Are you able to give up what you've got now and move in this direction?"
At the time he was not. His job was relocating and offered to give him a severance package or they he could relocate with them. Ben saw it as the opportunity to follow the calling he felt.
Ben has been a priest at St. Francis Episcopal Church for several years.
I asked Ben how being a queer person played into his religion and he told me that "queerness has made (him) much more of a spiritual person, much more open and much more able to be empathetic with people. Because I have stories of people saying that things to me and treating me different because I was gay. Stories of people wanting to hurt me because I was gay. Not family or friends. I was not that but people strangers, I mean, it's given me a clear sense of the gospel of Jesus Christ," Ben said, adding, "and it's not just Christianity. It's faith in general.  It's not just helped me be a better Christian. I think it has helped me be a person of faith to be receptive to God's love."  
Since he had brought it up, I thought it was the perfect time to ask Ben about love.  I asked Ben what he loved most about being queer. 
"Entering into queer community there was some chaos in it. And it's in chaos, that I believe we really do discover ourselves. And that's what I liked about being in queer community. That people weren't cookie cutters," Ben told me. "You know, a lot of people hear chaos as a negative thing, but without chaos there's nothing we can do." 
Ben's life has been about accepting change, both in himself and in the world. It is this change that has brought him to new perspectives. 
"I mean (without chaos) you're static and static brings death. That's that's what that is. There's a lot of walking dead out there. I don't mean zombies, but they're, they're walking dead and they never reflect. They see things and only one way, generally their way. It's either yes or no, black or white. And being in queer community taught me that it is not one way, always, or black or white; there are shades of grey, there are colors. There's different ways of looking at the same piece of whatever art or whatever and…that has helped me with my spirituality." 
Southern Souls is comprised of actual, in-person interviews conducted by Amyre Makupson or her contributing student writers. Some statements may not be in chronological order. Names and locations may be changed to respect the privacy of participants. The views and opinions expressed herein do not necessarily reflect the views and opinions of Amyre Makupson or The Center for Collaborative Journalism at Mercer University.