Middle Georgia couples still find ways to wed despite pandemic
Middle Georgia bride Madison Gramling was forced to completely reimagine her spring wedding.
"I called it 'breaking up' with my idea of the 'perfect wedding' that I had been planning since I was a little girl," newlywed Madison Gramling said.
Couples across the country are changing plans as the pandemic continues into wedding season. According to The Knot, 78 percent of weddings take place between May and October. So far the pandemic has been an unwelcome wedding crasher for almost two months of the season.
Gramling and her husband Chase were supposed to be married on May 16 at Ingleside Baptist Church, and then Madison would move to Alaska to be with Chase. 
"We made our choice to elope in Alaska four days before my spring break trip, and with school being online, I had no reason to come home after my trip. So I had to get ready to move to Alaska and plan a wedding in four days," Madison said.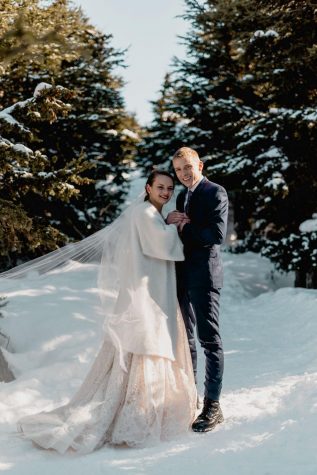 Originally the couple planned to have the reception in Chase's parents' backyard. 
Madison described the original party to be "roughly 100 guests, semi-formal, romantic themed with lots of pinks and blues and white." 
Madison and Chase were married atop a mountain in Alaska on March 22. They streamed the ceremony on Facebook Live for their families and friends.
The couple's wedding party made sure to celebrate the couple.
"We watched it on Facebook Live and dressed up and had champagne and took pictures," Amy Gramling, Chase's mom, said. 
Amy said that she had "a lot of emotions" but that Madison being able to join her son in Alaska comforted her.
"As a mom, and with him being alone in Alaska during a pandemic, I was so thankful she was going to be there with him," she said. 
One Macon couple, Rebecca and Tupuivao Wilson made sure their wedding was accessible to their family and friends who couldn't attend because of restrictions on large gatherings.
The couple streamed their May 3 wedding on Twitch, Facebook, and YouTube. The wedding took place in the couple's living room, with just their three cats present. Rebecca's sister officiated via Zoom, which the couple knew wasn't going to be legal.
 "We did some research and apparently there are only four states in the United States that allow for virtual weddings," Rebecca said. "So we had to get another friend of ours to actually sign our marriage license so that it can be legal."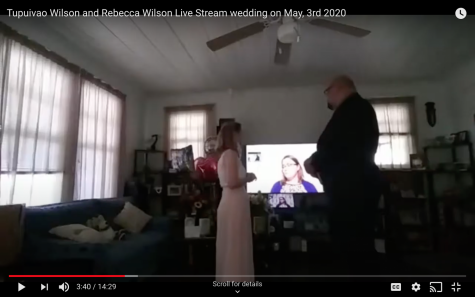 The couple worked hard to make sure their would-be guests were included in their nuptials.
Tupuivao asked the audience to take selfies of them watching the ceremony and to send them to him. 
"What I did was I turned it into a little thank you video with everybody's Congratulations, you know, their posts on Facebook, on YouTube," he said.
Rebecca also printed the photos to make a wedding album.
While the couple worked to include their human guests in the wedding, their furry guests had some plans of their own.
"Our cats, all three of them, decided to photobomb," Rebecca said. 
She said all couples attempting a Zoom wedding need to lock up the nonhuman members of the family.
"George was under the table behind me, Chester showed his butt right across the camera, Caroline kept trying to eat my dress, so they all wanted to be part of the wedding," Rebecca said. 
While Tupuivao and Rebecca made sure to stream their wedding, Caroline and Alex Davis chose to have a private ceremony with just their pastor and his wife until their rescheduled wedding. 
"It's like we've done it, but nobody else has done it, and so that's really what it's all about, you know, family," Caroline said.
Caroline and Alex had a simple ceremony at Vineville United Methodist Church, and have rescheduled their original wedding until October to include their family. The couple strategically chose not to stream their wedding.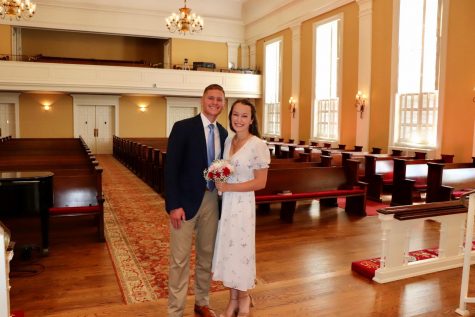 "I just wanted to keep it a surprise for everybody. I wanted to be just as fun in October," Caroline said. 
Despite the original wedding plans changing Alex loved his wedding to Caroline.
"I would recommend it, we talked about like right afterwards that we really couldn't have imagined it any other way because, as I say, because like when you're doing the big wedding it's almost like you're focusing on the people instead of yourselves," Alex said.